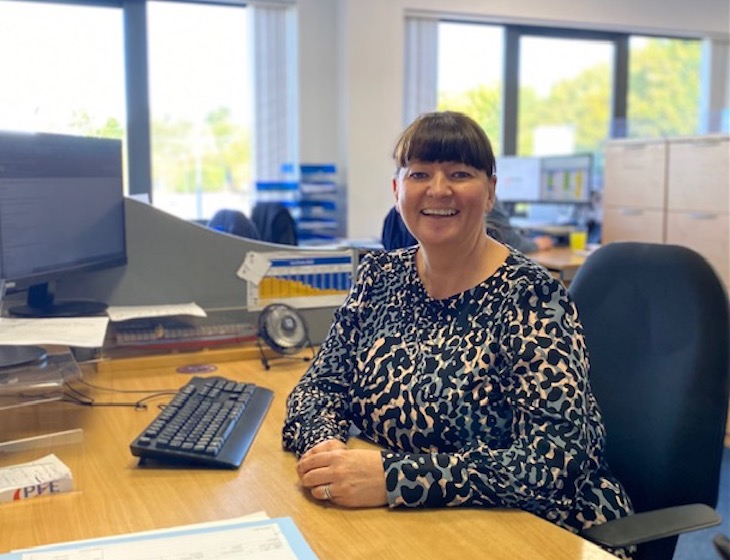 Angela Hutchings, our Import Department Manager, has worked for PFE for over twenty eight years. She reflects on how, despite how much the business has grown, PFE continues to foster a culture of supporting others which has been recently exemplified by new initiatives such as the Mental Health first aid programme. 
Number of years in the industry?
28 years.
What's your journey been getting to PFE?
I joined PFE in 1994 when I was only 18. I'd just got back from travelling and started applying for jobs. I saw a job advert for an office junior at PFE and I applied. The rest, as people say, is history!
I've had quite a number of roles over the years which has enabled me to get well-rounded skills and experience in the industry. I was the office junior in the Manifest Department when I started. I was responsible for booking in the new jobs from the manifests as well as making lots of cups of tea! My next role was in the Freight Department charging out the freight invoices and passing our overseas partner invoices. A few years later I moved onto the Delivery Department arranging the FCL and LCL transport movements. I then went back to the Freight Department as the department Manager. After maternity leave and having my two boys, I was asked to take on more of a sales/customer service role and was promoted to Import Supervisor, which also involved managing the sales team. Just before Covid hit, our Import Department Manager left and I took over his role. That was probably my most challenging time at PFE – taking on additional work and responsibility as well as managing the team, all whilst working from home on and off. 
There were only about 20 of us working at PFE when I joined the company. We were based in an office in Wickford at the time. When we'd outgrown it, we moved to an office in Chelmsford and then about 20 years ago we moved into this building in Witham. When we first moved here it seemed so huge that I remember asking Adam how we were ever going to fill the space. Now we're bursting at the seams and we don't even have a spare meeting room. It's amazing to see how much we've grown, and I like to think that I helped just a little bit along the way.
What does your role at PFE entail?
My role is primarily managing the Import Department, and everything that entails. We deal with the pre-shipment notifications, providing quotations, invoicing of all arrival charges in the UK, customer and overseas agent queries, cross trade and trailer shipments. 
I am responsible for managing the team. I also do the quotations and look after any customer queries and our Far East partner queries. This includes arranging the consolidation of cargo to ensure the viability of available schedules. This requires experience as sometimes you have to think quite strategically to make everyone's cargo fit in the most efficient way.
What do you enjoy most about your role?
No two days are the same, there are always different challenges to overcome. I enjoy figuring out how to best fix the problem in hand to ensure the customer is happy with the end result. I am a natural problem solver and I've had 28 years of problem solving everyday, so this career plays to my strengths! I am also very organised and I like everything in its place. I like to get tasks finished, I don't have any queries that are over 24 hours on my desk and I don't go home without any emails unanswered.
I also really like the people I work with. There are a lot of people that I've been working with here for a long time, so I like coming into the office to see them. 
What has been the best thing about your job so far?
I like the fact that I have been able to move around multiple departments within the company and learn lots across all aspects of the business. Adam and Dave were great mentors to me and were always happy to give advice when I needed it. I sat next to Adam and Dave when I first started in the company and I picked up quite a lot from them, they were always happy to help and answer my questions. 
One of the more recent highlights is becoming a company Mental Health First Aider. Eight of us went on the mental health first aid programme where we had training on how to help somebody in a mental health crisis. The course made us more aware of different types of mental health problems and helped us understand how we can all be more mindful of how someone's mental health and how their situation at home can affect their work. PFE has always looked after its people, this is just a recent example of what PFE is doing as a business to show staff it cares.
What makes PFE different from the rest?
From a customer perspective, I think the reason why we've been successful and have kept a lot of customers over the years is our honesty and transparency. We always try to be honest and straightforward over rates and issues in the market. We also really try for our customers, we put 100% into working-out any concerns or issues our customers have.
One of the things that I've personally valued the most about working at PFE is that the directors have always been available to us if we've needed their advice and support. PFE isn't like a typical corporate company, there's still a family feel today because it's always been that way. 
What are three words that describe PFE?
Professional
Family
Enjoyable
Do you have any future ambitions for PFE?
I am very happy in my current role, so I'd like to just carry on doing what I'm doing to the best of my ability. I enjoy managing my team and like to think I am passing on some advice and knowledge to  them to help them grow within the business. I enjoy being part of the PFE family business having seen how it has grown for the last 28 years. There's always new challenges and opportunities around the corner with shipping, so I have no doubt that our growth and success will carry on for many years to come. 
Who was your childhood hero/heroes and why?
My Mum and Dad. My Dad started his business the year I was born and my Mum used to work at Hapag Lloyd before joining Dad in the family business. They have shown me how hard work, determination and good work ethics gets you far in life. They saved-up to buy a piece of land and built their own house 30 years ago and then went on to purchase their dream second home in France 10 years ago. They are proof that hard work pays off and I like to think I take after them in that respect, by giving the best I possibly can to work and all aspects of my life. 
If you could only eat one meal for the rest of your life what would it be?
I love Thai food! I went to live in Japan for a year after I finished college and worked in a Thai restaurant. I make a mean Thai Green Curry, so probably that.
What's your favourite movie?
I love musicals. The Sound of Music, Dreamgirls, Mama Mia, Moulin Rouge, I love them all! Grease is probably one of my favourites. My sister and I used to act out all the different parts and I still know all the words off by heart!