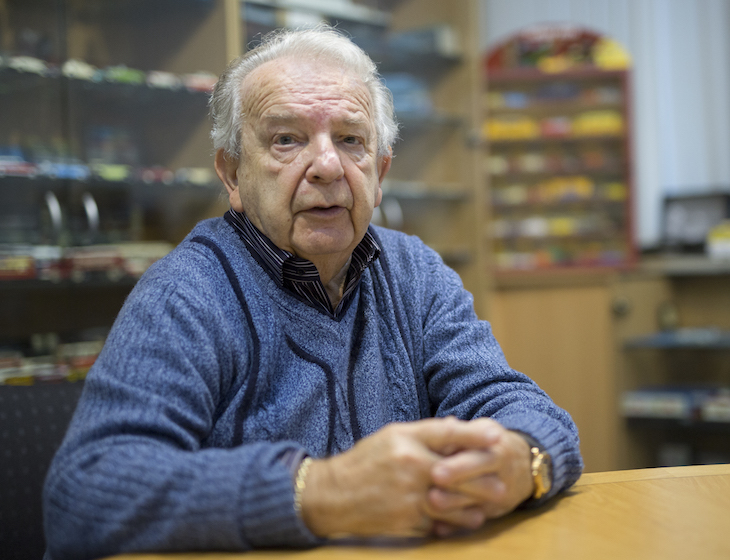 Founder and Chairman of PFE Express, Peter Collins, tells his PFE story.
Number of years in the industry?
61 years. I started working in the industry in 1958. I came out of the army on a Friday, and went to work the following Monday at a freight forwarding firm called Schenker's – which still exists to this day. One of my last army postings was to the City of London and every day I walked past the Schenker's offices. I didn't know what a shipping agency was at the time. I decided to go in and ask if they had any jobs going, and I was given an apprentice position. That's how I fell into the industry.
I was fortunate enough to have some very good training at my time at Schenker's but as is common in the industry, moved on to another freight forwarder a few years later. Eventually I started up on my own with a partner. We went from nothing to a large company (Patmar Shipping Limited) over 30 years. Patmar was the forerunner to PFE Express.
Describe your journey with PFE?
I founded PFE Express in 1984. There were only six of us at the beginning. (Some of the original team still work for PFE now.) At the time we specialised in moving goods from Hong Kong, Taiwan and South Korea to the UK. Over the first four years of PFE's life, we developed to include freight forwarding from the Indian Subcontinent, Thailand and Singapore. We then extended the operation to include the whole of SE Asia.
Today we serve territories beyond Asia and I can proudly affirm that we are one of the leading UK freight forwarders offering consolidation services across the world. Our frequent, reliable and specialist services for shipments range from one carton to several hundred.
While I was running the company, my role as Managing Director was to set an example of the highest standards of work and client service. It's important to strongly demonstrate your values so that your staff realise that the best performance is also expected of them.
I am a firm believer that working keeps you young, so even though I've long since handed over the day to day management of PFE to my son Adam and his colleagues, I still come into the office every week and am keep informed of what is happening. I'm still involved in driving the general direction that the company is going.
What makes PFE different from the rest?
What makes PFE special is our attention to detail. We look after the whole Freight Forwarding process for our customers and offer a very personal service at every stage. Whether we carry a consignment by air or ocean we ensure a frequent and reliable service. We track a consignment's progress, look after all the customs formalities and promise delivery to the end user within 3 working days of arrival in the UK.
The success of PFE is reliant on the quality of its staff. The reputation we have built up over many  years for excellence of service is because of our fabulous team. What is most satisfying is that we are still handling accounts we had when we started up in 1984. I used to deal with the present owner's grandfather of one those companies.
People is what our business is all about. You could have amazing facilities and competitive rates, but if the people you employ are not up to it, those things are worthless. It is the quality of the work of your people that counts.
We recognise that our success is the result of our hardworking team. PFE very much looks after its staff and we have a very low churn at both junior and senior levels as a result. As well as having clients that go back 20-30 years, the same applies to staff. These two factors demonstrate what a successful, happy company PFE is. We also get a lot of new business by recommendation. This indicates a very happy working relationship between our directors and our clients and our staff and our clients.
What has been the favourite thing about your career?
I have felt the glow of success from time to time during my career. The occasions that I have felt most proud are the pivotal transitions, such as when we started to offer a new service from a new territory and when we got it running like a clock.
The most momentous moment was when we decided in 2002 to move to a purpose built office and warehouse in Witham. This enabled us to obtain our Enhanced Remote Transit Shed (ERTS) license to create our own bonded terminal – meaning that we could bring any or all cargo from port of arrival and clear it through customs and deliver it straight to customers. From this point we were able to offer a speedy delivery service for both part as well as full loads. The jump in growth following this move provided the proof that this was the right strategy. It was at this time that we knew that PFE had arrived!
To thrive in this industry you have to have a certain personality. No two days are the same. Every day is a challenge. You need to be able to handle the stress created by problems and urgency. It helps if you have common sense and a good memory.
When I first came into the industry, going back to the beginning of my story, when I was working at Schenkers, I didn't expect that I would go into business myself. I certainly didn't visualise in 1958 that 60 years later I'd be sitting in a little empire of 130 people in a highly successful company.
What three things have contributed most to PFE's success?
Hard work, good fortune and wise decision making.