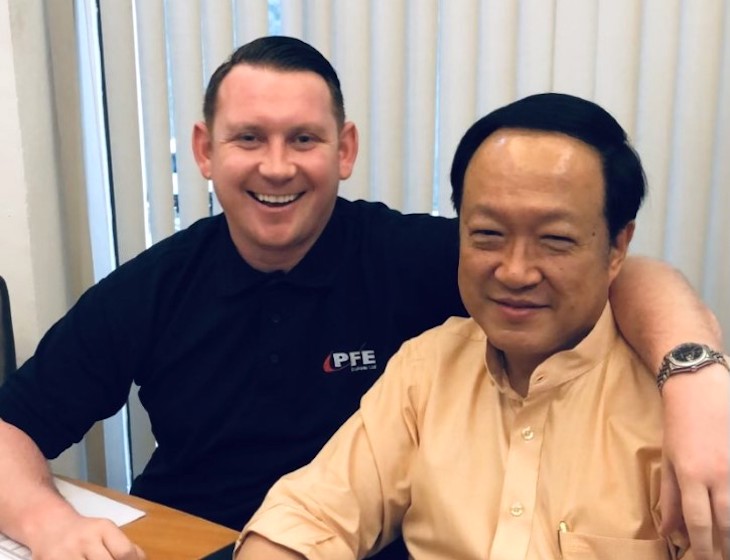 Joe spent his formative years living and travelling in Asia, moving to the UK in his teens. He'd always hoped to be able to continue to travel in his career and is enormously appreciative that he's maintained his connections with Asia in his adult life working for PFE.
What's your journey been getting to PFE?
I joined PFE right at the beginning of my working life. I had been deliberating whether to go to university when I finished college at 18. My cousin who had been working for PFE suggested joining the company. I went for an interview, was excited about the prospects that were discussed, and decided to give it a go. I can honestly say that I haven't looked back!
I started out as an Imports Clerk for the Imports Department. During my first five years I was moved around all of the key teams so that I was able to learn most aspects of the business. It was at about year 6 that the Directors suggested a sales role to me and from there I progressed to Business Development Manager and really enjoyed it. I loved the opportunity to meet new people and I thrived on the additional responsibility.
It was shortly after that I had the opportunity to base myself at one of our key customer's offices. This provided further responsibility. I had the dual challenge of managing one of our key accounts, further developing and strengthening that relationship as well as building new business opportunities for PFE.  
Number of years in the industry?
15 happy years.
I grew up in the Philippines and Malaysia and travelled to China regularly as a child. One of the reasons why I've enjoyed my career with PFE so much is that my role here has given me the opportunity to travel to SE Asia. In my role as Business Development Manager I've been very lucky to have regular trips to SE Asia (pre pandemic!) to work with all our partner agents out there. I remember that the possibility of travel was discussed at my very first interview –  I've worked hard, proved myself and PFE has rewarded me. 
The great thing about working for PFE is if you are reliable, capable and if you are committed to the company and its customers you will be given responsibility without too many formal restraints. What I love about PFE is that you have the ability to grow and are not held back, as long as you're doing the job well.
What makes PFE different from the rest?
PFE prides itself on its unrivalled customer service and so we put a lot of time and energy into all of our customers no matter how long we've had a relationship with them. I take the obligations to all my customers that I've brought into the business over the years very seriously. 
Another thing that sets PFE apart is that although we're one of the most established freight forwarders in the UK, the Directors are highly engaged and hands on with customers. The Directors and I have a maxim – GID – 'Get It Done'. We don't take ten meetings to make a decision, we simply get together and create an action plan, if it's achievable, we get it done without too many chains holding us back. 
We always look to innovate and have always stayed ahead of the curve with IT opportunities. We've developed our own bespoke online portal – PFE Vision – that means we are in a strong position to eliminate any barriers that are thrown in our way. The IT investment that we'd already made helped us enormously with keeping things moving during the pandemic. We were able to automate some aspects of the business that we needed to over the last year to improve efficiencies. So it was never a situation of keeping our head above the water. We were well prepared. 
What are three words that describe PFE?
Pedigree
Fair
Excellence
Do you have any future ambitions for PFE?
Thinking about the future, right now I'd like to get out on the road to see our overseas partners once again. I'm really keen to work with them to extend our more recent IT updates to partners in some of the smaller Asian countries such as Myanmar, Cambodia and Vietnam. 
I am quite ambitious for myself so ideally I'd like to be a Director of this company at some point. I'm sure I will be a PFE 'lifer', there are quite a few of us. But I'm not really worried about roles and titles, I'm just keen to do what I'm good at. 
What has been the best thing about your career?
I fell in love with my career at PFE when I started in my sales role. I've grown up with the ability to fit in with people the world over, a really useful skill for my role in business development. I like sales because I've always loved communicating with people and solving their business problems. I take a great deal of pride in the fact that I have helped companies make decisions about their supply chains that have made them more efficient. 
"When I moved into my sales role I was told to get out into the wilderness to see what I could come up with. It felt like a big challenge, so naturally getting my first big account was a key moment for me. I get a buzz from meeting new people and also learning new things from people that I've met. When you focus on helping others, people naturally want to do business with you." says Joe. "It's also so rewarding watching customers you've introduced to the business continue to grow alongside PFE throughout the tenure of our working relationship."
Who was your childhood hero and why?
I spent a lot of time at Upton Park and snooker halls growing up. So my heroes were Paolo Di Canio and Ronnie O'Sullivan. 
I inherited my support of West Ham from my Dad who inherited it from my Grandad before him. I have amazing memories of watching some incredible players at West Ham matches with both of them. Poalo was my idol. 
If I had to put my life savings on a record never being broken, it would be Ronnie O'Sullivan's 147 break in 5 mins 20 seconds. He's just the greatest man to ever pick up a snooker cue. I spent a lot of time in my teenage years playing snooker trying to emulate him.
If you could only eat one meal for the rest of your life what would it be?
Wagyu fillet steak with asparagus, duck-fat chips and peppercorn sauce. I'm a bit pretentious! The first time I had Wagyu steak was when I was around 21 when I was out in Malaysia in a Japanese restaurant. I thought it was the most beautiful food on the planet. The marbling of the fat in the meat makes it so soft and succulent. It is very expensive, so I only have it on very special occasions. 
What's your favourite movie?
It's got to be Snatch by Guy Ritchie. I love all of his films. I enjoy the London humour that I grew up with. It's dark, dry, black humour. Brilliant.