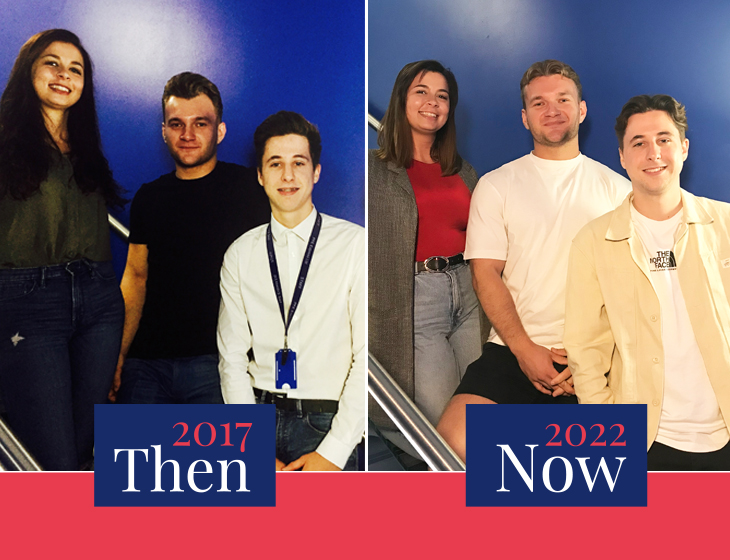 We started PFE's Business Administration Apprenticeship scheme a number of years ago. It was  initiated by the growth of the business and wanting to give young people a career opportunity here. We're particularly proud of the scheme, which has had a very good success rate. We always hoped that our apprentices would become the future of the company and three of them have proved to be just that.
In 2017 we spoke to three of our apprenticeship successes when they had only just joined the company through the scheme. Five years on, Lauren, Jack and Toby again discuss their experiences of working for PFE, how they've grown and the opportunities they've been given.
Read the very first article here.
Lauren Cocca completed the PFE Apprenticeship scheme in September 2016. Now she's Assistant Manager for one of PFE's key accounts.
Back in 2017, I had been at PFE for just over a year and had only been doing an admin-based role as well as learning about the industry and how it worked. After nearly seven years, I'm an assistant manager for one of our biggest accounts. As well as helping manage the team, I handle all of the financial transactions for that account. 
The team has grown so much over the years. It started off with just three of us but in the last two years we've employed another four people. I've undoubtedly benefited from that growth as I've been able to step up, take on more responsibility and learn new skills.
When I first joined PFE I was intending to finish my apprenticeship and then go on to do accounting and become an accountant. But what actually happened is that PFE made my job role fit what I wanted to do. I really like money and numbers and my job is based around that. I realise how lucky I am to work with a group of great people which are like a second family to me and also do a job that has been designed for my needs. 
The pandemic period has been the most challenging. We had to adapt very quickly to constantly changing circumstances. When we came back into the office from a period of working from home our manager wasn't well and I had to take on some of her role, so very quickly I had to learn a lot about personnel. I had to learn how to manage and supervise a team because at that point our team needed to grow very quickly.
Ultimately I'd like to run my own team. I know that there will be so much opportunity from PFE's continued growth that it is inevitable that there will be the possibility for that. We keep getting better and better and I'd like to continue to grow with the company. 
I'd say to anyone thinking about joining PFE, to go for it! If you want to be part of a company that is family-based and want to leave the office with a smile on your face, PFE is the place for you. Working here, you're always going to have people to make you smile, even on the days when it's hard.
Jack Hadley had just started the PFE apprenticeship scheme in January 2017, now he's a Supervisor in the Imports Department.
When the first article was published I'd only been at PFE a couple of months. Over the five years since, I've gone from doing mainly administration to pursuing new business and looking after a few of PFE's big customers. 
I was thrown into the deep end when our department manager left and I had to help take on some of his work. So in a very short period of time, I had exposure to tasks that would have taken much longer for me to get to if that hadn't have happened. Although that was the most challenging moment in my time at PFE, that experience shaped me for the better, as I had no choice but to get on with it. We've since hired three more people to the team showing how the team has grown and I've been able to grow alongside it.
PFE pushes you to progress. But there is never the fear of failure, you're never going to be dragged over the coals if something goes wrong. There are difficult days, but they are massively outweighed by the good days where we have a laugh. There's lots of fun stuff going on as well. We have ice creams in the summer, birthday treats all year round and Christmas and Summer parties. 
In five years time I would like to think that the team would have grown and we'd have taken a lot more work on. I'd personally like to be more involved in sales, going out to visit customers. I'd like to have been out to see our partners on the other side of the world and understand more about how they work. 
What I like about working at PFE the most is that everyone here has the same work ethic and pulls in the same direction. If you ever go to someone with a problem, they will always help you. We are a big company, but we keep that family business mindset where everyone is on the same side, we're all in the same boat (pardon the pun!) and we're all going in the same direction. You'll struggle to find anyone working here who doesn't feel supported or respected or doesn't enjoy their day in the office.
In 2017, Toby Smith was in his 10th month of the PFE apprenticeship scheme, now he's a Supervisor for one of PFE's key accounts.
Last time we spoke I was ten months into my apprenticeship. Since finishing the apprenticeship, getting my qualification and being offered a job here, I've not looked back! I've had such a great time in the last five years at PFE and I've been given so much opportunity to progress and grow. I started as an operations assistant and I'm now supervisor for the same key account that Lauren works in. I've been fortunate to have worked for an account that has grown and I've grown hand in hand with that account. 
I found the pandemic easily the most challenging period. I'd never had to work from home before and it was tough not having someone sitting by my side to ask what I should be doing.  Despite that, we had to continue to work and find solutions to continue to deliver for our customer. The experience made me stronger as a person and as an employee of the company. My confidence has definitely increased knowing that we were able to see that time through – we didn't just survive, we succeeded in that time!
As a company, everyone is quite close knit. I enjoy the family feel that PFE has and the working environment that PFE has created. I know that whoever I go to, I'll always get a friendly response. I love the people I work with, I love the team. When I come into the office, I know I'll leave thinking I have a good day. 
I'd like to run my own department one day. My own team is what I'm striving towards. So I'd like to learn as much as I can over the next five years to help me get there. I know that I'm on the right path and that PFE is where I want to be.
If you're a hands-on person and willing to learn and up for a challenge, you should consider a career in logistics. It's an exciting industry, there's always something new to learn and you're never bored. It's been a fantastic five years and I'm excited to see where the next five years take me.
Our 12 month apprenticeship not only allows young people to achieve a Level 2 NVQ Certificate in Business Administration, but it provides a real job opportunity. Many of our apprentices have gone on to successful full time positions within the company. At PFE we see our young apprentices as the future of the company and we're keen to listen to their ideas in helping the business to grow and develop.
If you'd like to discuss an apprenticeship role with us, contact [email protected]