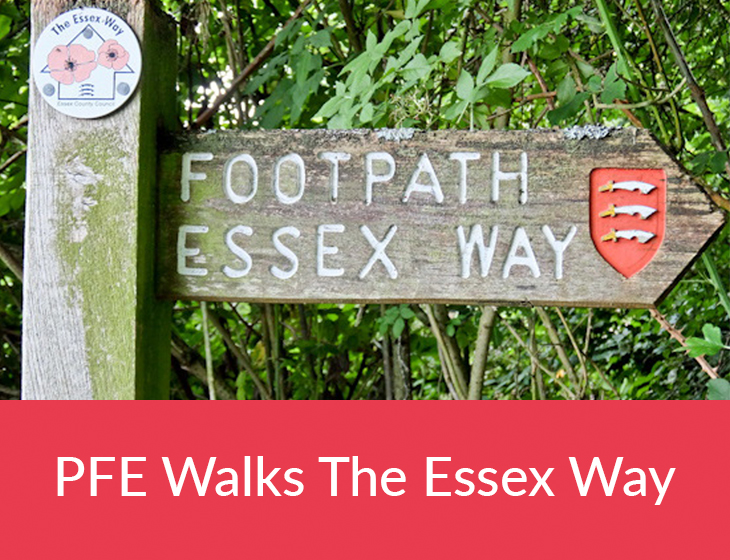 Following the success of the Three Peaks Challenge in 2022, Team PFE are walking the extra mile again in 2023 (but staying closer to home) with the Essex Way Challenge!
The Essex Way is 81 miles long, stretching from Epping all the way to Harwich. Linking ancient green lanes and footpaths, it passes through some of the most beautiful parts of Essex.
The 2023 Challenge is designed to be doable and encourage people of all fitness levels to take part. The challenge this year is not for charity, instead we want to concentrate on the health and wellbeing of all our employees as well as enjoying the county we live and work in.
"It's well known that regular physical activity can improve overall wellbeing and contributes to improved mental health. There are many benefits for encouraging our staff to continue the regular walks they did when training for the three peaks. This year we want to get even more people involved and we have designed Challenge 2023 to be as accessible and flexible as possible."
Aron Newton, Commercial Director
The challenge will be split in 23 separate circular walks that range between 4.5 and 8.5 miles. Team PFE will have a year to complete them all, and in doing so everyone who participates will walk a total of 163 miles!
The idea is that the challenge can fit into anyone's schedule, team members can complete the walks in their own time and at a pace that suits them. Participants can complete the walks with their friends and family or with a group of work friends (using a WhatsApp group to share dates and times of any planned walks and to organise lift sharing) and the walks are largely dog friendly.
So far we have 29 people who have put themselves forward to take part starting on 1st April, but we hope as many of the PFE team as possible will join in over the year.