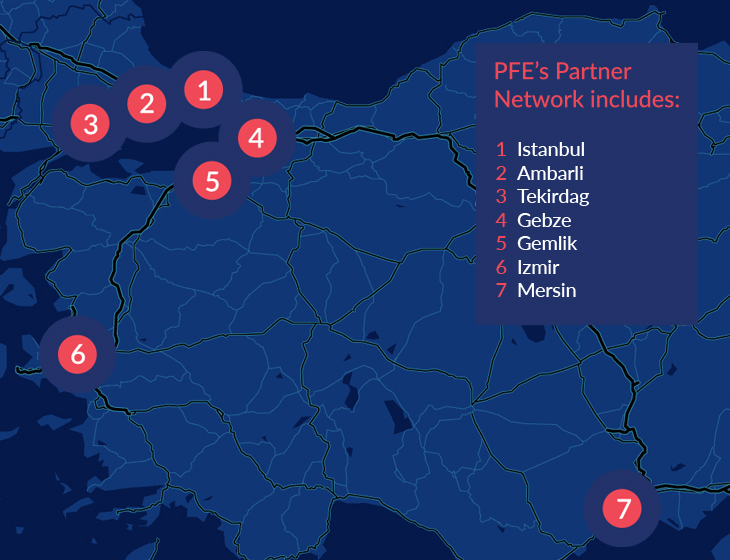 Turkey has emerged as an attractive destination for buyers in a broad range of industries, benefitting from a strategic geographical location, good transport infrastructure and State incentives for local and foreign investors.
Many importers have chosen to diversify their manufacturing locations in recent years to include countries closer to home. This trend was accelerated when the COVID-19 pandemic started, creating disruption to global supply chains. Turkey's location at the crossroads of Europe and Asia has made it an ideal location for manufacturing, allowing easy access to both markets. It also has a well-developed infrastructure and a highly skilled workforce, which has helped to attract a wide range of manufacturing industries, including textiles, automotive and electronics.
A Region of Significant Growth
Turkey is recognised as an emerging market and is one of the world's newly industrialised countries, having earned a place in the G20. Turkey's economical significance is partially attributed to the country's growth. While countries around the world have struggled to maintain a balanced economy in recent years, Turkey's economy has experienced positive growth. For instance, the Turkish GDP expanded 5.6% in 2022, after a record 11.4% growth in 2021. Among the many factors contributing to this growth, production and exportation of goods and services is high on the list.  
Exports from Turkey hit record highs in 2022, with a large jump particularly in the export of ready-to-wear clothing. The disruption caused by the global pandemic prompted many international fashion retailers to look for alternatives to countries like China and Vietnam. As a result, the Turkish clothing industry experienced a big jump in exports, making Turkey now among the top exporters of clothing in the world.
Manufacturing Sectors Served
Manufacturing is the most important sector in Turkey's economy, accounting for 84% of its total production. Turkey offers a blend of traditional craftsmanship and modern industry. The biggest segments within manufacturing are: food products, textile and apparel, motor vehicles, basic metals and fabricated metal products, plastic products, chemical products and electrical equipment.
The automotive industry of Turkey has also made significant steps in quality management, global competition, R&D and technology management and highly skilled human resources, all contributing to growth in exports in this sector. Motor vehicles were the 1st most exported product in Turkey in 2021, making it the 18th largest exporter of cars in the world.
The textile and clothing sector has a very high share in the total production, employment and exports in the country. Turkey is the 7th largest textile products exporter and 4th largest clothing exporter in the world. One of the key advantages of Turkish manufacturing is its quality. This is particularly true in the textile industry, where Turkish manufacturers are known for producing high-quality fabrics and garments.
Benefits for Importers
Turkey has made significant investments in its infrastructure in recent decades and is considered to be among the best in the world. ​​The country has well developed land transport systems and six sea ports, which provide shipping operations for goods as well as 23 international airports. The country is strategically located on the cusp between Asia and Europe, making it easy to ship finished products quickly to destinations across these two continents.
Turkey is one of the most attractive low labour cost countries, even though the wages are higher than in countries such as India and Pakistan. Turkey also has a good wage-to-productivity ratio. Furthermore, it has strict requirements for working conditions and production quality. 
To facilitate manufacturing investment, Turkey has incentive programmes that provide financial support measures according to their investment size, region, sector and product. The Turkey-UK Trade Agreement, which came into force on 1 January 2021, enables the vast majority of goods of Turkey or UK origin to continue to be traded tariff-free. This means you do not have to pay import duties on most Turkish products. It is critical however that any invoice for imports from Turkey to the UK has the Turkish origin preference statement and reference number on it.
Turkey is an attractive option due to its shorter transit times, which has the additional benefit of carbon footprint reduction. With more companies introducing commitments to emission reductions in their freight and logistics operations, Turkey has the advantage of being closer to Europe and the UK, reducing the distance required for transit of cargo and thus the greenhouse emissions associated with import supply chains. 
PFE's Services from Turkey
If you are looking to start production in Turkey we can provide much of the know-how needed for a successful transition. From guidance on customs to specific logistics advice on warehousing and freight transportation, we're a partner that knows the market well. We've helped a number companies navigate the complexities of locating factories and warehouses in Turkey.  
PFE offers both Sea Freight and Air Freight (FCL & LCL) services from Turkey. We have long established relationships with our local Partners who can handle shipments from any of its ports. We also offer fast or standard speed Transport services, both full and part truck, from Turkey to the UK.
We operate imports from the following ports to the UK including:
Istanbul

Ambarli

Tekirdag 

Gebze 

Gemlik

Izmir

Mersin
If you are considering sourcing from Turkey and need help and advice with importing from the area, we can offer the knowledge and experience you need. If you are an established importer from the region we can offer a streamlined service, with one point of contact that will manage your entire supply chain on your behalf. 
If you would like a non-committal quote for your shipment, please get in touch.