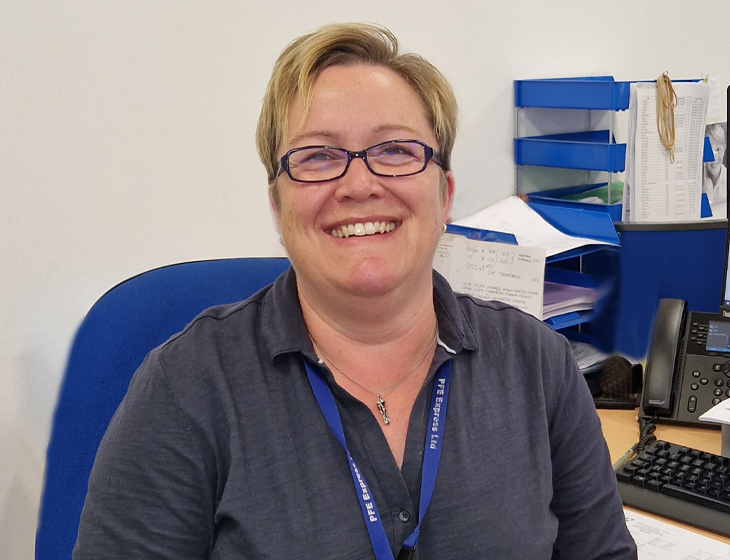 Tara Langstone-Smith, who works in our Freight Department, is one of our longer serving team members, having worked for PFE for twenty one years. Tara tells us why it is the people that make working for PFE so enjoyable, how a close-knit, family-oriented culture is the PFE way and how time working on her allotment is her other passion in life.
Number of years in the industry?
I've been working at PFE for 21 years. 
What's been your journey getting to where you are today?
I hadn't worked in freight forwarding before PFE. Prior to that, I was in corporate banking, working up in London. PFE was one of my clients, so it was through the client connection that I came to meet Dreen Toms many, many years ago.
I had a great time working in London but travelling every day from Essex/Suffolk to Pall Mall was very expensive and time consuming! The time came to move on and do something different. Dreen called one day and advised me that PFE had a position available in the Accounts team and asked me if I fancied joining the company. I came in for a chat and a cup of tea and the rest is history, as they say!
When I joined the company, Dreen was our Finance Director at this time and my boss. She was a formidable woman. She ran a very tight ship but was great to work with and guided me through the first few months. The philosophy in accounts was that everybody was trained to cover everything, so we could all help each other out. It makes a team much more flexible working this way.
One story that still makes me cringe today is 'Hot Chocolate Gate'. I was on the drinks run one morning and had a hot chocolate for Dreen. As I approached her desk, I tripped and threw the whole drink all over her! She was dressed for a meeting that same morning too. I was absolutely mortified! Thankfully the drink did not scald and there was time for Dreen to take a trip home to change. She did finally forgive me, but I wasn't allowed to get her any more hot chocolates!!
PFE has changed a lot in 21 years and has experienced rapid growth in recent years. We've got a lot more staff now. It was a much smaller company when I joined but it has been great to be a part of its growth.
I moved over to the Freight team about 10 years ago because I fancied a change and extra help was needed in that department at the time. It's always good to do something different. I've been in the Freight team ever since. 
What does your role at PFE entail?
Within the freight team I primarily raise freight/charges to customers, and liaise with our overseas agents/shipping lines and colleagues in other departments where necessary. There are many background controls and checks that have to be undertaken to ensure we correctly invoice the customer. 
The Freight team is a great team, we work really well together. Julia is a brilliant boss, Julie is great fun, Sharon is horse mad and Mel is the memory for the department. We've always said that if Mel's memory goes, we would be really stuck because she remembers everything, she's unbelievable! We all have a laugh at the end of the day.
What's been the best thing about your career?
It is without doubt, the people that I've worked with. My team mates are great and we support each other. We laugh most days, which is very important in any job. We're a bunch of like-minded people that work at PFE and everyone looks out for everyone ultimately. We've got a good age spread and a good mix of people interested in different things which works well. There's hardly ever a dull moment.
What makes PFE different from the rest?
PFE are brilliant freight forwarders. We have a resilience that sets us apart. We've worked hard, and still do, to get to where we are today. The Directors have always been very focused and have got us through some really tough periods including the global financial crisis, and more recently the pandemic. We've been able to withstand these difficult times because we've been able to adjust and adapt quickly.
PFE was, and still is, a close-knit, family-orientated business. The Directors have their own offices but are still very approachable. It's the PFE way, and the way it should be. It's a really good thing and is quite rare nowadays. 
We are also very customer service oriented rather than number driven. PFE has always prioritised looking after its customer base. If any customer needs something done in a particular way, then we'll try and help if we can. That means that despite the challenges of the tougher times, our customers have remained loyal to us.
What are three words that describe PFE?
PROFICIENT
FOCUSED
EXPERT
What's next for you at PFE?
I am really happy working in the team that I'm in, so I haven't got any particular aspirations to do anything different right now. However if I was asked to move to another department, I wouldn't have a problem with that. I am happy to help wherever that help is needed. 
I am very fortunate to work four days a week. My day off gives me time in my allotment, which is my passion. My Grandad and Dad have always grown their own produce so I must have picked up the gardening bug from them. If the weather is good, I can get up there all day and just lose myself. Time flies!
The plot is huge so it keeps me very busy. I grow lots of fruit, veg and flowers. I also plant to attract beneficial wildlife and have a couple ponds. Frogs for example help control the slugs and snails, and bees/pollinating insects produce the goods through pollination. Watching bees working up there is fascinating. Without pollinators the planet is in trouble as we will have a lot less food! I want my allotment to look good as well as be productive and be a positive thing for the environment. If I have surplus of the produce I've grown, I bring it into work and share it out. 
I am also secretary to our local Allotment Association – it's been great learning about how the Association works & interacts with the local Parish Council, the RHS and National Allotment Association.
Who was your childhood hero and why?
When I was younger I loved Geoff Capes – he was so strong and I found that amazing. He came to my high school one year because he was going around schools promoting sports, so I actually got to meet him. 
I watch World's Strongest Man religiously and find it fascinating that people put themselves through such physical contests, and train so hard to make themselves that strong and fit. I was quite sporty when I was younger and remember thinking that I was going to be super strong like Geoff. Of course I didn't get to Strongman levels, however fitness is important. Whilst I do not train like I used to, I still practise Yoga twice a week and off-road bike and walk – when I can fit it around the allotment. Allotmenteering is very physical work too, so good exercise.
If you could only eat one meal for the rest of your life what would it be?
It's got to be roast dinner because you've got a bit of everything in there, haven't you? Roast potatoes are the food of gods, they're just amazing – especially both my Mum and my Mother-in-Law's roast potatoes. The key is also a great gravy! Mine's pretty good, but my Nan always made the most amazing gravy – she could have bottled and sold it (her secret was adding cabbage water to the meat juices.)
What's your favourite movie?
That's a really hard question, because there's loads of great movies. I love action movies in particular. I think I'd have to go with my favourite series of movies, and that's got to be James Bond. I also like the fact that the older Bond movies are completely non PC! 
I often get asked who my favourite Bond is. By far, my top three are: Sean Connery, Roger Moore and recently Daniel Craig. I met Roger Moore a few years ago and was very star struck to say the least! So my favourite Bond would have to be Roger Moore. He was probably the classiest. There's just something very compelling about him.