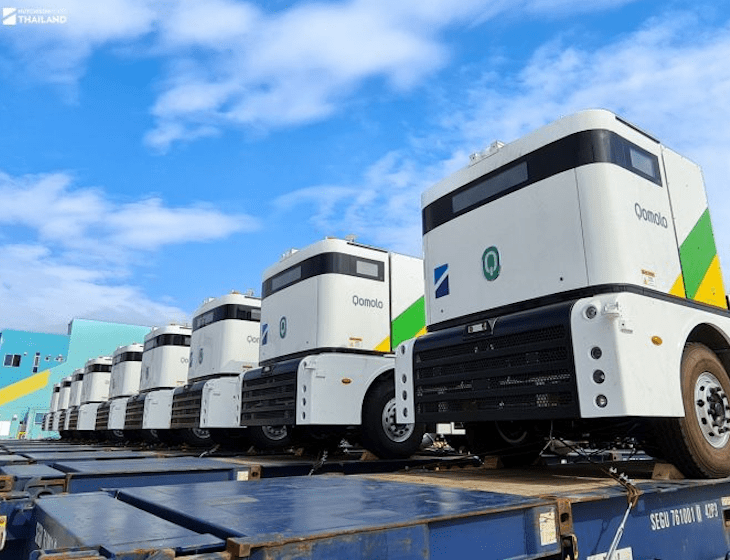 The Port of Felixstowe is poised to become the first port in Europe to implement self-driving trucks operated by cutting-edge AI technologies. The battery-powered units will help create efficiencies and reduce emissions, boosting the port's green credentials.
Introducing the Q-Truck
Hutchison Ports has entered into an agreement with Chinese developer Westwell Technology to supply 100 of the 'Q-Truck' as the next step in a five-year collaboration to develop and introduce autonomous vehicles to daily commercial operations. Clemence Cheng, Executive Director at Hutchison, has expressed great enthusiasm for the partnership with Westwell and their groundbreaking artificial intelligence-based technology, which is set to revolutionise operations at the Port of Felixstowe.
These latest generation, cutting-edge Q-Trucks can travel up to 150 km without needing to be recharged and boast a load capacity of 75 tonnes. They are equipped with sensors that allow them to operate autonomously alongside other vehicles in mixed traffic environments, eliminating the need for separation from other vehicles.

Trialled in Thailand, Tested in Felixstowe
Westwell Technology first introduced the trucks in 2020 at Terminal D in Laem Chabang Port, Thailand. Here they have deployed 15 of the trucks as part of the efforts to make the Thailand port the first smart port in the world employing mixed mode operation between manned and unmanned internal traffic. The Q-Trucks have impressively handled over 334,000 TEUs since their introduction. The trucks have also been through a thorough testing and evaluation process conducted at Felixstowe. It is the result of the successful testing period, that Hutchison is now deploying the system in the UK. 
Cutting Edge AI Technology
The latest generation of the trucks incorporates a fusion of AI and positioning data, enabling seamless autonomous driving and eliminating the need for a driver's cab. Westwell highlights that this advanced model features a new sensor fusion architecture, equipped with multiple sensors, including a high-precision binocular AI camera designed for industrial use. Through the integration of cutting-edge AI algorithms within a comprehensive autonomous system, the vehicle showcases exceptional perception capabilities. Moreover, the truck is equipped with an Extreme Precision Position (EPP) System, facilitating centimetre-level accuracy in vehicle positioning and precise control, with a steering deviation of within 0.5 degrees.
Boost to Green Credentials
The new trucks will create efficiency, ensure operational consistency in container handling, and make a substantial contribution to the port's decarbonisation efforts.
Alongside the implementation of autonomous trucks, the port is also making investments in battery-powered traditional tractor units, undertaking the replacement and re-engineering of yard cranes, and procuring electricity exclusively from certified renewable sources.
Image accreditation: Westwell Technology.