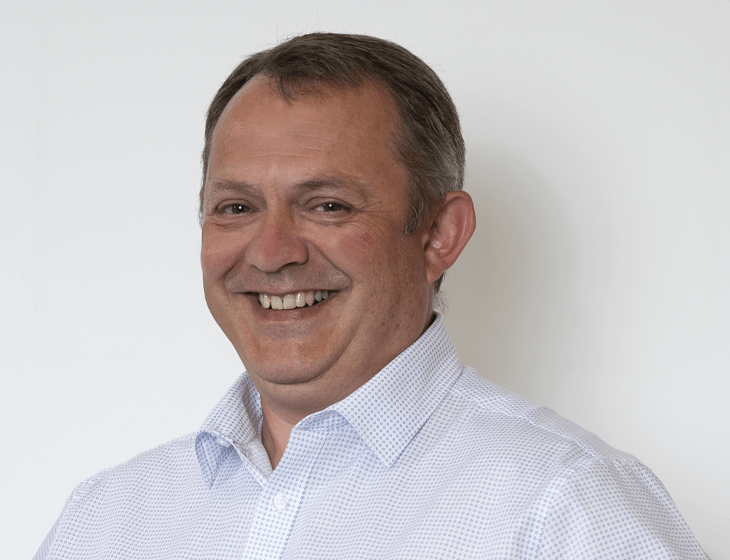 Wayne White, our Group Logistics and Distribution Manager, tells us why in all of his 33 years in the industry PFE stands out as the best employer he's ever worked for. Wayne shares his passion for transport and explains why immersing oneself in every learning opportunity and being a useful team member is key to a successful career.
Number of years in the industry?
 33 years. I've been at PFE for nearly 10 of those years. 
What's been your journey getting to where you are today?
I started my career right after leaving school at 16, on a training scheme called the YTS (Youth Training Scheme). My first placement was with a freight forwarder, and it was an incredible opportunity because my training involved exposure to various departments. I worked in deep sea freight operations, European freight operations, customs, finance, warehousing, as well as UK and European transportation. I kept at it for a few years until my YTS training finished. Then, my mentor at the time, who had decided to change positions, saw potential in me and convinced me to follow them to a new company. There, I spent a couple more years doing something quite similar.
My mentor instilled in me the importance of learning as much as possible and being a useful team member. So, whether it was working overtime, helping out in the warehouse, assisting in transport, or tackling some tricky customs paperwork in the evening, I'd volunteer and do it.
After roughly 8 or 9 years in the industry, I faced redundancy, which led me to another, larger forwarding company. I stayed there for about five years. One day, I walked into work and found out there was a massive problem – everyone had come down with the flu! It practically swept through the entire business. The transport department, which typically had 10 or 12 people, was down to just two. They asked if I could lend a hand, and I discovered I was not only good at transport, but also enjoyed it.
Word got around that I was now working in transport and I received a phone call with an intriguing offer – to become a transport manager. So, I switched jobs again, this time to a haulage company. I spent 5 or 6 years as their transport manager, overseeing around 150 trucks. It was undeniably stressful, but I found satisfaction in it. However, I eventually reached a point where I knew my career needed a new challenge. I ventured into sales for a couple of years, which I didn't enjoy. It was during this time that I realised I'm not cut out for sales; I'm more of an operations person.
From the sales stint, I moved again, this time into the world of petroleum tankers as the UK operations manager. When I joined, there were 12 trucks in the fleet, but by the time I left nearly a decade later, there were over 100. I loved the job, even though it was incredibly demanding due to all the regulations and the extensive travel to various depots. I was hardly ever at home, and it put a strain on my family as they didn't want me away for five or six days each week. That's when I decided it was time for a change, and an opportunity arose at PFE, leading me to where I am today.
My career has taken me on quite the journey, and it's been incredibly diverse. I even spent time on the road as a lorry driver at one point! I can confidently say I've gained a comprehensive understanding of the industry through my various roles. I've created my own training along the way, all thanks to the advice from my first mentor, who emphasised the importance of immersing oneself in every learning opportunity to become an invaluable asset to the business.
What does your role at PFE entail?
​​When I first joined this company, I became the first manager to be hired from outside of PFE. That was about a decade ago. They needed someone to provide support in the transport department, especially when our previous transport manager was on leave. So I filled in during those times, assisted in process development and engaged in a large customer start up. However, my role as the Logistics and Distribution Manager has evolved significantly since then. Now, I have a much broader scope. In addition to managing one of our Key Account Transport departments, I also assist the directors across various projects within the company, while also providing strategic input into our transport and distribution services.
Additionally, I oversee the procurement and sale of our own trucks and trailers, legal compliance and work closely with the key account teams to efficiently manage the transportation and distribution of our customers' goods. My focus is on transportation and warehousing, where I continuously evaluate and recommend the most effective processes to ensure our customers' goods reach their destinations efficiently.
I regularly sit down with the transport and warehouse teams to discuss projects and evaluate performance helping them address any challenges they encounter. This approach ensures that we constantly improve our service quality for our customers. Communication is key.
What's been the best thing about your career?
​​The thing that I enjoy most is the diversity. Every day is different, and even though some roles at PFE have specific duties, you consistently work with people from other teams. Transport is very much tied in with the warehouse storage and the customs department because goods can't be released for delivery until they're cleared. The transport team needs to coordinate with the warehouse, and the warehouse depends on the transport team. So, you don't just stick to one part of your job; you have to understand how all the pieces fit together. In this industry, your role involves being part of a whole chain of activities. The best part of my career is that I've had the chance to see how different businesses and teams operate which has provided me with a full 360-degree view.
I thrive when things get busy; that's what I like. When it's quiet and everything's running smoothly, it can get a bit dull and repetitive. That's when I start looking for new challenges to keep me engaged. If you told me I had to do the same thing for the next two years, that wouldn't be my cup of tea. I need a bit of variety and the chance to try different things. That's why I love my diverse role here, working with the Transport team, the Warehouse team, and getting involved in projects with the directors. There's always something different happening.
Everything at PFE matches the way I work. PFE's values are pretty much my own values. For example, while other companies might just say no to a customer's request, I prefer to say, "Let's take a look and see what we can do." PFE approaches customers the same way, and that's what makes us stand out.
What makes PFE different from the rest?
​​PFE places a strong emphasis on building personal relationships with customers. We understand that honesty and trust are the cornerstones of our customer relationships. PFE goes the extra mile by tailoring its services to meet each customer's unique needs. It's a bespoke approach, unlike many other companies that offer a one-size-fits-all package. PFE has truly mastered this approach.
Another notable distinction here, compared to the other forwarding businesses, is the absence of excessive bureaucracy. It's a flatter organisational structure. We're encouraged to try things, and if they don't work out, we adapt and make swift decisions. That agility is truly valuable to me. I've worked at other similar family-owned businesses, but they weren't as adaptable.
Despite being a sizeable business, PFE retains a can-do attitude and a family-like atmosphere. Many family firms lose that as they expand, becoming overly regimented. Here, it's entirely different. You can approach anyone, even the Directors, with any issue. They're all approachable, and that accessibility matters.
​​PFE stands out as the best employer I've ever worked for. What sets them apart for me, is the high level of trust they place in their employees, especially their managers. They genuinely expect you to do your job and make decisions. If you make a call, you'll receive support, and if it happens to be the wrong decision, it's more about discussing how to get it right next time rather than facing reprimands.
What are three words that describe PFE?
Knowledgeable
Honest
Trustworthy
What's next for you at PFE
I'm not entirely sure, to be honest. If I had to say, my personal goals lean more towards sharing the knowledge I've gathered with others. Right now, I'm content with how things are. I have excellent relationships with Adam, Aron, and Simon, and we have some projects in the pipeline to keep me busy and interested. Of course, you never know what the future holds, and the directors might have further plan. Only time will tell, you know, but I'm here to stay.
Retirement isn't in my plans in the foreseeable future. I can't sit still for even five minutes. I've grown accustomed to working all the time, every day of the week. You see, my job is a bit different to the normal nine to five. In the world of transport, it's a seven-day-a-week job. On weekends, I could have more than 100 deliveries spread across different locations, and I need to ensure everything runs smoothly. I do some of it from home, checking emails and taking calls, sometimes even from drivers or hauliers as early as four or five in the morning. So, there's not much downtime for me. By midday on weekends, things tend to settle down because all our deliveries are scheduled for early morning. But you never truly step away from transport; you either have a deep passion for it or you don't. So, to suddenly stop at this point would be impossible for me.
Would I go anywhere else other than PFE? No, I'll be here until I am forced out of the door or I do eventually have to retire, one of the two! 
What's your favourite movie?
I don't really watch much TV; there are other things I prefer to do. My wife and daughters love watching programmes like EastEnders and Coronation Street, but I find it hard to sit through them. After spending so many hours at the office, work can get quite intense. When it does, my main way to unwind is taking our dog for a long walk. Sometimes we're out for 2 or 3 hours, and it's great to get some fresh air and do something different from the usual routine.
The only type of movie I might watch is a musical. When I was a kid, we had this family tradition of watching 'Oliver' every Christmas because it was always on TV. Because of that tradition, it's the one film that has stuck. I really enjoy going to see a musical performed on stage, but we don't get to do it very often. 'Me And My Girl' was my favourite, but that show ended quite a few years ago.
Who was your childhood hero and why?
It was, and still is my dad. Do you remember the recession in the late 70s early 80's? I have vivid memories of it when I was about 7 or 8; it was really tough. Almost everyone lost their jobs, and interest rates soared.  I hardly saw my dad because he had to juggle three jobs just to keep food on the table, clothes on our backs, and a roof over our heads. He worked tirelessly to ensure we had enough, which is why I've never been a materialistic individual. Possessions just don't hold much value for me. I struggle to grasp why people feel the need for excess. If you don't need it, why have it? Take computers or mobile phones, for example. Sure, they're necessary, but do you really need the top-of-the-range model? It's a peculiar world we live in.
I inherited my strong work ethic from my dad, but my mum was no different. Sadly, she's no longer with us, but back when she was, she was relentless. She couldn't sit still for a moment! So, I get my aversion to sitting still from my mum and my commitment to hard work from my dad.
If you could only eat one meal for the rest of your life what would it be?
Anything Italian. There's nothing I dislike, but if I had to choose, I'd go for seafood linguine. We usually reserve going out for special occasions such as birthdays. No matter how skilled you are in the kitchen, you can't quite replicate the great taste they create in an authentic Italian restaurant. There's an Italian restaurant in Brentwood called Tarantino's, which I'd say is my favourite. We have been there quite a few times. What's even better is they often have a live singer, creating a fantastic atmosphere.