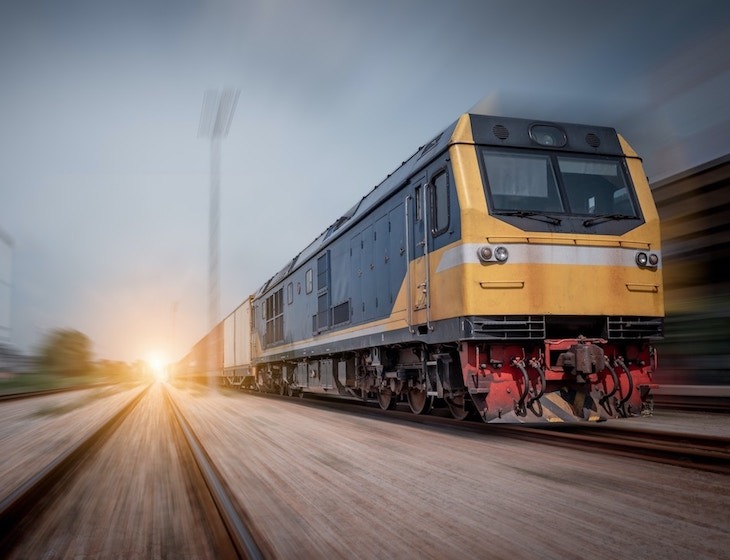 The intermodal freight transportation industry has experienced fluctuations over time, but currently, it is on an upward trajectory. We review what is driving this growth and why intermodal transport might be worth considering as part of your supply chain strategy.
What is intermodal transport?
Intermodal transportation involves the movement of freight using multiple modes of transportation (ship, rail and truck) without any handling of the cargo itself, when changing from one mode to another. The intermodal concept can provide a sustainable, safe, cost effective and efficient form of distribution.
In areas like Asia Pacific, intermodal transportation is especially important, where the regional geography makes multiple transport methods more of a necessity than a luxury. Logistics relies on intermodal transportation for both reach and efficiency in a region with many nations, including those with large land areas like China, as well as many islands that are only accessible by sea or air.
Intermodal transport on the rise
There are many initiatives taking place across the world that are supporting the growth of intermodal transportation that will bring about cost and emission reductions, establish new international logistics routes, enhance supply chain stability in long-distance markets within China, and encourage closer collaboration between ports, railways, shipping companies, and other enterprises.
In developed nations, sea-rail container transport constitutes more than 20% of total port container throughput, while in China, it currently stands at just 2.6%. However, China is taking proactive measures to enhance this statistic through recent policies aimed at bolstering intermodal logistics infrastructure in the coming years. 
Based on a report from Research and Markets.com, the global intermodal freight transportation market is projected to witness significant growth, with an estimated increase of $50.45 million between 2022 and 2026. During the forecast period, it is anticipated to achieve a CAGR (compound annual growth rate) of 6.38%. 
Factors driving growth
Increasing supply chain resilience
The COVID-19 pandemic has underscored the importance of resilience in building robust supply chains for companies worldwide. According to a recent study by McKinsey, almost all surveyed companies have recognised the significance of resilience within their supply chains and are planning to enhance it in the coming years. This finding aligns with previous research that demonstrated how companies with resilient supply chains were better equipped to withstand the impacts of the pandemic.
To bolster supply chain resilience, intermodal logistics has emerged as one of the most effective strategies. By reducing dependence on a single mode of transportation or geographical region, companies gain increased flexibility to handle potential disruptions. This approach enhances inventory management, boosts customer satisfaction, and minimises the risk of product shortages.
Faster and cheaper transportation
Intermodal transportation offers significant cost savings based on the length of the haul and the proximity of the shipper/consignee to the rail terminals. The longer the distance, the higher the cost savings, which can range from 10% to as much as 40%. These savings are primarily attributed to lower fuel costs, as rail is the most fuel-efficient mode of land transportation.
Furthermore, intermodal transportation results in lower handling charges since goods remain within the container until they reach their destination. This reduces handling and associated charges. Moreover, utilising rail leads to increased cost efficiency, as the cost per ton of moving freight is reduced.
Faster and cheaper transportation
Intermodal shipping emerges as an exceptionally sustainable method for transporting freight, with significant advantages in terms of high fuel efficiency, freight efficiency, and reduced environmental impact due to the use of rail.
Firstly, rail stands out as the most efficient form of land transportation, capable of moving 1 ton of freight for over 470 miles with just a single gallon of fuel.
Secondly, rail surpasses trucks in freight efficiency, as an intermodal train can transport the equivalent of around 280 truckloads of freight.
Lastly, choosing intermodal transportation allows shippers to considerably reduce their carbon footprint. Rail exhibits relative energy efficiency estimated at one and a half to five times that of trucking, and the greenhouse gas (GHG) emissions ratio is similar.
Investment in Intermodal transportation
The advantages of intermodal transportation are not only recognised by companies but also by governments worldwide. There is a growing acknowledgment of the need for faster and more cost effective cargo transportation. In the Asia Pacific region, numerous countries are actively expanding their rail networks, further enhancing the effectiveness of intermodal transportation.
The efforts of many governments worldwide demonstrate the global recognition of the benefits offered by intermodal transportation in enhancing efficiency and sustainability in the movement of goods. Prominent examples of such initiatives include Australia's Inland Rail, Japan's Tokyo to Nagoya maglev project, Indonesia's Jakarta to Bandung rail line, and India's Dedicated Freight Corridor. China, too, has taken significant steps by introducing various initiatives to improve national logistics planning and develop intermodal transport systems. 
In an effort to achieve global logistics status and enhance transit times across the Middle Corridor, Azerbaijan, Georgia, and Kazakhstan have come together to establish a joint rail logistics firm. The three countries are aiming to reduce China-Europe transit time by up to 15 days.
PFE's intermodal transport services
At PFE we can provide our customers with intermodal freight services, offering door to door global capability. As with all of our services, our customers can be confident that we will provide the ultimate care and attention to your consignment. Our customers' goods are not re-handled anywhere in the process, and are tracked from order to delivery via PFE Vision. So you can have peace of mind that your goods will be delivered securely, when and where you want them.
For more information about our Intermodal services or for a quote, please get in touch.