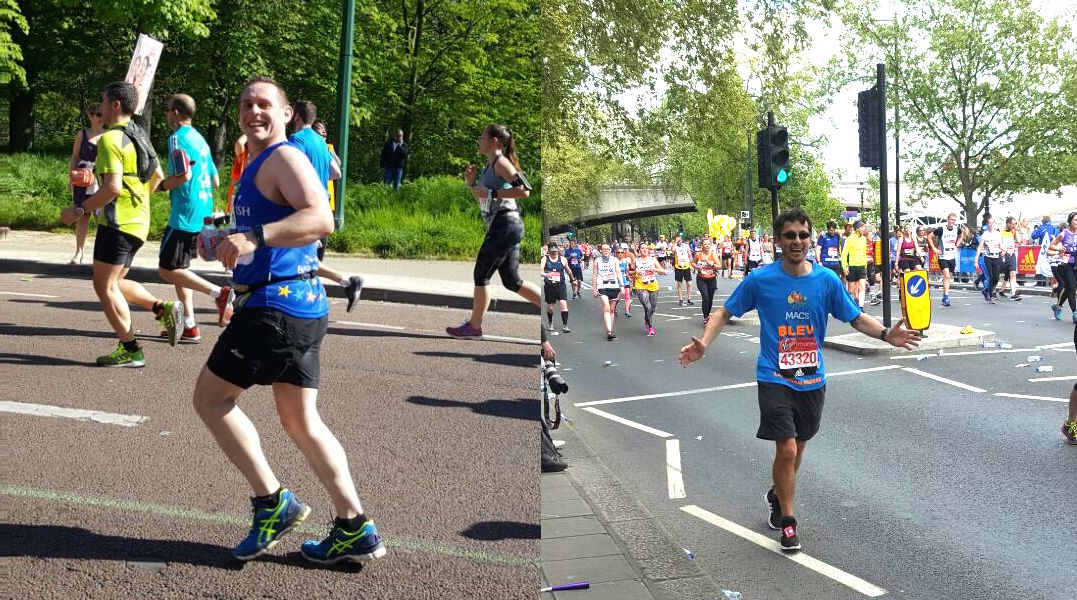 We are privileged to have some great people working with us at PFE that take part in events to fundraise for some wonderful charities. Recently two PFE employees put themselves through the mill of the Paris and London Marathons to raise money for the Make-A-Wish Foundation and MACS.
Steve Hart (pictured left), one of our drivers, ran the Paris marathon in April on behalf of the Make-A-Wish Foundation which grants wishes to enrich the lives of children and young people fighting life-threatening conditions. Steve had run the London Marathon a number of times previously but this was his Paris debut. He'd always hoped that he'd be able to run in a European marathon so getting a place in Paris, and supporting Make-A-Wish, was a real personal achievement.
"I was passionate to run the Paris Marathon and to run for Make-A-Wish." says Steve "It was my first run for the foundation. It really struck a chord with me and they are now my charity of choice."
"The last time I'd been to Paris was nearly 30 years ago, so it was great to be back and do some sight seeing as I took part." reflects Steve "Although the atmosphere wasn't quite as good as London, there was still a great crowd. I was particularly amused by one placard I saw, which said: 'Pain is just a French word for bread'!"
Thanks to the generosity of Steve's family, friends and the team at PFE, Steve raised over £1,400 for Make-A-Wish. Next year Steve will be running his 11th London Marathon on behalf of the foundation.
Blev Havord  (pictured right) from  our Deliveries team, ran his first ever marathon in London a few weeks ago supporting the charity MACS  which helps children born with underdeveloped eyes or without eyes. Having only started running for a bit of fun with his friends last September, he was talked into participating  in the marathon. He only starting his training in earnest in December and had never run a distance beyond 20 miles before taking part. But despite that, Blev not only finished the course, but he also raised over £1,700 for MACS.
"It was my first marathon and may well be my last!" says Blev "I got cramp at 16 miles, but got my teeth into it and ground out the last 10 miles. The crowds were amazing and pulled me along. I was disappointed that I didn't do a faster time, but it was about raising money for a good cause."
"The generosity of people has been incredible." Blev reflects, "The most amazing thing that happened, was when I noticed that someone we'd been talking to on the way home on the tube, had taken note of my number, gone on my Justgiving page and donated £50. I couldn't believe it!"
PFE's Managing Director Adam Collins was awarded the status of Ambassador for Make-A-Wish having been involved with the charity for over fifteen years and is dedicated to raising awareness of Make-A-Wish for the benefit of its children and young people. For more information about the foundation visit: www.make-a-wish.org.uk