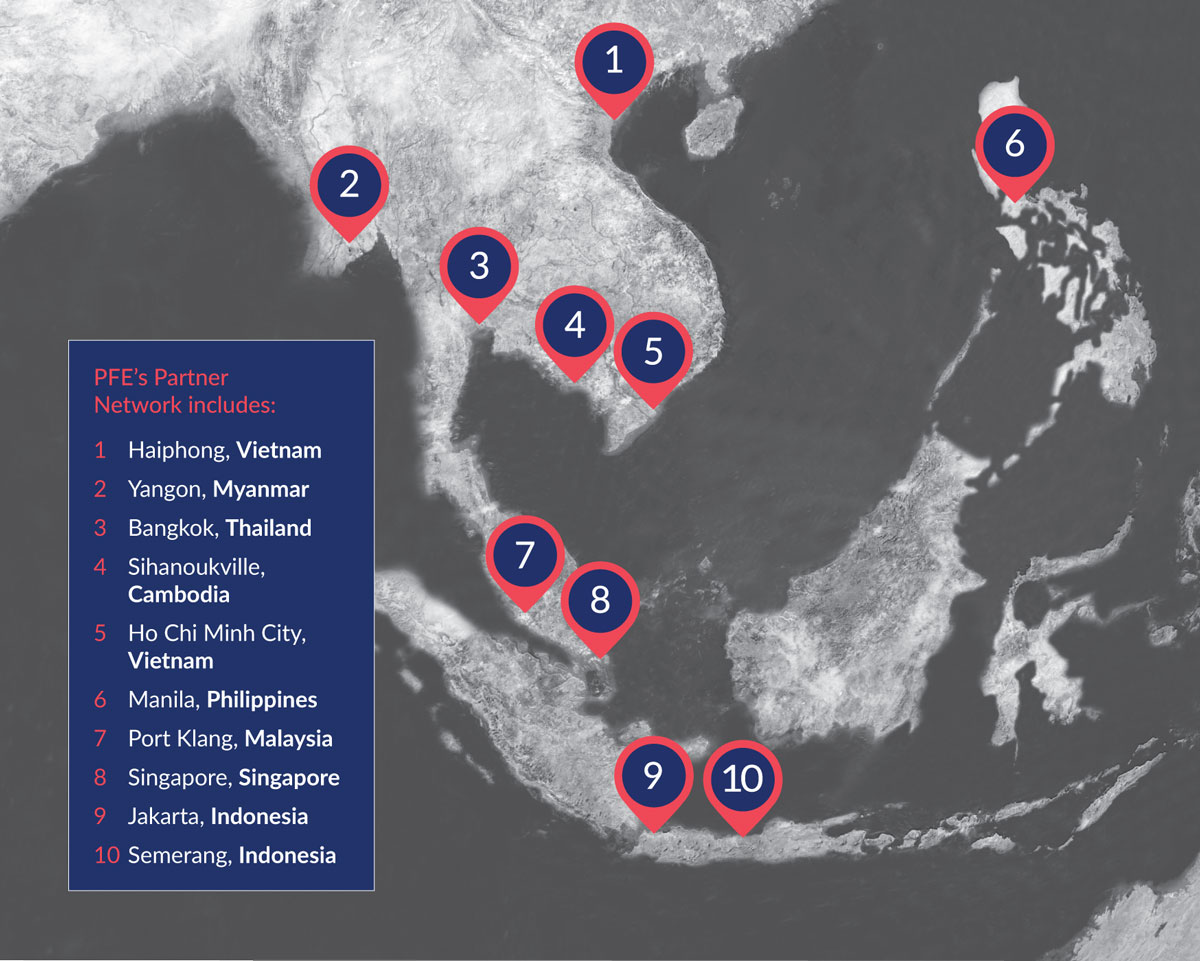 The nations of South East Asia including Cambodia, Indonesia, Malaysia, Myanmar, the Philippines, Singapore, Thailand and Vietnam are all united by one characteristic, which is growth. With a significant growth rate in the last decade and improvements to the trade environment, more companies have started to source goods from South East Asia. There may also be financial benefits, as this area offers preferential duty rates on the shipment of some categories of goods.
Whether your business is importing clothing, textiles, footwear or furniture, South East Asia is worth consideration. PFE offers Sea Freight services from the whole of the South East Asian region. Our extensive network of trusted partners in the area enables us to offer highly competitive supply chains and control them on your behalf.  We offer good transit times from all key ports and make sure your goods are delivered safely into PFE's own warehouses in the UK. Our customers' goods are not re-handled anywhere in the process. So you can have peace of mind that your goods will be delivered securely, when and where you want them.
Angela Hutchings, who works for  PFE's Imports team says: "South East Asia has begun to win manufacturers over from China because of lower costs and its improving infrastructure. Our supply chain is as robust from this area as it is from China because we have good relationships with our partners in the region." Angela continues "If you are considering South East Asia and need help and advice with importing from the area we would be very happy to share our knowledge and experience with you."
Imports from SE Asia
We operate from the following areas to the UK including:
Yangon (Myanmar)

Haiphong (Vietnam)

Bangkok (Thailand)

Sihanoukville (Cambodia)

Ho Chi Minh City (Vietnam)

Manila (Philippines)

Port Klang (Malaysia)

Singapore (Singapore)

Jakarta (Indonesia)

Semerang (Indonesia)
If you would like a non-committal quote for your shipment, please get in touch.