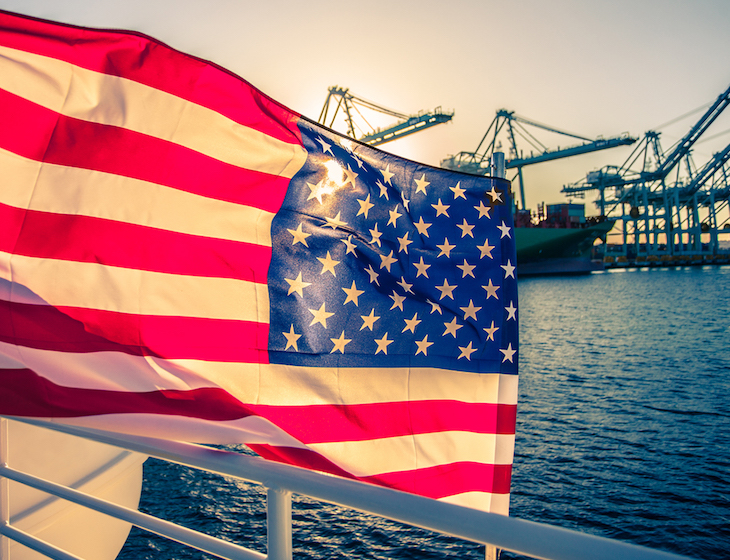 We are delighted to announce that we now offer a full range of door-to-door, import and export services for the US market.
The American market is well established and offers a reliable and extensive trade environment, which is why, for an increasing number of our customers, the USA is their first choice. 
Responding to our customers needs, we have continued to develop our services in the US. We now offer comprehensive Transatlantic and Transpacific groupage, part load and full load services via our new weekly shipping schedule. 
Transatlantic Services
For customers importing goods from the USA we offer fast transit times and priority devanning into PFE's own warehouses in the UK. So you can have peace of mind that your goods will be delivered securely, speedily, when and where you want them.
We manage imports to all UK ports from all major ports in the USA as well as Vancouver in Canada and the Gulf of Mexico. See below details of our sailing schedule.
Transpacific Services
If you are manufacturing goods in China for the American market, we offer direct services to all major ports in the USA including:
East Coast
New Jersey City, New Jersey

Norfolk, Virginia

Savannah, Georgia
West Coast
LA, California

Oakland, California
We can also assist customers with distribution from central warehouse locations in the USA.
For all of our US services you can have confidence that PFE will manage your shipment seamlessly and efficiently, making the process easy for you. Our comprehensive and reliable network ensures we maintain full control over the movement of your goods. 
For a non-committal quote or for more information, please get in touch: [email protected]
USA to UNITED KINGDOM SAILING SCHEDULE
Receiving Terminal Cut-Off
| VESSEL / VOYAGE | Tue 12:00 | Mon 12:00 | Tue 12:00 | Thur 12:00 | Fri 12:00 | Mon 12:00 | Mon 12:00 | Thur 12:00 | NYC | POD | CFS |
| --- | --- | --- | --- | --- | --- | --- | --- | --- | --- | --- | --- |
| LEO C V.NU929E | 02-Jul | 08-Jul | 09-Jul | 11-Jul | 12-Jul | 15-Jul | 15-Jul | 18-Jul | 26-Jul | 06-Aug | 09-Aug |
| BILBAO BRIDGE V157E | 02-Jul | 08-Jul | 09-Jul | 11-Jul | 12-Jul | 15-Jul | 15-Jul | 18-Jul | 24-Jul | 12-Aug | 15-Aug |
| MSC RACHELE V.NU930E | 09-Jul | 15-Jul | 16-Jul | 18-Jul | 19-Jul | 22-Jul | 22-Jul | 25-Jul | 02-Aug | 13-Aug | 16-Aug |
| MOL EMPIRE V026E | 09-Jul | 15-Jul | 16-Jul | 18-Jul | 19-Jul | 22-Jul | 22-Jul | 25-Jul | 31-Jul | 19-Aug | 22-Aug |
| S SANTIAGO V931E | 16-Jul | 22-Jul | 23-Jul | 25-Jul | 26-Jul | 29-Jul | 29-Jul | 02-Aug | 09-Aug | 20-Aug | 23-Aug |
| BREVIK BRIDGE V061E | 16-Jul | 22-Jul | 23-Jul | 25-Jul | 26-Jul | 29-Jul | 29-Jul | 02-Aug | 07-Aug | 26-Aug | 29-Aug |
| MAERSK GAIRLOCH V923E | 23-Jul | 29-Jul | 30-Jul | 01-Aug | 02-Aug | 05-Aug | 05-Aug | 09-Aug | 16-Aug | 27-Aug | 30-Aug |
| MOL EMISSARY V027E | 23-Jul | 29-Jul | 30-Jul | 01-Aug | 02-Aug | 05-Aug | 05-Aug | 09-Aug | 14-Aug | 02-Sep | 05-Sep |
| WIDE BRAVO V933E | 30-Jul | 05-Aug | 06-Aug | 08-Aug | 09-Aug | 12-Aug | 12-Aug | 16-Aug | 23-Aug | 03-Sep | 06-Sep |
| BERLIN BRIDGE V062E | 30-Jul | 05-Aug | 06-Aug | 08-Aug | 09-Aug | 12-Aug | 12-Aug | 16-Aug | 21-Aug | 09-Sep | 12-Sep |
Main USA Receiving Terminal Locations
NYC: DGS, 760 PORT CARTERET DR, CARTERET, NJ 07008
LAX: DGS , 2665 E. DEL AMO BLVD, RANCHO DOMINGUEZ, CA 90221
CHI: DGS C/O VANGUARD LOGISTICS, 250 S. GARY AVE, CAROL STREAM, IL 60188
CHS: DGS C/O VANGUARD LOGISTICS, C/O PHILADELPHIA TRUCK LINES, 3074 ASHLEY PHOSPATE RD, N. CHARLESTON, SC 29518
ATL: DGS, 5148 KENNEDY RD, FOREST PARK, GA 30297
BOS: DGS , BOSTONS FREIGHT TERMINAL, 1 HARBOR FREIGHT TERMINAL, BOSTON, MA 02210
BAL: DGS C/O VANGUARD LOGISTICS, BALTIMORE INT'L WHSE, 7646-56 CANTON CENTER DR, BALTIMORE, MD 21224
PHL: DGS GALASSO TRUCKING, 2840 E.HEDLEY ST, PHILADELPHIA, PA 19137