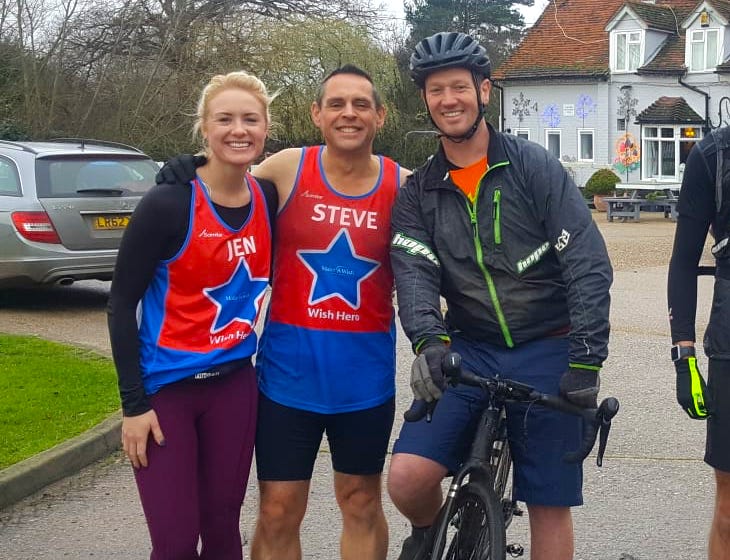 At the end of last year, PFE driver Steve Hart had the ambitious idea of running an ultra marathon to raise money for a charity that is close to his and PFE's heart – Make-A-Wish Foundation.
Steve Hart, one of our drivers, first began fundraising for Make-A-Wish Foundation when he ran the Paris Marathon on their behalf in 2017. Make-A-Wish grants wishes to enrich the lives of children and young people fighting life-threatening conditions and relies heavily on donations and money raised through fundraising activities from people like Steve.
In September 2019 Steve had the idea of running an ultra marathon of 50km (31 miles) to continue raising funds for Make-A-Wish. The first thing he had to do was to set the date – 14th December 2019 – and invite his friends to join him for part of this special run. He soon persuaded running mate and fellow Make-A-Wish fundraiser, Jennifer Carr to take on the challenge and run the whole distance with him. 
Over time a number of other good people stepped forward to join Steve in his running quest, including members of PFE's staff. Driver Gavin Woolley (pictured above with Steve) offered to ride with Steve, be part of his support team and helped design the route. Transport Manager, Blev Havord offered to run a 5 mile section as a gesture of support.
Steve not only organised the run but a whole fundraising event around the run. He set up an 'after run' event to which friends and family were invited. He asked local businesses to donate prizes for a raffle and booked live music and catered for everyone with a hog roast. 
The run started on 10am on Saturday 14th December at The Bell in Tolleshunt Major, and finished at The Swan in Little Totham in time for the charity event.
At The Bell there was a 'sending off' party which included a woman who shared a story about her grandson who'd been granted a wish by Make-A-Wish and who had recently been told he had 6 months to live. It was a very real moment for Steve and his team and it sent them on their way with the raw reminder of what they were striving for.
"The run was tough but a great personal achievement for Jen and I finishing in just under 5 hrs" says Steve.  "We were joined on the run at different stages by runners and cyclists who helped us achieve our goal. We were truly grateful for their company." 
Steve arrived tired but elated at The Swan at 3pm and was greeted by a lovely welcoming party. The charity event kicked off immediately. A local Make-A-Wish volunteer joined the party to say a few words, everyone enjoyed the food, a noisy raffle, great music and a 'few' drinks! 
"It was more than I could have dreamed of. Friends, family, a community of great people fully invested in the goal of raising funds and creating some joy and memories for our 'wish' children & their families." says Steve. "I'm so grateful to everyone for the enthusiasm, support and giving up hard earned cash for a truly amazing charity." 
Steve's main aim was to raise as much money as possible and the figure currently stands at just over £2,000 which is a fantastic achievement.
Thanks once again to PFE for a fabulous donation!