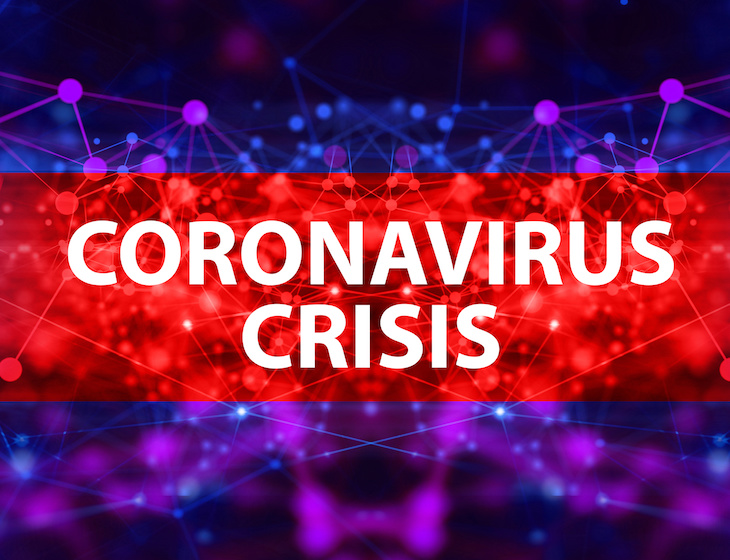 The major disruption to global supply chains resulting from the impact of the coronavirus pandemic continues, as restrictions in movement are maintained across the world.
With most countries still in lockdown in the battle to contain the coronavirus pandemic, the disruption on global supply chains continues. The restrictions in movement of people being imposed by governments and resulting delay and disruption to supply chains is unfortunately likely to continue for some time.  
Sea Freight Summary
Global shipping challenges in the face of COVID-19 are changing frequently. The spread of the disease to Europe, US and to other parts of the world, has resulted in a dramatic downturn in trade. Demand for ocean freight has dropped off due to the lockdowns in most countries and in response to this shipping lines have announced further blank sailings in the last few weeks from China and other Asian countries. There are few signs of volumes picking up whilst the UK, US and most of Europe remain in lockdown. 
At the moment there is only speculation as to when lockdowns will be removed, either in part or in full, and when demand will start to pick up. For the time being blank sailings will continue and may become even more prevalent.
There have been more recent concerns about the potential for congestion at ports as a result of cargo being uncollected due to warehouse closures. The fall in demand, store closures and limited warehousing operations, has the potential for container volumes at ports to grow substantially leading to portside congestion. The risk is that ports will run out of capacity to store incoming shipments, resulting in rising congestion, leading to carriers having to omit ports. We will keep you updated on this. 
Air Freight Summary
Rates for air imports into Europe continue to be at an all-time high due to ongoing strong demand for medical supplies and medical equipment such as PPE and face masks. The suspension of most passenger flights has adversely affected the level of space available resulting in air freight rates rocketing. This situation is expected to continue over the coming weeks due to global demand for medical equipment across all regions and countries affected.
Global Impact Summary
This is the latest summary of the current situation in the key affected areas of the world, and impact to the supply chain, resulting from COVID-19.
Asia
Production outside China continues to be hit as other Asian countries enforce strict measures to contain the spread of coronavirus. Lockdowns across Asia are beginning to impede manufacturing also causing supply chain disruption.
China
China is back to full production activity and restrictions have now lifted in Wuhan/Hubei Province. Sea freight operations have now normalised at China's ports. However China's trading partners in Europe and the US are not making purchases while in lock-down as consumer demand is curtailed. Therefore shipping lines are seeing a further decline in demand for shipments and are being forced into waves of blank sailings.
As air freight and sea freight shipments face significant capacity and schedule issues demand is growing for China-Europe rail freight capacity. The China rail service offers transit times savings compared with ocean freight. The addition of blank sailings is making the rail option even more attractive.
India
The lockdown has recently been extended until 3rd May intensifying the supply chain disruptions in India. Manufacturing and transportation has become a big problem due to the clampdown on people movement. We expect there to be delays with cargo moving over the next few weeks in this region including delays at India's key ports which will impact shipments in the coming weeks. Several shipping lines have announced voyage cancellations in the last week from India.
Bangladesh
The Bangladeshi government has extended its nationwide holiday to 25th April, preventing people from leaving their homes. Factories continue to be closed impacting manufacturing which will continue until the holiday comes to an end. Restrictions have not been applied to movement of cargo goods, but there are delays at Bangladesh's key port, Chittagong resulting from heavy congestion in its yard causing disruption to sea freight services.
Other Asian Countries
There are similar situations in Malaysia and Sri Lanka with full lockdowns declared. Cambodia and Myanmar are having longer national holidays in April, which will impact the flow of cargo. Vietnam, Pakistan and the Philippines are operating at a reduced level.
Europe
The EU has banned non essential travel across Europe, but goods circulation is still allowed. Manufacturing and distribution operations remain open in European countries. European road freight is being impacted with inevitable disruption to international haulage operations. At the border crossings, which have remained open, the delivery of goods is being delayed in some cases due to extra checks at and staff shortages. Warehouses and distribution centres across Europe are almost at full capacity, forcing consignees to identify ways to look for container storage at origin or destination.
US
Ocean carriers serving the transpacific trade lane have announced further blank sailings to match those they have voided on the Asia-Europe route as a consequence of Covid-19. Imports to major US ports are expected to remain significantly below normal levels through the coming weeks as the coronavirus pandemic continues.
There have also been recent warnings that there is the risk of significant congestion from imports piling up at US sea terminals. At some US ports it has been reported that retailers and manufacturers are failing to pick up containers which will result in ports running out of places to store incoming shipments and subsequent congestion.
UK
All UK container terminals are operating business as usual, subject to absences and Covid-19 safe working practices. The ports at Felixstowe and Southampton remain open and are taking measures to ensure that they remain fully operational. Operations at ports are being slightly slowed by intermittent closure for deep cleaning. The situation is being kept under continuous review at all ports and we will update you if anything changes. 
We continue to operate our transport distribution service across the country as normal.
PFE continues to operate in the UK with a skeleton staff in the warehouse and the office and all other members of the PFE team successfully working remotely. We do not anticipate any notable impact to our customers and you should be able to reach your contacts on the usual phone numbers. We are in daily contact with all of our partners worldwide and will keep you abreast of the situation in the different markets depending on individual customer's needs.
We would like to thank all of our customers once again for their support during this difficult period.