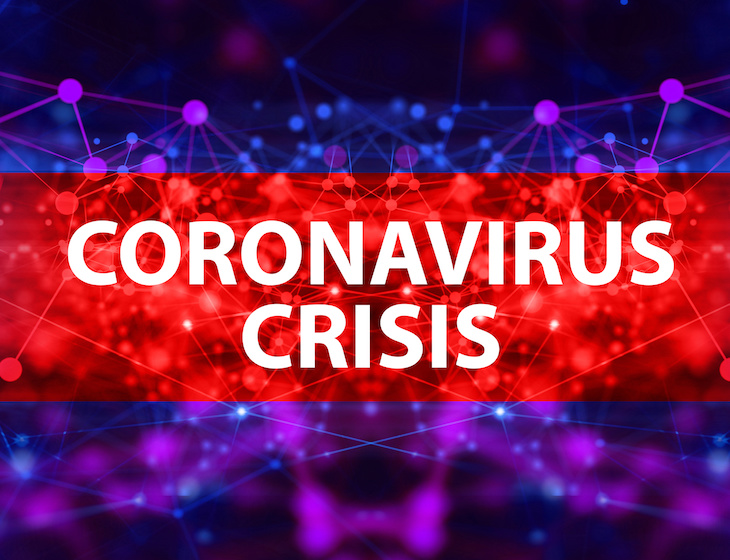 The impact of the coronavirus pandemic on global supply chains has become a major disruption, creating extreme uncertainty like nothing the industry has experienced before.
Governments across the world are battling to contain the coronavirus pandemic by applying restrictions on the movement of people. While the restrictions being imposed do not generally apply to the movement of cargo, the impact is being felt across supply chains and unfortunately is likely to continue for the foreseeable future. 
Earlier this year, the COVID-19 outbreak only affected manufacturing in China and exports from this region. The disease has since spread to Europe, US and to other parts of the world, where nationwide lockdown orders are now crushing demand. In response to the downturn in trade, shipping lines have announced numerous sailing cancellations from China and other parts of Asia to Europe and the US. The situation is changing daily but we expect that the volume of blank sailings will continue to rise.
Production outside China is starting to be hit as other Asian countries enforce even stricter measures to contain the spread of coronavirus. Lockdowns across Asia are beginning to impede manufacturing and cargo flows across the region.
The urgent transportation of pharmaceuticals and other medical equipment has now become a priority across the world and is now adding to the pressures on the air freight market. The suspension of most passenger flights has adversely affected the level of supply available resulting in air freight rates rocketing.
PFE continues to operate in the UK with a skeleton staff in the warehouse and the office where it is absolutely necessary, with all other members of the PFE team successfully working remotely. We do not anticipate any notable impact to our customers and you should be able to reach your contacts on the usual phone numbers.
This is the latest summary of the current situation in the key affected areas of the world, and impact to the supply chain, resulting from COVID-19.
Asia
China
China is nearing full production activity and restrictions continue to be lifted slowly in Wuhan/Hubei Province. Sea freight operations have now normalised at most of China's ports.
However China's trading partners in Europe and the US are not making purchases while in lock-down as consumer demand is curtailed. Therefore shipping lines are seeing a further decline in demand for shipments and are being forced into further waves of blank sailings.
India
The country is on lockdown till 14th April leading to a string of supply chain disruptions in India. Manufacturing and transportation has become a big problem due to the clampdown on people movement. We expect there to be delays with cargo moving over the next few weeks in this region. We are also anticipating delays at India's key ports which will impact shipments in the coming weeks. The drop in demand from retailers in Europe and the US has prompted several shipping lines to announce voyage cancellations in the last week.
Bangladesh
The Bangladeshi government has declared a 10-day general holiday between 26 March and 4 April, which prevents people from leaving their homes. Factories are being closed so we expect to see an impact on manufacturing in the coming weeks. While restrictions have not been applied to movement of cargo goods, Bangladesh's key seaport, Chittagong, is facing heavy congestion in its yard causing some delays and disruption to sea freight services.
Other Asian Countries
There are similar situations in Vietnam and Sri Lanka with full lockdowns declared. Cambodia and Myanmar are having longer national holidays in April, which will impact the flow of cargo. Pakistan, Malaysia and the Philippines are operating at a reduced level.
Europe
The EU has banned non essential travel across Europe, but goods circulation is still allowed. At this time, manufacturing and distribution operations remain open in European countries. European road freight is being impacted with inevitable disruption to international haulage operations. At the border crossings, which have remained open, the delivery of goods is being delayed in some cases due to extra checks at and staff shortages.
US
Ocean carriers serving the transpacific trade lane have announced a wave of blank sailings to match those they have voided on the Asia-Europe route as a consequence of Covid-19. We expect additional blank sailings on other services to be announced during the coming weeks, depending on market demand.
UK
The ports at Felixstowe and Southampton remain open and are taking measures to ensure that they remain fully operational. We expect that operations at ports may be slightly slowed by intermittent closure for deep cleaning. The situation is being kept under continuous review at all ports and we will update you if anything changes.
We continue to operate our transport distribution service across the country as normal.
Air Freight Impact
The reduction of air freight capacity on passenger aircraft is having a major impact on the air freight market. The massive cuts in European and US airlines' passenger services and bellyhold cargo capacity has led to big increases in freight costs. Coupled with demand for air freight space that is currently extraordinarily high, primarily due to the resurgence in production in China as the spread of the coronavirus there stabilises. Both of these factors have put tremendous pressure on capacity which has caused prices to skyrocket. Airlines are deploying passenger aircraft to carry cargo only, but any space that is available is being prioritised for medical related goods. 
We are monitoring the situation and will be communicating regularly with our air freight partners to ensure that we are kept abreast of any future potential disruptions to air operations.
Please be reassured that we are in daily contact with all of our partners worldwide and will keep you abreast of the situation in the different markets depending on individual customer's needs. We hope you can understand that in these unprecedented times, there may be times when we are unable to provide our services at the normal speed and delays might be encountered. We thank all of our customers for their support during this difficult period.