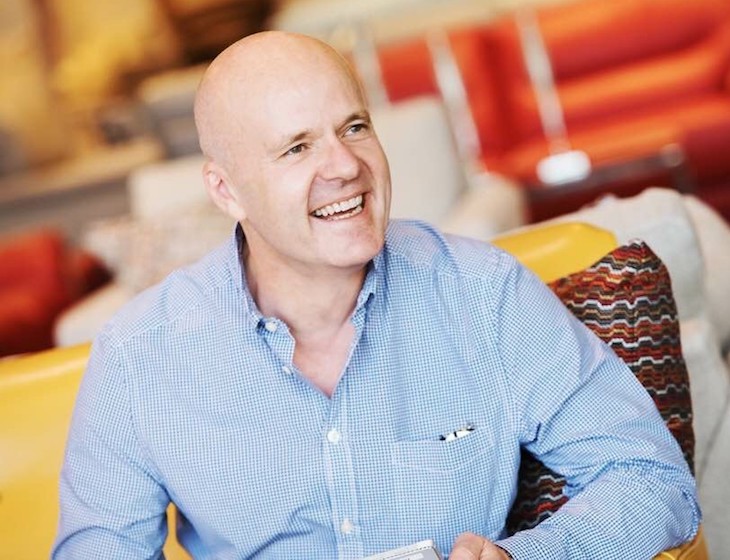 Head of IT, Richard Tewson, tells his PFE story including how his team has been instrumental in handling the challenges presented by the coronavirus crisis.
What's your journey been getting to PFE?
I've always been in IT, but prior to PFE I'd always worked in Retail IT. I was a 'lifer' at the Austin Reed Group before it went into administration. I worked there for 30 years, since coming straight out of school. Although it was hard leaving after such a long time, it was the best thing that happened to me. 
During my involvement in the administration process, I was contacted by my old boss who had become recently involved in a new business that was being started by Lord Kirkham (the founder of DFS). Fabb Sofas was a new start up and I was responsible for setting up all of the IT.  We went from no systems and no stores, to a retail business with nine stores in the end and a sales team that sold online. Then that business was also put into administration due to lack of funding. But it was Fabb that introduced me to PFE – thankfully!
PFE was managing the shipments for Fabb, and I had been to PFE's offices for a number of meetings as a customer. So when Fabb went bust, I sent a message to Adam Collins to say 'thank you and goodbye'. At the time, PFE's Directors were looking to improve and expand PFE's IT capability and after a meeting to discuss the opportunity, I was offered a job.
Number of years in the industry?
I joined PFE in July 2018. So it's been nearly two years that I've worked in the freight industry.
It's interesting because I'm still learning a lot about the true 'freight' side of the business. But because of my previous experience, I know retail inside out. This has been very helpful as PFE works with a number of retailers. I'd like to think I've been advantageous to PFE by introducing IT controls, reporting processes and project delivery that would be expected in the retaiI world. For example, our customers have benefited from the restructure of reporting in a format that retail requires it. We've been able to deliver new KPI reports quickly, as I've been able to pull on my experience of working in retail analysis at Austin Reed.
What makes PFE different from the rest?
When I was one of PFE's customers at Fabb I found PFE to be incredibly knowledgeable, I remember thinking that the team's extensive experience and understanding the freight industry was very impressive. 
In terms of PFE as a whole, it's the people that make PFE different. The PFE team are a really nice bunch and are easy to work with. A great example of what I mean by this is what struck me after the first PFE Christmas party I went to. It felt more like a family wedding than a company party! What's also great is that there's no office politics here and the company is extremely agile as business decisions get made really quickly. 
Finally, while I felt like a bit of old furniture at Austin Reed, I feel appreciated at PFE.
What are three words that describe PFE?
Honest, Caring, Customer-focussed.
What has been the best thing about your career?
I've had a very varied career working across a number of IT disciplines. I don't consider myself a typical IT guy – I'm very business oriented. With every IT project you need to factor in business processes and goals and ensure that there is sufficient planning and business understanding of what you're delivering before you set to task. This approach has enabled me to make significant positive changes to business operations over the years, which has been very satisfying. 
When I first joined PFE we undertook an extensive infrastructure refresh which involved real scrutiny and planning for security and disaster recovery so that we would be resilient in every circumstance. You can't plan for everything, because life throws terrible things in our way, the pandemic being one of these things. 
The PFE IT team was instrumental in handling the challenges presented by coronavirus. PFE had already invested considerably over the years in its IT capability, so as a result of the refresh we had leading edge software in place. Our infrastructure made us robust to the situation. The changes to business operations made in order to comply with government restrictions were made with minimal fuss and we've been able to operate business as usual. Everyone has been able to work from home successfully. Considering the amount of change, in such a small amount of time, it's gone fantastically well.
"There are many things that I've achieved over the years that I'm proud of. But the infrastructure refresh for PFE is one of those, and the benefit to the business during the pandemic is testament to a job well done. I think the PFE IT team is more business focused now, we are here to make the work that PFE does more efficient. We've achieved this working as a team."
Do you have any future ambitions for PFE?
The next thing to do is to refine internal process to create even more efficiencies. My focus at the moment is on developing Vision 2020, developing a tool that customers will find easier to use, with additional tools and enhancements that will be beneficial for a smoother operation of their business. I'm really excited by the plan for this.
I'm also looking to grow and develop PFE's IT team. Over the last year some of the team have completed an apprenticeship which is developing the skill set we can offer the business. We'll also be recruiting another developer so that we can continue to support the business and move it forward. That's what we're here for.
Who was your childhood hero and why?
My Mum or "our Mam" as I would have said as a child growing up in Middlesbrough! My parents had their own business, she was working in that business as well as bringing up a family and also doing charity work. She was a true grafter. If she was still alive now, I know she'd have been doing something to help during the pandemic. She always put other people's needs before her own.
If you could only eat one meal for the rest of your life what would it be?
Probably a bacon sandwich or beans on toast if I had to eat it every day.
But my favourite meal is a Thai green curry – you can see why I wouldn't want to eat that every day! I have made my own, but there's a restaurant in London – Busaba Eathai – and the Thai green curry is to die for. I've never been to Thailand, but I imagine the curry is quite good there as well!
What's your favourite movie?
I'm not a film buff, I'm more of a music fiend. I don't have a favourite film per se but I like Tarantino movies because of their edginess. Pulp Fiction is iconic and The Hateful Eight is one of his best. It's one of those ones you have to watch a couple of times to get the full story – you pick up on all the finer details the second time round.