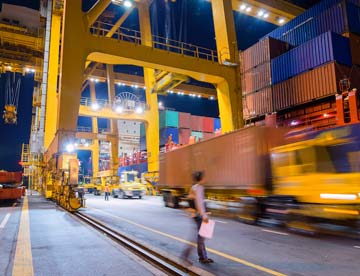 Congestion across the global supply chain is effecting operations both in Asia and the UK.
The Chinese 'Golden Week' holiday at the start of October usually signals the winding down of the peak season. However this year the levels of demand have been unprecedented and have remained strong continuing the scramble for space. We review how the situation is creating disruption and delays resulting from congestion throughout the supply chain.
Congestion at Origin Ports
Space continues to be a challenge on Asia-to-Europe and Asia-to-US shipping lanes as carriers draw out holding back from committing to a full schedule despite the continued demand. While some additional capacity has been added to the market in recent weeks, this has not been enough to create enough space availability to ease the situation. With container vessels full from Asia to Europe, the supply chain is wrestling with disruptions and delays. 
An acute shortage of equipment in the market, particularly 40ft containers, is causing a major problem in China, Vietnam, Thailand as well as India and Korea. Carriers are therefore applying very restricted management of space and rates in all main trade lanes remain at record high levels.
In addition there are increasing issues with labour shortages, resulting from factors including Covid-19, which is impacting terminal operations in multiple locations at origin. The situation is particularly acute at the hub port of Colombo, Sri Lanka where the terminal is experiencing berthing delays and sailing delays as a result of labour availability at less than 70%. This is creating unavoidable delays in the movement of goods from Southern India and Bangladesh as well as Sri Lanka itself. 
Congestion at UK Ports
UK ports are experiencing congestion resulting in disruption and delays landside. The problems are being blamed on the unusually high seasonal volumes coupled with a number of external factors: measures to safeguard from Covid-19; bad weather; staff and transport shortages, all of which have slowed levels of productivity.
Landside congestion continues at Felixstowe Port which is still struggling to manage the significant increase in import volumes which has resulted in disruption to normal levels of service for a number of weeks. There has now been a knock on effect at London Gateway and Southampton ports, which have been absorbing diversions from Felixstowe. The London Gateway Port is experiencing congestion at the terminal and container yard which has resulted in a number of port omissions, 'cut and runs' and move count restrictions.
Various efforts and actions at UK ports are ongoing to improve the situation but the expectation is that this congestion will continue further until the middle of November.
Challenges for Air Freight
Demand is flowing back into the air freight market at a pace as the industry approaches the run-up to Christmas. Capacity remains an issue with lower levels of air passenger traffic still inflicting the industry. If this demand persists, we may well see a resurgence in passenger planes being deployed mainly, or solely, for moving freight. Constrained capacity in the market at a time of rising demand out of Asia is leading to an increase in rates once again.
Impact for customers
Severe space saturation for both sea and air freight will continue to be very tight over the coming weeks resulting in unavoidable delays. As much as we are working extremely diligently to acquire as much space as possible for our customers, the impact from factors arising from this situation is likely to cause irregularities. The PFE team will continue to provide our customers with the best possible service despite the current challenges.
We would like to thank all of our customers once again for their support during this period.