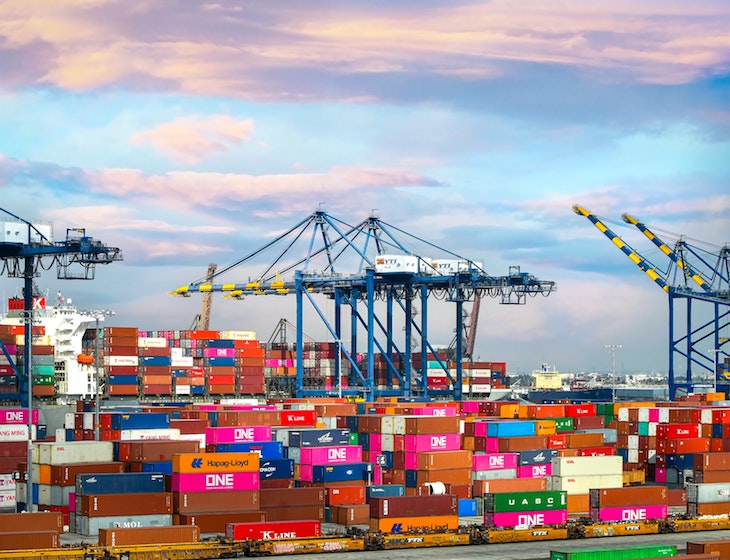 The impact of ongoing container equipment shortages, vessel delays and port congestion – all of which have been further exacerbated by last month's Suez Canal blockage – are becoming visible now.
Regrettably we expect that both vessel space and equipment will be very challenging for the coming month. Vessels impacted by the Suez Canal blockage have been arriving in the EU and UK, delaying the much needed re-supply of empty equipment from Europe to Asia and the Indian Sub Continent. Container equipment shortages are now at acute levels across these regions. There have been further rate increases on Asia to Europe services from most carriers in the last week as a result of the tight space and equipment shortages and the independent market rate barometers are all increasing rapidly.
Acute Equipment Shortages
Equipment shortages at Asian ports remain an industry-wide challenge and it is worsening now as a result of the missing weeks of re-supply of empty containers back into Asia from the Suez delays. In an attempt to redress the imbalance, carriers are trying to turn ships around quickly and return them to Asia. We have been notified that the return of empty containers to Asia, in some cases, is being prioritised over European export cargo. This week and next week will see the largest impact resulting from delays of empty containers coming back to Asia and we expect equipment shortages at Asian ports to continue into June.
Severe Port Congestion
We are expecting congestion at EU and UK ports and ports at Origin to build in the coming weeks:

Europe and UK Ports
Congestion in North Europe's major ports is increasing as container terminals try to work through the backlog of vessels delayed by Suez Canal closure. As a consequence of this, we foresee that most services will miss berthing windows resulting in disruption to schedules. 
All UK ports will be very busy over the coming weeks as the delayed vessels will be arriving at the same time as scheduled vessels. To help manage the extra volume, ports are looking at ways in which they can mitigate impact on landside with some extending collection and delivery into Sundays.
Ports at Origin
We are continuing to see port congestion at many major ports across Asia, with backlogs of shipments building day by day. A significant area of persistent congestion is the major hub port of Colombo in Sri Lanka which is preventing the feeder network from working optimally and impacting shipments from the Indian SubContinent region, including Bangladesh. Chittagong port in Bangladesh is also experiencing congestion as the ripple effect of disruption from Colombo. There are several thousand containers delayed in Bangladesh as a result of the feeder vessel delays and congestion. These delays are also being seen across other markets in the region such as India and Pakistan.
Port authorities are attempting to control the backlog and are ensuring that the longest-standing containers are moved from the port first. New bookings, as a result, are subject to unavoidable delays.
Sailing Schedule Disruption
Unfortunately the Suez incident has added further turbulence on services already under pressure to the EU and UK. The impact to global supply chains will continue to be felt for a number of weeks and possibly months to come. We anticipate the vessel delays will continue until the end of May, whilst the impact on equipment in Asia will extend possibly into Q3. In the longer term we expect volumes to peak again as we move into the summer months. A lot will depend on the behaviour of consumers in the UK post-lockdown as to how the next six months will look.
Despite these challenges we would like to reassure our customers that we are working to limit the impact as much as possible. We are working closely with our partners to review the options for customers on a day-to-day basis. Alternative arrival ports and equipment types are all being looked at in order to offer you solutions to limit delays to your cargo. Our teams in Asia and UK are working together daily to ensure we have all available contingencies ready.
We will keep you updated of further developments as and when they happen. If you have any concerns regarding your shipment, please don't hesitate to contact a member of our team for assistance.