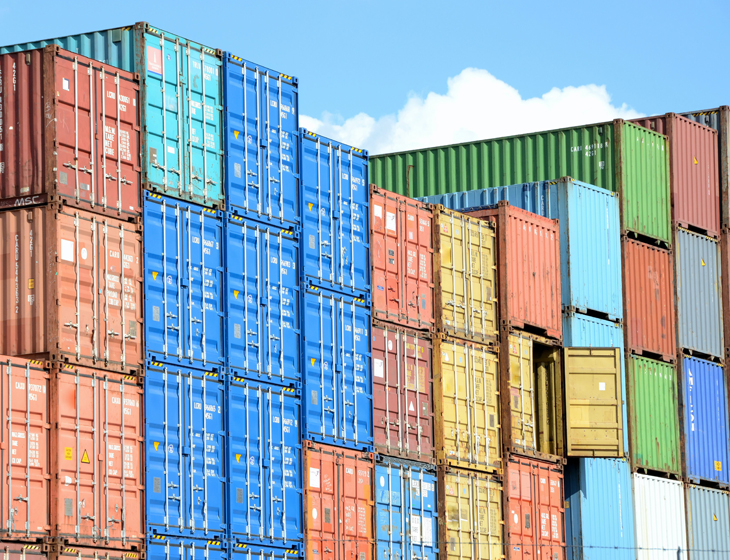 Covid-19 outbreaks in China force closure of Ningbo port and continue to impact Air Freight capacity. Port congestion in Asia and the EU persists and UK haulage prices rise substantially. Here is a summary of this week's main industry news.
Covid-19 Outbreaks in China Threaten Supply Chains
The detection of a Covid-19 case at Ningbo port in the last week has caused the suspension of operations at one of its terminals. Ships are beginning to divert from Ningbo to Shanghai to avoid further schedule delays. Congestion is worsening in both Shanghai and Ningbo, an early warning of the potential impact that new Covid restrictions may have on sailing schedules in the coming weeks.
The tightening of travel restrictions by the Chinese Government, in an attempt to control the outbreak, saw the closure of major airports last week. Ningbo and Shanghai airports are now operating with a reduced schedule, with the cancellation of some flights reducing air freight capacity. As such, air freight rates are beginning to edge up and are expected to rise from September, which is the traditional peak season for air freight.
Congestion at Asia and EU Ports Causing Ongoing Disruption
The sea freight market continues to be in the grip of congestion at ports the world over. Port congestion across Asia and the Indian Sub-Continent and equipment shortages are leading to further delays and schedule reliability continues to be low.
Congestion at North Europe ports remains intense, especially the key hub ports, Hamburg, Rotterdam and Antwerp. The congestion has significantly slowed down productivity of port operations, creating exceptional waiting time for vessels. 
The combination of high demand, under-capacity and supply chain disruption resulting from port congestion has driven rates to the highest levels we have seen in the sea freight market and still rising.
UK Haulage Prices Rising Substantially
As we have previously informed customers, the combination of Covid, Brexit and other factors means there are not enough HGV drivers in the UK to distribute goods from ports. Because the haulage industry is struggling to find enough drivers to meet demand, transport rates are rising significantly. The situation is particularly acute at the present time as drivers take time off work for summer breaks. The demand has resulted in drivers being offered more favourable pay and conditions, forcing Hauliers to impose surcharges to offset the cost of retaining their drivers. The cost of full truck deliveries is going up by around 25 to 30% as a result.
Covid-19 Outbreaks Disrupting SE Asia Supply Chains
There has been a further surge in Covid-19 infections with many key regions of Southeast Asia experiencing a record number of cases. Malaysia, The Philippines, Indonesia, Vietnam and Thailand are all currently affected by Government imposed restrictions. The subsequent reduced productivity is disrupting manufacturing and supply chains, creating order backlogs and shipping delays. 
As an example of the deteriorating situation, it has been reported that ports in South Vietnam are experiencing serious congestion as containers pile up as a consequence of port productivity declining, clogging terminals. Manufacturing has also been affected in Vietnam with factories productivity operating at a reduced production of 50%-70%*. 
Source: The Loadstar.