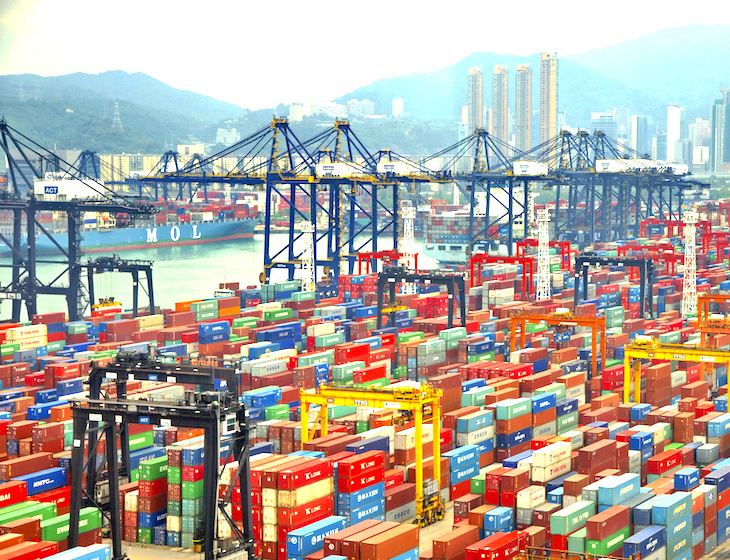 The last push to ship goods before Chinese New Year is being hampered by Government imposed restrictions to manage Covid-19 outbreaks. Port bottlenecks in Europe and the UK continue to delay arrivals.
Covid-19 Outbreaks in China Create Delays Ahead of CNY Closure
With manufacturers currently making a last push to ship out goods before the New Year holiday which starts next week, China's key gateway ports are generally suffering from a lack of space and equipment. In addition to the congestion created by increased volume, all major Chinese ports are being impacted by regional Covid-19 lockdowns with the Omicron variant spreading. China continues to maintain a zero-Covid strategy in efforts to urgently stamp-out outbreaks ahead of the busy Chinese New Year travel period and the Winter Olympics (which open on 4 February in Beijing).
The situation and level of Covid disruption varies from port to port, below is a summary of the key ports that are currently being impacted.
Tianjin Port
Population testing and restrictions to movement remain in Tianjin, near the capital Beijing. Tianjin's port is open, but restrictions on truck drivers are causing delays to the inland transportation of export containers. As such, we are seeing a worsening impact on the movement of cargo for some of our customers' shipments.  
Ningbo Port
While the situation at Ningbo port has improved, the port is still experiencing significant delays with its landside operations. Some carriers are re-routing vessels to Shanghai to omit the port of Ningbo to avoid the disruption and attempt to rectify schedules. 
Yantian Port
In South China, the restrictions in Shenzhen are also having an impact on landside operations at Yantian port with the collection and delivery of containers being delayed by testing requirements prior to entry to the port.
In an attempt to relieve the congestion, port authorities of major ports across China are reducing the time that drivers can deliver containers into ports ahead of departure from one week to 4 days. There is the risk that with factories closing imminently some customers' shipments may be delayed in delivery to the port as a result. We will notify customers that have been affected at the earliest opportunity.
The serious port congestion from impacted landside operations directly resulting from Covid-19 restrictions is resulting in delayed sailings and suspensions. The disruption may lead to carriers changing vessel rotations at short notice to avoid badly impacted ports. It is inevitable that there will be difficulties with the movement of cargo and shipments from China over the coming weeks.
European Port Bottlenecks Continue to Impact Vessel Arrivals
Vessel arrivals remain impacted by heavily congested ports in Europe and the UK. The key North Europe hub ports, Antwerp, Hamburg and Rotterdam are all still experiencing slow productivity of port operations which continues to force carriers to skip port calls as they seek to avoid congestion and restore schedule reliability. Due to the ongoing berthing and landside delays at the Port of Felixstowe, carriers are still changing rotations and diverting vessels into a number of alternative ports in North Europe. All of these factors mean that vessels arriving into the UK continue to be subject to significant delays.
Urgent Reminder to Customers Regarding Bills of Lading
With Chinese New Year fast approaching we would kindly remind customers of the urgent need to contact their suppliers and ensure that any original bills of lading or telex releases are arranged prior to the closure of offices in China for the holidays. 
The bill of lading is a legal contract which must be presented prior to the release of cargo once it arrives in the UK. We are not able to deliver cargo to customers without a bill of lading. Therefore it is imperative that customers arrange in advance for the provision of bills of lading for cargo as offices will be closed and suppliers will be unavailable to provide them. The lack of a bill of lading will result in the delay to the shipment of goods.