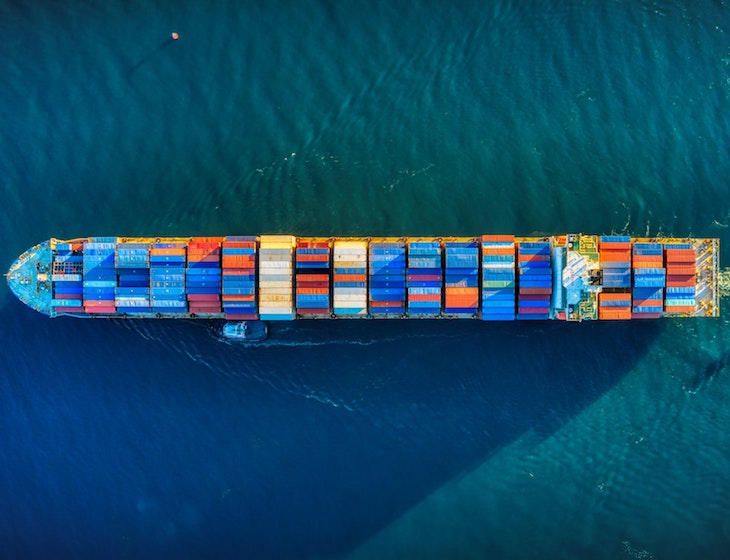 Shipping lines continue to be impacted by global port congestion. The Ukraine invasion halts China to Europe rail services and the conflict will increase Air and Sea Freight rates.
Sea Freight Services Hampered by Port Congestion
The unprecedented situation of severe port congestion globally continues to result in a build up of delays across sea freight services. We are still seeing congestion at Chinese ports, with efforts being made to clear the backlog of cargo built up as a result of pandemic restrictions before the Chinese New Year. 
The overall problems with congestion at ports in the US, Europe and the UK have not receded. While operations following storm disruption last week have returned to normal, the key North Europe hub ports, Antwerp, Hamburg and Rotterdam are all still experiencing slow productivity with shipping lines focusing on recovering some of the lost time by omitting some North European port calls in an attempt to rectify schedules.
Due to the ongoing berthing and landside delays at the Port of Felixstowe, carriers are still changing rotations and diverting vessels into a number of alternative ports in North Europe. All of these factors mean that vessels arriving into the UK continue to be subject to significant delays.
Ukraine Invasion Prompts Halt to Asia-Europe Rail
Last week we advised customers that Russia's invasion of Ukraine may add further pressure to supply chains, anticipating the potential disruption to the movement of cargo via China to Europe rail freight services. In the last week, carriers have begun to cancel China to Europe rail freight bookings as a precautionary measure amid intense speculation that sanctions could prevent cargo transiting Russia and concerns about potential damage to cargo. As a consequence, we are beginning to see an influx to sea freight services, where cargo is competing for space on vessels which are already full, adding further pressure to already strained sea freight services.
Conflict to Induce Sea and Air Freight Rate Rises
As oil prices reach 8 year highs, another spike in sea freight rates is inevitable. Shipping lines will impose emergency bunker surcharges to be adjusted in Q2 and spot rates will increase if current demand in the market is maintained. 
Air freight rates on air imports to the UK have already been affected by the conflict. European carriers cancelled a number of services last week and are expected to continue to do so, reducing the amount of capacity in the market and prompting a rise in rates. 
Regrettably it is likely that there will be a significant ripple effect from the invasion that may add to increasing delays and costs around the whole supply chain. We will keep customers updated with further news at the earliest opportunity.