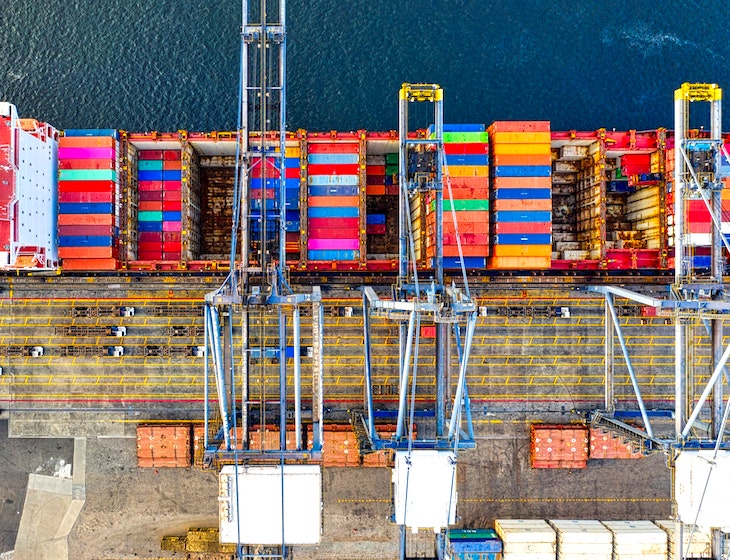 China continues to practice its zero-tolerance policy to prevent the largest Covid-19 outbreak to date from spreading within its population. Shanghai, now in its fifth week of lockdown, prompts shipping lines to blank more sailings and there is a new threat of further supply chain disruption as Beijing officials consider lockdown.
The prospect of a lockdown in Beijing has fuelled more concern about continued supply chain difficulties and as a result markets tumbled across the world earlier this week. However experts state that if a lockdown were to be mandated, the impact will not be as severe as that of Shanghai because Beijing is not central to factory production or supply chain operations in China. 
The ongoing lockdown in Shanghai continues to have serious consequences for supply chains. Although some factories have been able to reopen, production has been slow-moving. There are still significant transportation delays with many major roads closed and cross-province trucking operating with very strict road controls and truck driver testing.
Ports remain open in areas across China that have been affected by covid restrictions, but productivity has been impacted by staff shortages. With too little cargo arriving at ports, shipping lines will continue to announce blank sailings from China in the coming weeks. It is expected that once lockdowns are lifted there will be a surge in demand, especially as manufacturers try to clear their backlog of orders. This is likely to lead to temporary port congestion which may take a number of weeks to clear.

The situation and level of Covid-19 disruption varies from region to region, below is a summary of the key areas that are currently being impacted.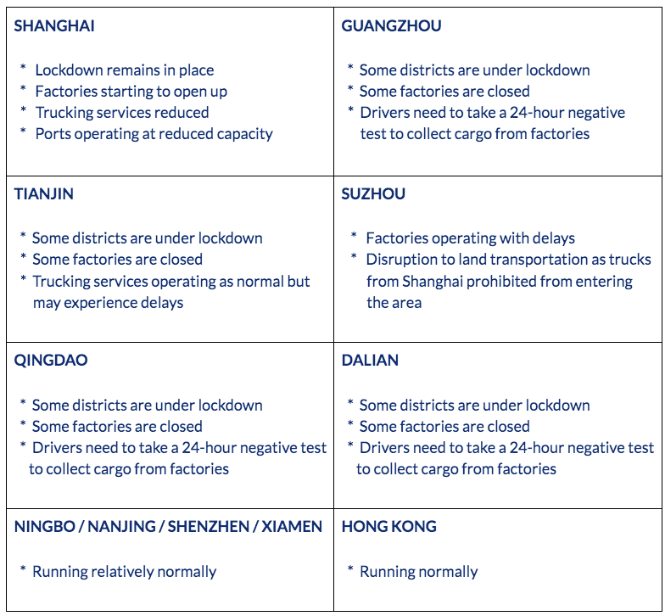 Air Freight Impact
The majority of air freight services from Shanghai Pudong (PVG) remain suspended. Cargo continues to be redirected to other cities, creating congestion at other major airports. Guangzhou is also now experiencing significant disruption with staff shortages causing all passenger flights to be cancelled this weekend which will add to capacity shortages. Where possible we are moving our customers' cargo via Southern China from smaller airports when the freight bookings become available. Regrettably we expect that customers' air shipments from China are likely to incur delays for the coming weeks.