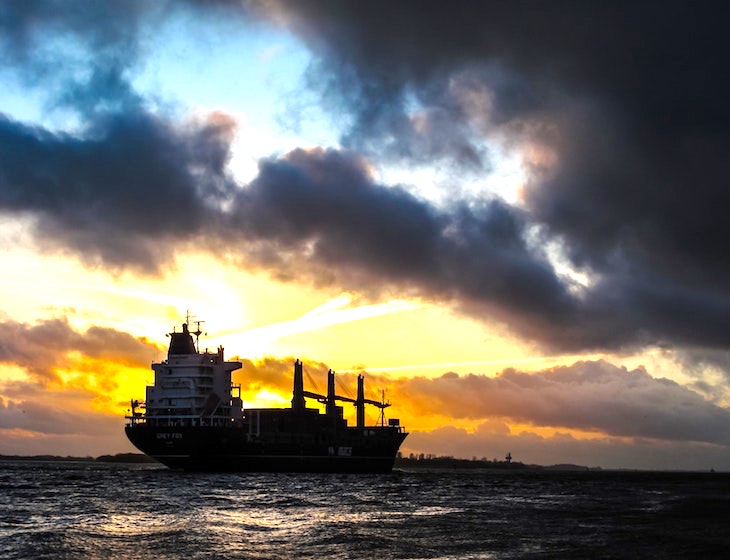 China's export capacity slowed to the lowest since early 2020 as a result of the continued Covid-19 lockdowns and the three-day Labour Day holiday last week. The ongoing situation is likely to create challenges for supply chains over the coming peak season.
One of the most significant issues for supply chains as a result of China's continued zero-Covid policy has not only been transport capacity, but lack of production. Official economic data released last week showed manufacturing activity at its lowest levels since the pandemic began in Wuhan, in early 2020. Chinese ports have remained open and trucking capacity has been available, although compromised by strict road controls and truck driver testing. However the closure of factories has significantly hampered the production of goods.

In efforts to avoid the situation in Shanghai, where millions have been under strict lockdown for more than a month, the start of the Labour Day holiday saw additional restrictions imposed in other major Chinese cities. Beijing increased its virus controls by restricting travel, shutting metro stations and bus routes and extending curbs on many public venues. In Zhengzhou, people have been told to work from home until further notice.

Some parts of Shanghai have opened up in the last few weeks and factories have been able to re-open, but production has been slow-moving. With too little cargo arriving at ports, blank sailings are expected to increase in May with carriers continuing to omit Shanghai. Looking further ahead, it is expected that once lockdown measures are lifted there will be a sudden surge in export cargo. This may pose another risk of increasing port congestion over the coming peak season. 

The situation and level of Covid-19 disruption varies from region to region, below is a summary of the key areas that are currently being impacted.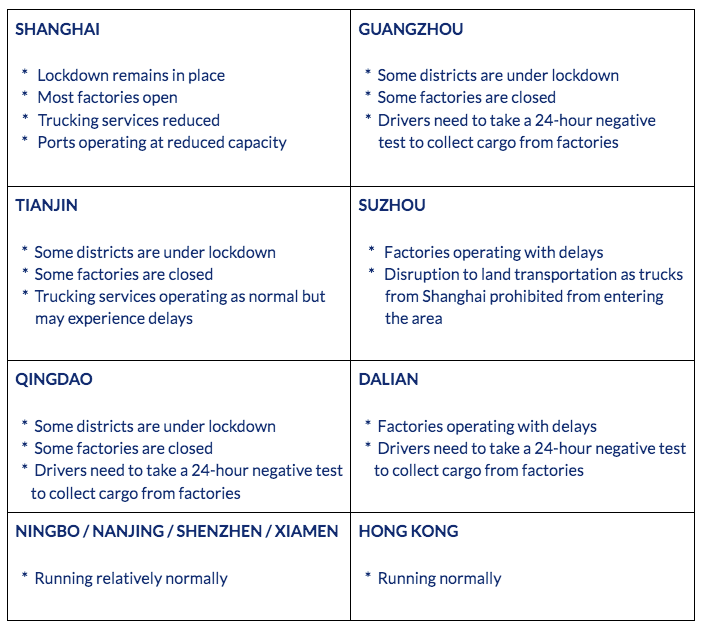 Air Freight Impact
The majority of air freight services from Shanghai Pudong continue to be suspended as the Covid-19 lockdown drags on. The impact on other major airports as a result of flight diversions remains, with congestion building. Beijing and Guangzhou have been subject to new restrictions this last week over the Labour Day holiday which has resulted in the cancellation of passenger flights. As a consequence there is a capacity shortage on flights from China and as a result we expect delays to shipments to continue until the lockdowns are eased. We will continue to move customers' cargo via Southern China from smaller airports when the freight bookings become available.