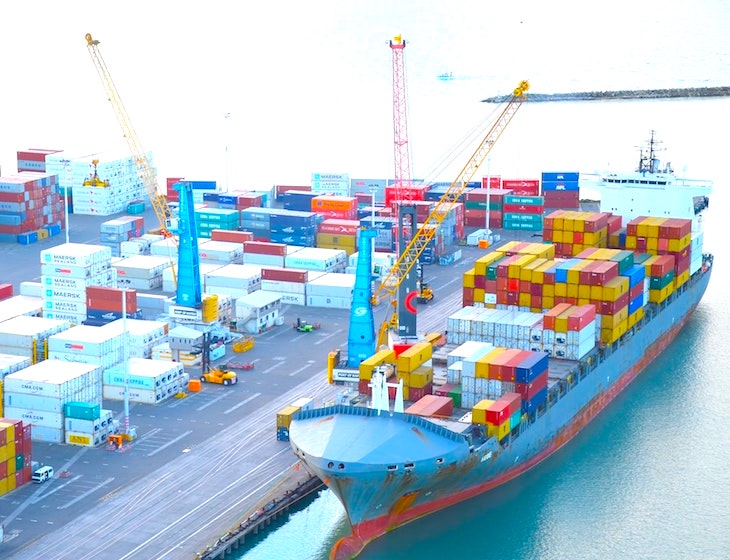 Shipping lines ramp-up blanked sailings as the lockdowns in China drag on. Political unrest in Sri Lanka impacts operations at Colombo port and cyclone season threatens shipments from Bangladesh.
We have previously informed customers that the ongoing lockdowns in China are causing a significant reduction in factory production. This has resulted in lower demand for exports from the regions affected and in response carriers have increased the number of blank sailings this month. More than a third of sailings from Asia will be canceled, which will further extend the lead times of shipments from China to Europe and the UK. 
THE Alliance (Hapag Lloyd, ONE, Yang Ming) will blank 33% of its sailings from Asia whilst the Ocean Alliance (COSCO,OOCL,CMA, Evergreen) will blank 37% and 2M (Maersk and MSC) will blank 39% of its voyages. 2M in particular have blanked 22 vessels to EU/UK in late April and May alone, with some gaps between sailings varying from 10 to 20 days from some of the largest ports in China.

China is continuing to maintain its zero-covid strategy with a number of areas experiencing disruption as a result of control measures enforced. Here is a summary of the key areas that are currently being impacted.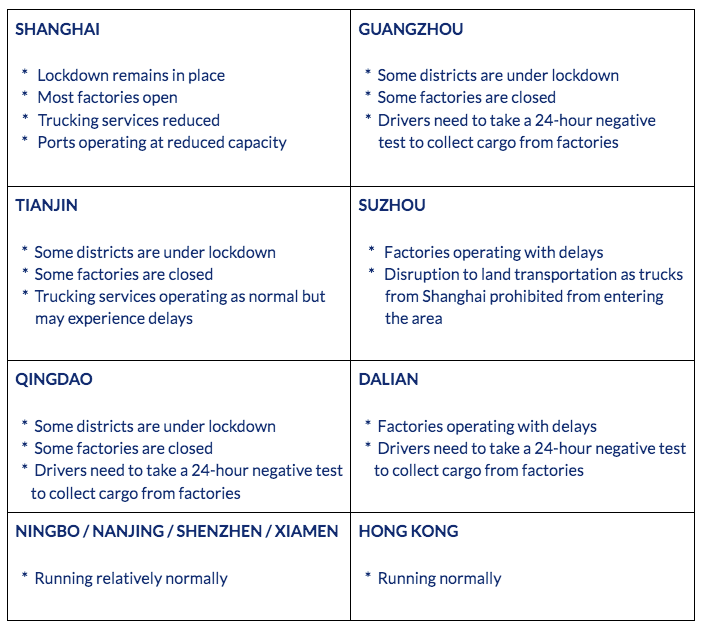 Air Freight Impact
While the majority of air freight operations from Shanghai Pudong remained suspended this week, the airport will begin operating a reduced service from this weekend. Beijing and Guangzhou airports also continue to experience a reduction in services. As a consequence there is a capacity shortage on flights from China and as a result we expect delays to shipments to continue until the lockdowns are eased further. We will continue to move customers' cargo via Southern China from smaller airports when the freight bookings become available. 
Political Unrest in Sri Lanka Impacts Supply Chains
Since our last update, the protests over rising prices and shortages of food, fuel and medicines have flared up in the capital, Colombo, and have grown in size and spread across the country. The country's Prime Minister resigned this week over the government's handling of the economic crisis. However, his brother is refusing to step down as President leading to escalating violent protests. 
Sri Lanka's two major hub ports in Colombo have been affected by the recent worsening political unrest. Operations at the port were suspended for over 20 hours last week as a result of a strike by port staff, no vessels were allowed to berth or depart, while the loading and unloading of containers was also suspended. Operations have since resumed.
Activities at the port have been severely disrupted over the past couple of months, this has become a source of concern for carriers serving the Indian SubContinent. Feeder vessels have been omitting the ports which has caused significant delays. There has been disruption of the transportation of containers between terminals which has resulted in delays to containers arriving to be shipped on vessels to relevant destinations. This has led to a build-up of containers currently waiting at port pending trucking movement, as a result, further omissions are expected. Carriers are rerouting via Salalah and Tanjung Pelepas in an effort to reduce the ongoing congestion issues at Colombo.
Cyclone Threatens Services From Bangladesh
Extreme weather disrupts shipping in many ways and severe weather events create uncertainty in the supply chain. May is the month that has the greatest tropical storms in Bangladesh and this week the country is experiencing strong winds and heavy rains from cyclone 'Asani' moving along the coast. While we don't know as yet the full outcome of the storm's impact, some disruption is expected. We will keep you informed as more information becomes available.