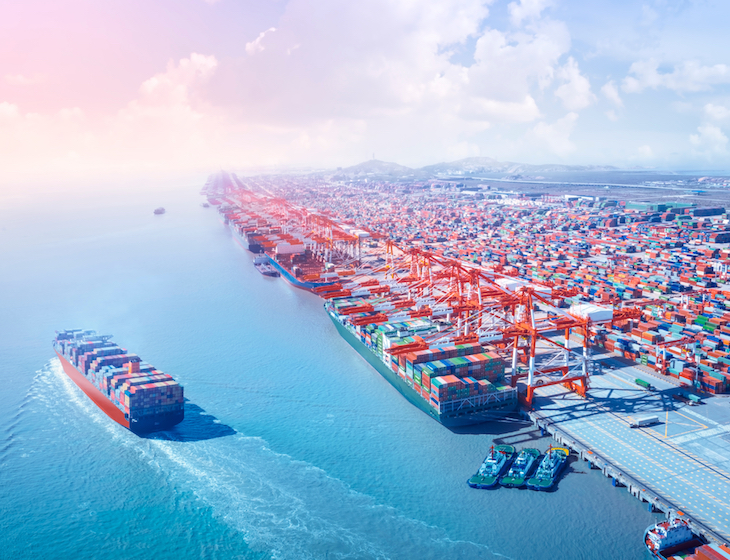 The Shanghai lockdown has ended resulting in increased demand for sea freight services. Disruption to air freight services is likely to continue for some weeks to come. Chittagong port in Bangladesh is rocked by a fatal explosion but sea freight operations are not affected.
On June 6th, the local government in Shanghai finally lifted Covid-19 restrictions across the city ending the two-month hard lockdown. Normal activities are now proceeding with residents moving more freely about the city and offices, public places and transport systems fully re-opening. Manufacturing has resumed with factories also now able to operate without special permits. As the distribution of materials and production gets easier, output will increase as factories begin to catch-up. As such, we expect volumes to increase gradually in the coming weeks at Shanghai port.
While port terminals, warehouse and trucking services have resumed their usual operations, there are still some ongoing restrictions that are impacting efficiency with continued testing of staff and drivers resulting in shortages for manpower. Given the ongoing restrictions and the inevitable supply chain backlog we anticipate that it will take some weeks for services to fully return to normal. 
In further positive news, the northern port city of Tianjin has broadly re-opened following the city-wide testing that took place at the end of May. Some factories in local affected areas remain closed but the port is fully functional. However there are slight delays as a result of shipping lines catching up on the backlog at terminals from previously blanked sailings.
We would like to remind customers that despite the end to the recent hard lockdown in Shanghai, the Chinese government are still pursuing their zero-covid strategy and therefore the ongoing threat remains of restrictions being reimposed if further cases are found.
Here is a summary of the key areas in China that are currently being impacted by Covid control measures.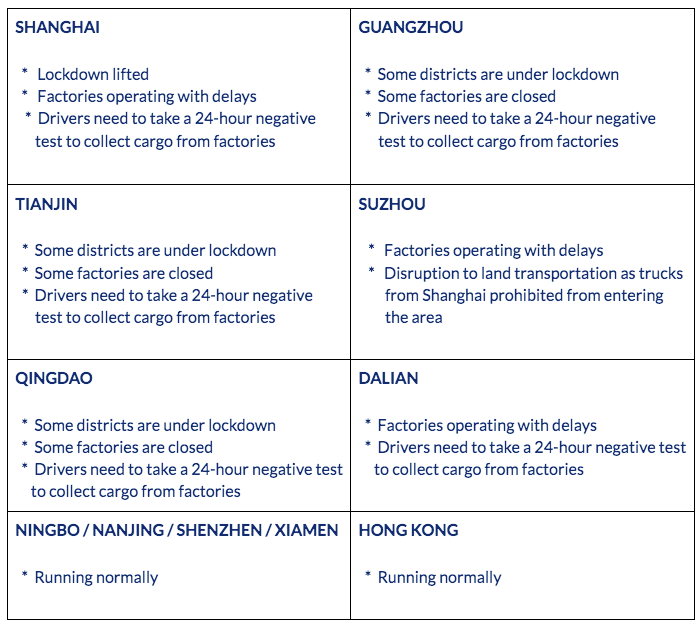 Air Freight Services Continue to be Disrupted
With the Shanghai lockdown lifted, there is more good news for air freight services with airport cargo terminals, warehouses and customs operators returning to normal and permissions no longer required for deliveries into the airport. However capacity has not yet been fully restored and there are still flight cancellations. Shanghai Pudong airport is experiencing a shortage of manpower, which is severely reducing available capacity. Beijing and Guangzhou airports also continue to experience delays to services. As a consequence there is still a capacity shortage on flights from China and as a result we expect delays to some shipments to continue.
At present there is no clear indication for when there will be a return to normal operations but we do expect capacity to begin to increase this month. This is likely to coincide with a surge in demand which will result in the market becoming very dynamic in June with the likelihood of rates being pushed up despite the expected rise in capacity.
Chittagong Port Rocked by a Fatal Explosion
You may have read in the news about the tragic explosion that killed at least 49 people and injured over 300 in a container depot near Chittagong port, Bangladesh last Saturday night. The off-dock depot had been housing 16 chemical-laden export containers, full of hydrogen peroxide, which may have caused the blasts. While the explosion temporarily closed the port, we are seeing no major impacts on sea freight operations or to road transportation between Dhaka and Chittagong.