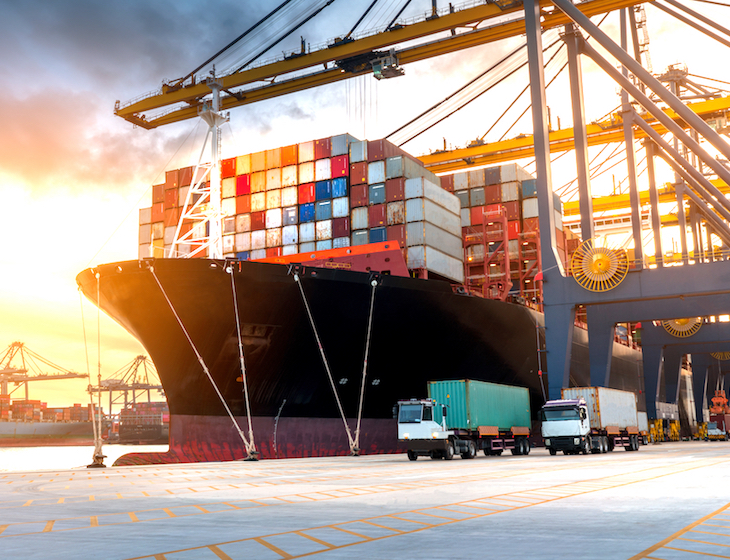 Factories in Shanghai continue to catch up on the lockdown backlog, air freight disruption persists due to staff shortages. Industrial action impacts ports in Germany and South Korea and rail strikes planned for the UK next week will reduce rail freight services.
Since the lockdown in Shanghai ended earlier this month, factories have reopened and are now able to operate without special permits, as a result output has increased. As manufacturers begin to catch up, we are seeing volumes increasing at Shanghai port. The situation with transportation has also improved due to the cancellation of the epidemic prevention pass for Shanghai. However there are still driver shortages and trucking capacity has not yet fully recovered. We anticipate that the supply chain backlog will take until the end of the month to clear and anticipate volumes increasing once again in July as we enter the full swing of peak season. 
Here is a summary of the key areas in China that are currently being impacted by Covid control measures.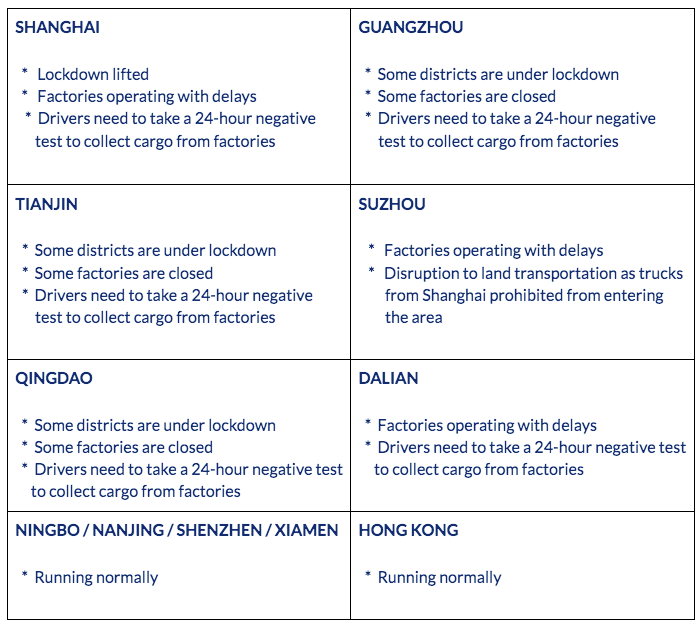 Air Freight Service Disruption Continues
Although warehouses, customs operators and deliveries into Shanghai Pudong airport have returned to normal following the lockdown lifting, capacity has not yet been fully restored. Shortage of manpower at the airport is resulting in flight cancellations and the limitation of services, reducing available capacity. Beijing and Guangzhou airports also continue to experience delays to services. Despite the capacity shortage on flights from China, we are currently able to move our customers' shipments without delays.

Strikes Impact Port Operations in South Korea and Germany
There have been reports in the press this last week about industrial action in various parts of the world that have caused further supply chain challenges. Ports in both Germany and South Korea were impacted by strikes as workers respond to the increasing pressures of global inflation and two years of hardships during the pandemic.

An eight-day strike by South Korea's unionised truckers came to an end after the union and the transport ministry reached a provisory agreement. This ended a nationwide strike that caused chaos at the country's major ports with activity coming to a complete halt threatening global ramifications to the flow of key components in the tech industry. 
Last Friday saw a brief strike by dockworkers in Hamburg, the first industrial action at Europe's third busiest port in more than three decades, as pay negotiations, which also involve other northern German port cities, faltered. Unions are threatening further industrial action over pay and increased work requirements at a time where the port is already suffering from high congestion.
UK Rail Strikes To Cause Disruption to Supply Chains
The industrial action planned for next week comes following a ballot where 71 per cent of the union members voted overwhelmingly in favour of walkout over pay, jobs and safety. The proposed National Rail strike dates for 21, 23 and 25 June are likely to cancel 80% of trains with freight being given priority over passengers. Rail freight services across the country will be disrupted and operating on a reduced service. Network Rail plans to run freight trains during the daytime rather than overnight to try to prevent shortages of vital goods such as food and fuel. Despite contingency plans in place, it is likely that there will still be significant disruption to supply chains.