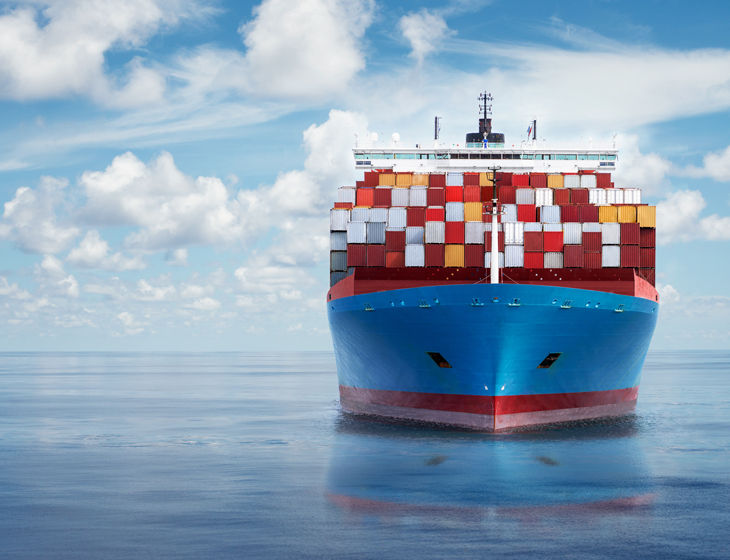 Shanghai factories continue to catch up on the lockdown backlog while air freight disruption eases. This week's rail strikes create challenges to UK rail freight. Get Ready for the Change From CHIEF to CDS.
Despite seeing volumes increase at Shanghai port as factories catch up, there has not as yet been the post lockdown surge in demand and associated port congestion that had been widely anticipated. The backlog of containers created during the lockdown period is under control and is systematically being cleared. The situation across China is improving with all port regions registering declines in berthing delays, and vessel queues are falling. The third quarter is the traditional peak, so volumes are expected to be stronger once again in July as we enter the full swing of peak season. 
See below a summary of the key areas in China that are currently being impacted by Covid control measures.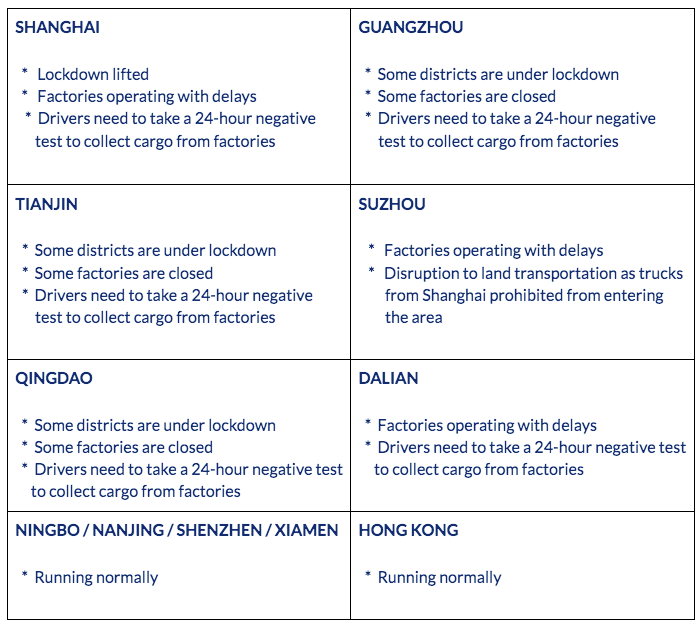 Air Freight Capacity From China Easing
Capacity issues in China are beginning to ease as fewer flights are cancelled due to staff shortages. Despite the increase in capacity, rates are still holding relatively high especially for flights from Shanghai and Hong Kong. The reliability of air freight services from China is improving week by week and we are currently able to move our customers' shipments without delays.
Rail Strikes Disrupt UK Supply Chains
The National Rail strike this week which is expected to cancel 80% of trains has posed challenges. However with freight being given priority over passengers, containers have been able to keep moving throughout the week. Most freight services on the days with no strike action continued to operate as normal and although there have been many cancellations on strike days (21st, 23rd, 25th June). We have been working with carriers to accommodate as much freight as possible. Despite contingency plans in place, it is likely that there will still be disruption to supply chains.
Further Hike in Fuel Prices Drives Transport Surcharges
The recent jump in fuel prices, leading to the cost of filling up a family car with petrol or diesel surpassing £100 for the first time, has been widely reported in the media. As fuel prices continue to increase across the country, every sector of the economy has been affected, but the transportation industry has been particularly hard-hit with hauliers increasing fuel surcharges on a weekly basis. Whilst cost increases are regrettable, we have no option but to pass on additional surcharges in order to uphold the high levels of customer service you expect from us. 
Get Ready for the Change From CHIEF to CDS
After almost 30 years, the UK customs authority HMRC is closing its Customs Handling of Import and Export Freight (CHIEF) system from September 30th 2022. It is being replaced by the Customs Declaration Service (CDS) as the new UK's single customs platform. The new CDS system will provide a more secure and stable platform and has the capacity and capability to grow in line with the UK's trade plans. The system replacement will take place in two stages. UK imports will switch from CHIEF to CDS at the end of September 2022 and UK exports at the end of March 2023. All importers and exporters who participate in customs declarations in the UK need to be ready for the change. 
We are here to help you prepare for your migration and will contact all customers with details of the steps that you'll need to make to be ready for the change.