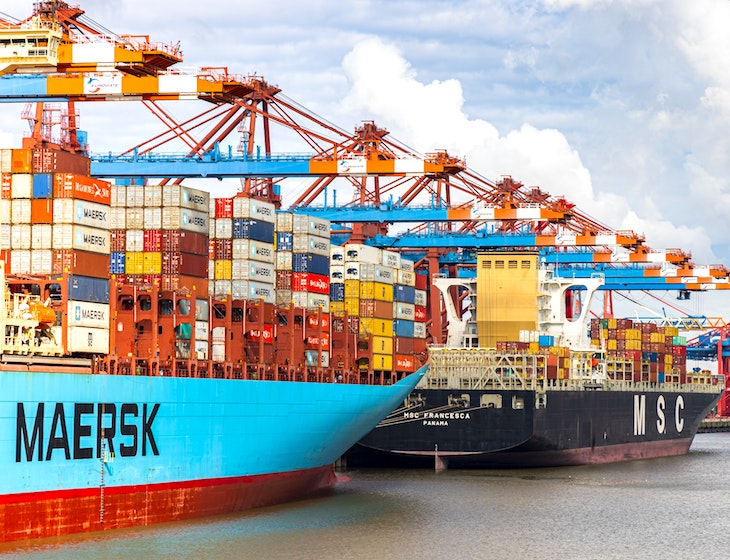 The biggest carrier alliance shake-up since 2017 is taking place with 2M Alliance partners, MSC and Maersk, announcing that their vessel-sharing agreement will end in 2025. We review the significance of this decision for the shipping industry and the potential outcome of this maritime 'divorce'.
What Are Carrier Alliances?
Over the last 20 years, shipping lines serving the major trading routes across the globe including Asia to Europe trade lane, have formed and re-formed alliances and gradually consolidated through mergers and acquisitions.
The initial period of consolidation within the industry accelerated in the 2010s with the formulation of ONE in 2017 by the integration of 'K' Line, MOL and NYK. CMA-CGM purchased APL in 2016 and OOCL became part of Cosco in 2018. 
However it was between 2015 and 2017 that nine separate major shipping companies agreed to operate within three Alliances. The first of the super alliances was triggered by the formation of the 2M Alliance (Maersk and MSC) which was born in 2015. Following this in 2017, came the Ocean Alliance and THE Alliance. 
Which Carriers Are in Which Alliance?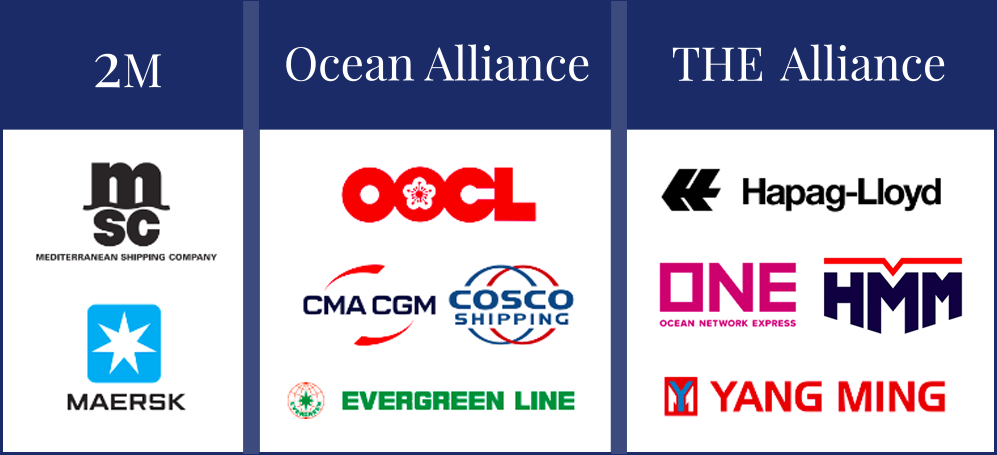 Figure 1: Carrier Alliances February 2023.
2M Alliance
The 2M Alliance consists of Maersk and MSC. In 2015, they agreed to a ten-year vessel-sharing arrangement on Transpacific, Transatlantic, and Asia-Europe routes. MSC and Maersk have recently announced that they will split once their vessel sharing agreement ends in 2025.
Ocean Alliance
The Ocean Alliance is COSCO, OOCL, Evergreen and CMA. The Ocean Alliance includes 330 container ships and an estimated carrying capacity of 3.8m TEUs. This alliance also has Ever ACE, the largest mega ship with a capacity of 23,992 TEUs. 
On Asia-Europe trade lanes, the Ocean Alliance has the greatest market share at just under 40%. 2M trails slightly behind.
THE Alliance
THE Alliance is Hapag-Lloyd, ONE, HMM, and YML. Launched in 2017 by Hapag-Lloyd, ONE, and Yang Ming, with the addition of HMM in April 2020 increasing its total capacity by 519,000 TEUs. THE Alliance's global market share is 30%.
What's the Purpose of the Alliances?
The market and industry over the last number of decades has been extremely fragmented, the consequence of which has been considerable price volatility. Larger carriers were able to benefit from economies of scale unlike the smaller carriers who were not, leading to a number of mergers and acquisitions. 
Alliances were the consequence of a huge increase in supply with the investment in new large vessels (UCLVs) which required alliances to fill them effectively. UCLVs were intended to drive down operational costs to achieve savings to offset depressed freight markets. The only way to fill the ever-larger container ships, and obtain the potential economies of scale that they offer, was for carriers to pool their volumes on particular trade routes and share ships.
The alliances provide carriers with capacity flexibility without having to add new ships to their fleets. Not only does this reduce significant overhead costs for the partner companies it also enables them to distribute specific lanes through fleet-sharing agreements to ensure their collective fleet is covering all required ports. 
Why are MSC and Maersk Splitting?
The joint statement from MSC CEO Soren Toft and Maersk's new CEO, Vincent Clerc, said the companies "recognised that much had changed" since the 10-year 2M agreement was signed in 2015. "Discontinuing the 2M Alliance paves the way for both companies to pursue their individual strategies," said the statement.
Industry experts have not appeared to be surprised at the decision to split, with the strategic focus of the two shipping lines being cited as being at odds with each other. While MSC has grown its fleet significantly, Maersk has not invested in expansion, but has remained stable over the same period.
MSC has acquired a significant number of secondhand ships since August 2020 and has over 1.8 million TEU of new build capacity on order, more than double the order book of any other carrier. MSC's existing capacity is 4.6m TEU, while Maersk's capacity is about 4.2m TEU, with no plans to change it.
With the separation of MSC and Maersk, we will see the market change from the current three major controllers to a market of two huge alliances, a large shipping company (MSC), Maersk and some smaller independents. (figure 2).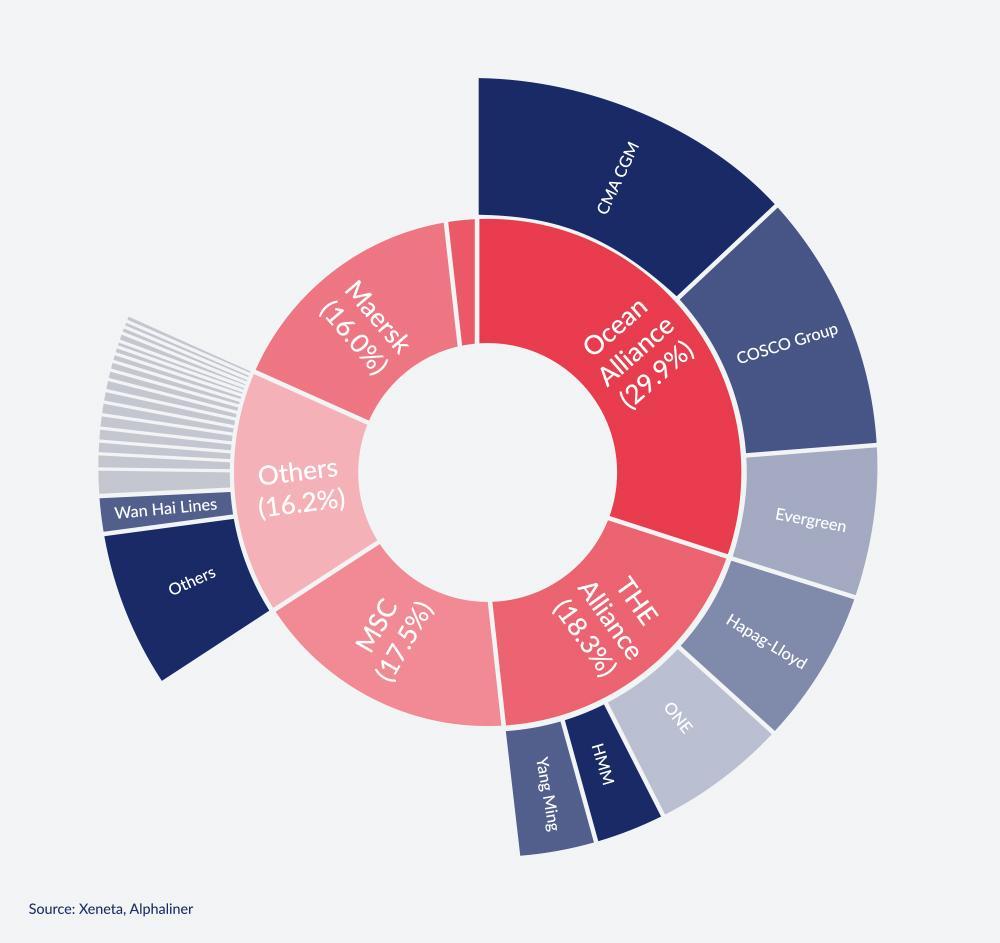 Figure 2: Market share post 2M split.
What Does the Split Mean for Today's Market?
In the short term, according to MSC and Maersk, there will be no immediate impact on services as the 2M alliance will continue to operate as it has done since 2015. 
Analysts predict that MSC's aspirations are to become a standalone carrier and this appears to be borne out in a further ramp-up of its expansion strategy in the weeks since the split was announced. While the future for Maersk is seemingly less clear, continued vessel-sharing agreements in some form are likely if it wants to keep the same network it has now.
Partners of the Ocean Alliance and THE Alliance could see this as an opportunity to gain some market share from the uncertainty generated by the announcement. The split may lead to a broader rearrangement of alliances. Competition authorities will probably block Maersk from joining either Ocean Alliance or THE Alliance. Both of which are contractually committed beyond the termination of 2M, with Ocean Alliance running to 2027 and THE Alliance to 2030.
The bigger question is whether alliances continue to make sense in today's market? Alliances came under pressure during the pandemic when demand was high. It is likely that carriers felt restricted by alliance obligations, because they couldn't make tactical decisions on their own. As demand is not likely to be as high over the next two years, there is the potential for an oversupply which makes leaving an alliance more of a risk. However the separation isn't going to take place until 2025, and the market might be different then. If there has been an uptick in demand, shipping lines such as MSC and Maersk, may actually be better positioned outside of an alliance.