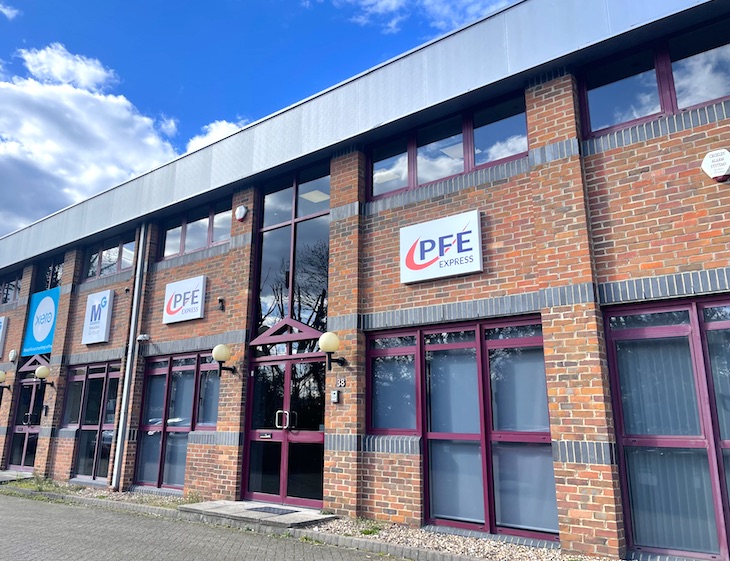 We review everything you need to know about our dedicated Air Freight office in Watford; who's who and what they do.
When did the Watford office open?
Our new Air Freight office in Watford opened 18 months ago. While the premises were new to us, we've had a separate Air Freight department at a number of locations in the UK for more than 8 years. We now run our entire Air Freight business independently from the offices in Witham and Liverpool, although the team working at Watford look after the same customers and stand for the same values. Nevertheless the Air Freight office and team operates as a self-contained part of PFE's business. 
Who works there and what do each of you do?
Jacob Collins is the Manager, Adam Jones is the Assistant Manager, Stephanie Jennings is our Import Supervisor, Soon Kuen Wong looks after all Air Freight Customs and Morgan Collins is our Office Junior. Graham Jones, who recently retired, must also be mentioned because of his huge contribution to making our Air Freight department what it is today.
Jacob Collins stepped into the Management role when Graham retired a few months ago. Jacob joined PFE in 2016, knowing very little about the industry. Jacob joined as an ad hoc member of the Air Freight team, looking after the admin initially and learning how everything worked. As time went on, Jacob grew into the role, learning a lot from Graham and Adam who had worked in the industry for all their lives. Fast forward a number of years, Jacob now manages the team and also works on the development of the Air Freight business, looking to grow and shape its future.
Adam Jones joined us in 2014 having worked for a few different forwarders before joining PFE. Adam was brought in under the recommendation from Graham to help look after the day-to-day operations. Adam's knowledge from his many years of experience in Air Freight is a real asset to the team. He's the assistant manager and he and Jacob run the team operations together, managing the relationship with some of our larger clients and working closely with our partner offices all over the world.
Stephanie Jennings is our Import Supervisor. She's extremely proactive, as demonstrated by how she came to join us. Steph came into the office off the street with her CV in her hand to enquire about a new role that we'd only just advertised. We gave her an interview that day and the job was hers! Steph's role encompasses many of our operational tasks. She books in customer's shipments and does many operational tasks. Steph has been a great addition to the team, looking after our customers, providing quotes and managing the hauliers among just a few of the things she does for us.
Soon Kuen Wong worked in agricultural food customs in her previous job. She joined PFE 16 months ago during the pandemic. She looks after all of the customs for Air Freight shipments which includes creating customs entries and submitting and making amendments. Soon is the point of contact for customers if they need any documentation or invoices relating to customs. 
Morgan Collins joined us in January after finishing college last summer. Morgan is our Office Junior and has been learning the ropes. Morgan does typical Office Junior tasks like filing and assisting everyone in the office with whatever needs to be done. 
Everyone in the Watford office are Liverpool fans, which makes for a united and happy team!
What role does the Watford office play in PFE's operation?
We provide Air Freight services to customers and are proud to say that we truly offer door-to-door services from anywhere to anywhere, worldwide. Our focus is primarily air freight imports to the UK, but through our network of global partners, we can import to other destinations. It doesn't matter the size of the shipment, we do what is necessary to fit the customer's requirements whether that is chartering a flight or delivering a one-box shipment. We have customers who rely on us for a regular weekly shipment – at the same time, every week – and customers who use us for one major delivery each year. All our customers all get the same good level of service. 
An example of our provision of door-to-door solutions was when we supplied essential PPE to the frontline during the pandemic. We were trusted to manage the entire end-to-end supply chain; controlling the process every step of the way. This included the factory collections in China, origin customs and inspections, load of cargo onto the flights, destination customs, warehousing and distribution to the NHS sites in the UK.
The size of our team means that we can offer our customers a personal service. We treat our customers with a lot of care. We know our customers because we have individuals that are responsible for each customer.
We work with the other PFE teams here in the UK and across the globe to ensure we meet our company goal which is to strive to deliver a customer experience that differentiates us from competitors. 
How does having an office in Watford benefit PFE's customers?
The decision to move our Air Freight offices to the new site at Watford was a logical step in our business growth strategy. With the growth in air shipments that we have experienced in recent years, it has become critical that we continue to meet customers' needs, and ensure we have scalable operations.
The new office in Watford supports the relationships we have with customers, strengthens communication with our airline partners as well as increasing the capacity of the company to support business growth.
The new Watford office not only provides the much needed additional space and facilities for the growing team, but also allows for enhanced connectivity with better IT systems allowing improved communications with the airlines and customs systems. The office is also more accessible to transport links making it a more convenient meeting location for many customers.
For customers, the new location and premises will enable PFE to provide a wider range of services and greater capacity to provide for the increasing demand for air freight.
What's next for PFE Watford?
We have settled into our new premises and are set up so that we're ready to expand as and when we need to. We're hoping to grow through the new customer relationships that we have in the pipeline over the next six months. 
We'll continue to build our digital systems and automating processes to streamline how we work. We'll also continue to develop our digital offering to provide a better service for our customers. 
As well as looking for growth opportunities, we want to do a good job with the customers we already have. We are under no illusion that it is because of our high service standards that our customers continue to want to work with us. We are all about making supply chains work for customers and going the extra mile for them. We pull out all of the stops to get a shipment over to the UK and will work any hour to get a shipment to a customer's destination when they need it.
For our staff, being able to provide a better environment for working is vital to our success. We recognise that it is the quality of our people that makes our business stand out and that our future success will always be the result of our hardworking team.