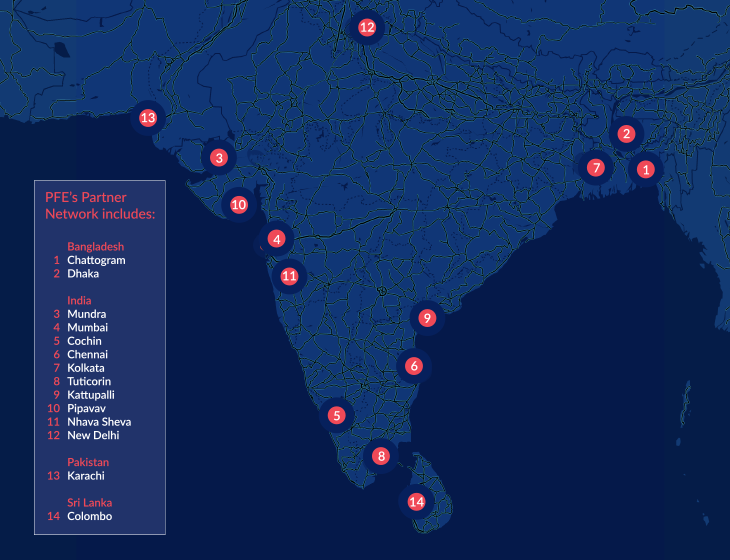 A new global production hub is emerging. With the manufacturing sector in India particularly showing a sustained growth momentum last year, we take a look at the opportunities for manufacturing and supply chains in the Indian Subcontinent region.
Supply chains around the world are undergoing a major transformation due to recent geopolitical shifts following the Covid-19 pandemic. The bottlenecks, delays and trade conflicts exacerbated by the war in Ukraine, have prompted the beginnings of diversifying the placement of manufacturing and supply chain routes to Western markets. While China continues to be critical to global logistics, companies are gradually shifting their focus to countries within the Indian Subcontinent.
Improved Infrastructure
The Indian Subcontinent has made significant inroads into improving its trade environment in the last few years. There has been much effort by the Indian government particularly to develop infrastructure including road, rail and port connectivity. Bangladesh has overhauled transformational infrastructures, mostly related to multi-modal transportation such as the recent opening of the Padma bridge.
Growing Confidence in Manufacturing Capabilities
Recent increased investment in the subcontinent has been primarily driven by India. Recent manufacturing decisions by large global companies testify that confidence is growing in India as a manufacturing hub in Asia. For example, Apple Inc decided to manufacture its iPhone 14 in India and Amazon set up its first production line for its TV Fire stick in India. 
Manufacturing Sectors Served
Countries within the Indian Subcontinent produce ready-made apparel, textiles, industrial and electrical machinery, chemicals, pharmaceuticals, leather and leather goods. The automotive industry, telecommunications and smartphone manufacturing have also emerged rapidly over the past few years.
The Indian Subcontinent apparel industry is very much positioning itself as 'the' alternative Asian source as global importers increasingly expand beyond China. Big global brands have been gradually moving away from China with GAP, as an example, shifting a lot of its business to Bangladesh with fabric support coming from India.
Benefits for Importers
The main benefit, in addition to slightly improved transit times than shipping from China, is that there are financial benefits for trading with this region. Imports from all countries in the Indian Subcontinent have preferential duty rates. Duty rates are reduced from India and Sri Lanka and duty from Pakistan and Bangladesh is free under current trading conditions. 
Current Shipping Situation
As with all Asia to Europe trade lanes, there has been a decline in demand from the Indian Subcontinent recently as a result of the global economic downturn. However the drop hasn't been as steep from this region than others, such as China – we are still seeing high activity and strong volumes on this lane. Some blank sailings are taking place, but overall, not a large amount of capacity is being removed. 
PFE's Indian Subcontinent Services
PFE offers both Sea Freight and Air Freight (FCL & LCL) service from the whole Indian Subcontinent region. We have long established relationships with our local Partners who can handle shipments from any part of the region. 
At origin, we offer FCL consolidation warehouses which gives importers the option to load orders from multiple suppliers into a buyers console. We work with multiple carriers for our FCL services and offer a number of UK port options. For smaller cargo volumes, We also run weekly LCL groupage container shipments. 
We operate from all direct ports to the UK including:
Bangladesh
India
Mundra

Mumbai

Cochin

Chennai

Kolkata

Tuticorin

Kattupalli

Pipavav

Nhava Sheva

New Delhi
Pakistan
Sri Lanka
If you are considering sourcing from the Indian Subcontinent and will need help and advice with importing from the area, we can offer the knowledge and experience you need. If you are an established importer from the Indian Subcontinent we can offer a streamlined service, with one point of contact that will manage your entire supply chain on your behalf.
Please get in touch for more information or for a non-committal quote for your shipment.