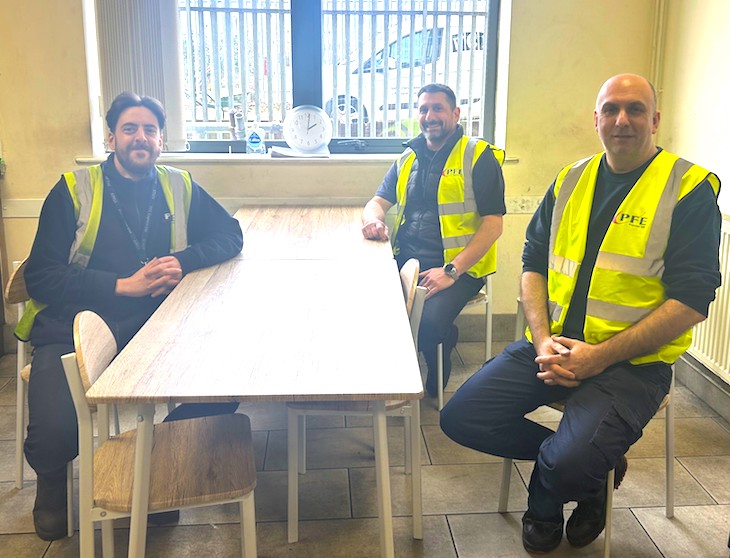 Rick Adams (Warehouse Manager), Wayne
Kouchuk
and Tom Collins (Assistant Warehouse Managers) are accountable for ensuring our
warehouse facility is maintained to the highest standards and is safe, efficient and secure.
This includes the unloading containers into the warehouse and then the loading of our vehicles with customers' goods for outbound transportation. The team is also responsible for updating the Warehouse Management System inventory which allows our customers to trace the stock that we are holding for them. 
Rick, Wayne and Tom tell us about the challenges and the rewards of managing PFE's warehouse and the ever-growing warehouse team.
Number of years in the industry?
Rick: 35 years
Wayne: 31 years
Tom: 9 years
What's your journey been getting to PFE?
Tom: I worked at another warehouse for 8 years after finishing my education, it was more of an e-commerce facility. I saw the job advert for the PFE position and came to the interview and Rick took me on. I've joined PFE for the challenge of working for a company that is going through a period of growth and also for personal progression. I was really pleased to get the job because I was a Front Line Manager in my last job and so the Assistant Warehouse Manager is the next step up for me. The challenge of working in a new industry – freight forwarding – broadens my experience and widens my career. I've been working for PFE for 8 months now. So it's not been long, and I'm still fresh! 
Wayne: I left school, was planning on going into engineering, but that didn't happen. I started working at a printer operating lithographic presses for 5 years until it folded. Then a friend of mine recommended me to a manufacturing company in Braintree, and I was there for 11 years. While I was there I got involved in the assembly side of the business, managing the assembly shop. Because the warehouse was such a mess, when the Warehouse Manager left, I took on an amalgamated role of sorting out the warehouse – the goods in and quality side of it, as well as what I was already doing. The manufacturing industry got badly hit around that time, I sat in on 4 rounds of redundancies and was the last to go. It was a shock after 11 years. I met Ray Cable, PFE's previous Warehouse Manager, and he offered me a job at PFE in the warehouse office. What I was doing initially was predominantly a desk job, doing the administration for the warehouse, which didn't feel quite like me. But after a few changes and 16 years later, I'm still here and happier than ever! 
Rick: Before PFE I did a similar job for a warehouse, I was the Outbound Manager. I was responsible for everything going out of the door, planning and loading vehicles. It wasn't boxes as such, but hanging garments – for BHS while it was open and C&A before that. So I had that background in me when I came to PFE ten years later. I was made redundant, took some time out, had a family holiday, applied for this position here and here we are 13 years later!
I've been at PFE for 13 years. When I first started I was Assistant Manager and then eventually I was promoted to Warehouse Manager after Ray, the previous manager, retired. It was always the plan that I would learn from Ray and that eventually I'd take over. If I'm honest I was a bit reluctant to take on the role initially because it felt like a massive responsibility and it was a big step up for me. I needed a bit of push and Adam Collins gave me that – there are now three of us that have responsibility for managing the warehouse, which is far more resilient than one man trying to juggle all the balls.
The warehouse has changed so much in the last five years with the business growing considerably. Wayne and I have were involved in the transition, and it became apparent that a more substantial team was needed to manage the warehouse. The three of us working together is a far better structure and it sets up well for the future.
What are your roles now?
Tom: I work alongside Rick, supporting him with whatever he needs on a day to day basis and supporting the warehouse team with what they need. I'm really enjoying it, we are all on the same page. It sounds like a cliche, but so many times we've gone away to do our own thing, but when we've come back together again to talk about something, we've all separately come to the same conclusion. It's not very often that we disagree.
Rick: We're moulding Tom into what we need, he's got a lot of experience within warehousing systems that Wayne and I haven't, which is a massive plus for the team. The support of Wayne and Tom is invaluable. Wayne took on the Assistant Manager role last June, he's got great leadership skills and we've built a far more rigid team and working structure.
We have about 26 staff working 24 hours a day, which is a big team and a big responsibility. We stagger the time we work so that we cover as much of 24 hours between us. Tom starts first, Wayne comes in a few hours later and then I start at lunchtime. We also have a Night Manager who covers the time that the three of us aren't here. 
Wayne: We have to understand the people we've got and what makes them tick to ensure that the team works effectively. It's easier to say than to do. We've made the time to ask them what they need to make the job easier and better. Do you need help from the IT team? Do you need reports? If they tell us, we make it happen. We're determined to give the people in the team the support they need. Things are far more settled and we've got some good people that we want to keep.
Rick: With the three of us working together we've been able to do not only the day-to-day, but also deliver on development projects. 
What has been the best thing about your career?
Wayne: When I started working here, I knew a desk job wasn't right for me. But I did the job, because you have to when you've got to pay the bills and you've got a mortgage and a family. I always liked PFE, people are nice and we all get treated well. So the best thing that's happened for me is moving across to being Assistant Manager. My role change is a big change, but it's the right thing for me. It's really good to be able to have ideas and implement them and have the autonomy to get them done. I'm now in a better position to act on my opinions! 
Rick: I enjoy the challenge. I've always been quite ambitious and driven, so the progression I've been lucky to have over the years has also been good for me. I've always thrived on not admitting defeat so a busy environment really works for me. On the other hand, I don't want to work myself ragged like I have done in the past. I enjoy working with these guys. 
Tom: I'm enjoying learning the new role. I'm also really enjoying helping with the progression of people, to see where they were three months ago to where they are now. When you can start to see progress in a person, it's a very positive thing for me.
Rick: That's a very important point, as Warehouse Manager, it's nice to be able to have empathy and time for people. I enjoy working with people and always try to take people under my wing. I've had plenty of opportunities to do that with my team and have had a lot of satisfaction in making sure that we work like we're all cogs in the same wheel. We're trying to be approachable. We've got an open door policy and we're trying to encourage and educate them so their job is easier. We've got a really stable team at the moment, and we want to keep it that way.
What makes PFE different from the rest?
Tom: PFE is a friendly business. Even when I was the new guy, people always said 'hello' and 'good morning' to me. It was nice settling in and feeling welcomed by everyone, rather than just the guys that I was directly working with. 
Rick: We've got a lot of competitors, but we are ahead of the game in the way we operate. We offer such good customer service. We make things work for our customers – we pull up all the trees and manage to do whatever it takes to get things done. We've got a great level of trust for the customers that we ship goods for and have a good rapport with them.
The fact that it's a family business makes it different as well. The Directors are very approachable. Although we've grown, we're very tight knit. There's still the family culture, which means that PFE probably invests more in people and staff get well looked after. 
Wayne: There is trust between the Directors upstairs and us. We have the autonomy to make decisions and make the things we want to do happen. That makes us really agile.
What are three words that describe PFE?
Professional
Friendly
Dynamic
Do you have any future ambitions for PFE?
Tom: The direction of the industry, with more complex digital management systems, means that I can bring a lot to the table. I hope that my experience of WMS and the e-commerce systems from my previous role will help us take PFE's warehousing operations to the next level. 
These two both joke that because they're getting on a bit, that when they leave, I'll be on my own. My end goal is to take over the ropes, whenever that happens. It's something to work towards and it's great to know that that opportunity could be there one day.
Rick: We expect that PFE will continue to grow and its likely that we'll be moving more goods for customers and we'll have more staff to manage. We're looking forward to getting stuck in!
Wayne: We're a really agile business and we're in a phenomenal position to continue to grow. It'll be really interesting to see where PFE goes over the next 5 years. I don't see myself retiring. I think retirement would be boring. So I'm here for as long as PFE will have me!
Who was your childhood hero and why?
Rick: My Grandad. He's the nearest thing I had to a hero. We were really close when I was young. My Mum and Dad got divorced when I was little and he spent a lot of time with me until he died when I was 21. He would tell me all these things and I now find myself saying the same things to my son. We had a lot of mutual interests, we used to do loads of stuff together – playing snooker, doing boot sales and going to cattle auctions. I wish I could have appreciated what he told me at the time rather than switching off! Now that I can reflect, I wish I'd listened more. 
Tom: It's also my Grandad. I always looked up to him. He's a lovely, friendly and bubbly guy. I've always said to my Dad, that if I could grow up to be like him at his age, then I'd be happy. As I've got older, this just becomes more and more apparent. We both support the same football team and he lives fairly locally to me. I go down there at the weekend and watch the football with him.
Wayne. I couldn't split my Mum and Dad, so it's both my parents. I grew up in the generation where mums stayed at home, she looked after me and my sister and Dad went out to earn a living. No matter what, we came first. My Mum was always there – she'd put her arm round us when we'd hurt a knee, or care for us when we were ill. My Dad was up everyday from the crack of dawn and that work ethic was my inspiration. He came over here from Cyprus and then got into the engineering industry and did that from doing English night school until the day he retired. I would go and help him at the weekend and that was my early experience of manufacturing which was a big influence on me. The combination of both of my parents, knowing they were always there and someone had my back, was invaluable.
If you could only eat one meal for the rest of your life what would it be?
Wayne: It's got to be Indian. I always have chicken jalfrezi, papadums, naan breads, sag aloo and the other sides. I love all of that.
Rick: I go to my sister's once a week for dinner. This week she cooked a massive cottage pie. I didn't realise how much I'd missed it. My Mum used to make it and so did my Nan. I hadn't had it for ages, I'd forgotten how much I love it.
Tom: Spaghetti bolognaise. I make it myself, it's my go-to meal. Pizza's up there as well, I always have a Friday night pizza!
What's your favourite movie?
Rick: If I had to choose one movie, it would probably be Die Hard. For its time it was iconic. No matter when that film comes on, I have to sit and watch it. 
When my kids were young I used to take them to the cinema a lot. I really miss those days now because they're grown up. The Madagascar movies were absolutely brilliant. My younger daughter has a really infectious laugh and I can sit here and visualise her laughing in the cinema to the point where I couldn't stop laughing myself. So for sentimental reasons I'd also choose those.
Tom: Top Gun, the first one. I've got to have watched it a thousand times. My Dad was really into planes and was in the services and we always used to go to airshows when I was a kid. It's the first film I remember watching and I just love it. It has strong memories for me for many reasons.
Wayne; I'd also say Top Gun, it has great memories for me as well. I remember going to see it at the cinema when I was about 15. Right up to the point when I left school I was going to join the RAF. I had an Uncle who was in the RAF, but then went on to fly passenger planes, so I always wanted to fly. I also really enjoyed the competition part of the film, who's the best? If you're going to do something, then why come second? Don't ever start out not wanting to win. That's the way I've been brought up.