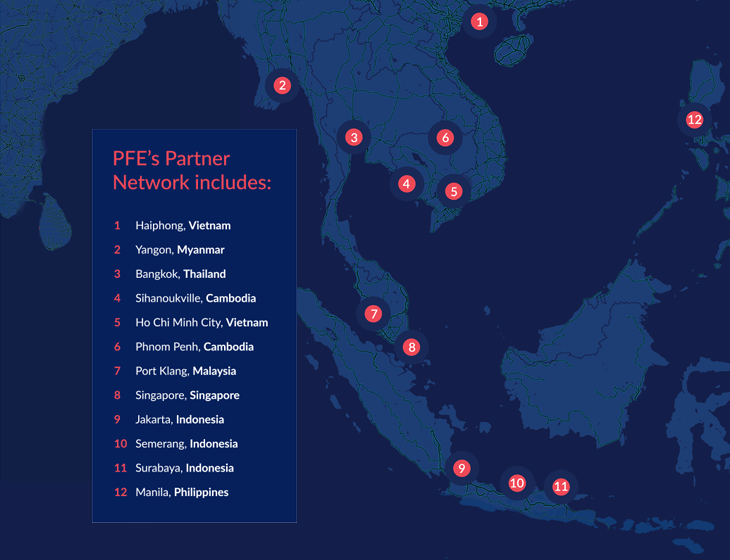 With new manufacturing centres in Southeast Asian countries gaining ground, we take a look at the opportunities for production and supply chains in the Southeast Asia region.
In recent years, many companies have been looking to diversify their export operations beyond China to reduce the risk associated with supply chain disruptions. This has resulted in buyers in western economies increasingly considering countries in Southeast Asia such as Indonesia, Vietnam, Thailand and Malaysia. ​​
A Region of Significant Growth
The nations of Southeast Asia including Cambodia, Indonesia, Malaysia, Myanmar, the Philippines, Singapore, Thailand and Vietnam are all united by one characteristic, which is growth. 
Though China's manufacturing base continues to grow, the rate of growth has tapered in recent years due to Covid-19 disruption. The country's vast production base has also changed with new manufacturing capacity being deployed to satisfy demand from Chinese consumers rather than serving the export market. Southeast Asia on the other hand, is among the fastest-growing regions in the world at the current time. According to the Asian Development Bank (ADB), economic growth in Southeast Asia reached 5.5 percent in 2022. The International Monetary Fund (IMF) forecast for global growth was 3.2 percent for 2022 and 2.7 percent for 2023, meaning Southeast Asia is set to grow substantially faster than the global average. 
As a region, Southeast Asia has made great strides as a manufacturing hub attracting significant growth from foreign investors. Being a rapidly growing region, Southeast Asia offers strong opportunities for sourcing goods for import to the UK. Whether your business is importing clothing, textiles, footwear or furniture, Southeast Asia is worth consideration.
Manufacturing Sectors Served
Vietnam is seeing increased activity in footwear, apparel and retail, Indonesia has an industrial boom, tech manufacturing has picked up pace in Malaysia, while Thailand is seeing investments in electronics and automotive. Myanmar too has grown into a manufacturing base for industries producing textiles, garments and construction materials. 
Benefits for Importers
Southeast Asia has been emerging for some time as the natural next-stop for manufacturing reliant on lower labour costs. With manufacturing costs in Southeast Asia being around 50-60% lower than in China, the region is fast becoming a viable alternative for a lot of companies. Furthermore, many countries in Southeast Asia are positioning themselves as 'China Plus One' options with incentives and grants.
Thailand has streamlined the process of obtaining construction permits and is improving its ease of doing business. Foreign investment applications in Thailand rose 59% in 2021, higher than anticipated. 
Malaysia is another country which has received increased amounts of investment from overseas and is among the most popular destinations for foreign investors owing to its developed telecommunications networks. 
Vietnam has been the biggest beneficiary of the recent focus on diversification strategies, as a result of its cheaper labour and strategic location for shipping. In 2020, the manufacturing and processing sector attracted 58.2% of the total foreign investment in the country.
Indonesia is trying to attract companies moving out of China by setting up industrial parks in Java.
Similarly, Cambodia and the Philippines have shown significant potential in their manufacturing activities.
With the overseas investment in these economies there is an opportunity to source from excellent suppliers who offer the benefit of lower cost production facilities and tax incentives. Duty rates are reduced for all Southeast Asian countries with the exception of Thailand where the UK Government is currently in talks.
Current Shipping Situation
As with all Asia to Europe trade lanes, there has been a decline in demand from Southeast Asian countries recently as a result of the global economic downturn. However the drop hasn't been as steep from this region than others, such as China. We are still seeing high activity and strong volumes on these lanes. Some blank sailings are taking place, but overall, not a large amount of capacity is being removed. 
PFE's Southeast Asia Services
If you are looking to start production in the Southeast Asian region we can provide much of the know-how needed for a successful transition. From guidance on customs to specific logistics advice on warehousing and freight transportation, we're a partner that knows the market well. We've helped a number companies navigate the complexities of locating factories and warehouses in Southeast Asian countries.  
PFE offers both Sea Freight and Air Freight (FCL & LCL) services from many countries in the region. We have long established relationships with our local Partners who can handle shipments from any part of the region. 
At origin, we offer FCL consolidation warehouses which gives importers the option to load orders from multiple suppliers into a buyers console. We work with multiple carriers for our FCL services and offer a number of UK port options. For smaller cargo volumes, We also run weekly LCL groupage container shipments. 
We operate imports from the following areas to the UK including:
Yangon (Myanmar)

Haiphong (Vietnam)

Bangkok (Thailand)

Sihanoukville (Cambodia)

Ho Chi Minh City (Vietnam)

Manila (Philippines)

Port Klang (Malaysia)

Singapore (Singapore)

Jakarta (Indonesia)

Semerang (Indonesia)
If you are considering sourcing from Southeast Asia and will need help and advice with importing from the area, we can offer the knowledge and experience you need. If you are an established importer from the region we can offer a streamlined service, with one point of contact that will manage your entire supply chain on your behalf. 
If you would like a non-committal quote for your shipment, please get in touch.