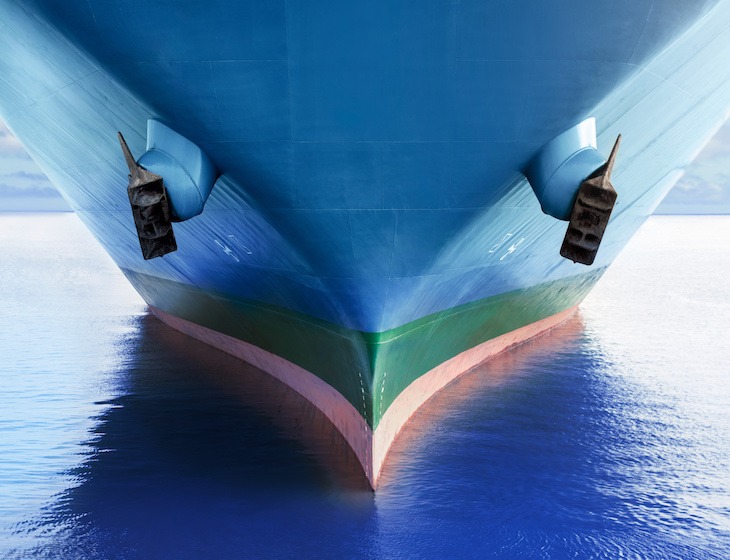 Shipping is estimated to be responsible for 3% of the world's greenhouse gas emissions. The UN's International Maritime Organisation announced plans in 2020 to reduce the sector's emissions by 50% by 2050. We review the new age of container ships that have been launched to help achieve this target.
With the shipping industry producing greenhouse gas emissions at an amount comparable to major polluting countries, the imperative to decarbonise this sector has taken centre stage. Consequently, shipping lines are making substantial investments in the industry's energy transition, pioneering the development of container vessels equipped with cleaner propulsion alternatives.
Ships Powered by Green Methanol
In a significant development for the shipping industry, Maersk unveiled its inaugural container vessel, Maersk Laura, powered by green methanol last month. This 2,100 TEU (twenty-foot-equivalent) ship received its christening from EC president Ursula von der Leyen at a quay near Maersk's headquarters in Copenhagen. It is set to formally commence operations next month as part of one of Maersk's Baltic feeder services.
Green methanol, also known as 'e-methanol,' is a fuel derived from waste carbon dioxide (CO2) and green hydrogen. The process involves using renewable energy to split water molecules. This innovative container ship, which was ordered in 2021, boasts two engines: one fueled conventionally and the other powered by green methanol. This alternative fuel source is generated from biomass or captured carbon and hydrogen obtained from renewable energy sources. In practical terms, this new vessel emits 100 tons less of carbon dioxide per day compared to traditional diesel-powered ships.
Over the past couple of years, Maersk has placed orders for 25 vessels designed to operate on green methanol. Out of these, 19 are currently under construction and are expected to be in operation by 2025. Other shipping companies, including Evergreen, have also invested in similar vessels.
Maersk believes that these vessels could aid in achieving its goal of reducing emissions per transported container by 50% by 2030, compared to 2020 levels. However, there is a growing concern among analysts regarding the availability of green methanol. The fuel is both scarce and costly to transport. To expand the use of green methanol vessels, Maersk and other carriers will need to collaborate with suppliers to increase production of this valuable commodity.
Wind-Powered Ships
Another noteworthy recent development was the exciting announcement about the maiden voyage of the Pyxis Ocean, a Mitsubishi wind-powered vessel. What sets this ship apart is its retrofitting with two WindWings, substantial sails tailored for container ships, sails are designed to cut fuel consumption and therefore shipping's carbon footprint. Shipping firm Cargill, which has chartered the vessel, expects the technology will cut emissions by as much as 30%.
The Pyxis Ocean, marks a pioneering milestone as the first vessel to be outfitted with WindWings, manufactured by BAR technologies. These sizeable wing sails, standing up to heights of 37.5 metres are built of the same material as wind turbines, to make them durable. Folded down when the ship is in port, the wings are opened out when it is in open water enabling a vessel to be blown along by the wind, rather than rely solely on its engine. 
The installation of these WindWings occurred at the COSCO shipyard in China, and the Pyxis Ocean is now embarking on its inaugural voyage to Brazil. This installation signifies the culmination of years of pioneering research and signifies a significant shift in attitudes toward technologies that have the potential to facilitate an energy transition for existing vessels. This innovative technology offers a retrofit solution capable of decarbonising existing ships, aligning with the industry's sustainability objectives.
The maiden voyage for Pyxis Ocean represents a real-world testing ground for the WindWings. It provides a unique opportunity to assess whether reverting to the traditional method of harnessing wind power for propulsion could pave the way forward for commercial shipping.
Fully Electric Ships
We've already witnessed notable advancements in electric ships, with carriers including Maersk, MSC, Hapag-Lloyd, and others actively testing out prototype electric vessels. One groundbreaking achievement was the launch of the MV Yara Birkeland at the end of 2021. Often referred to as 'the Tesla of the seas,' this pioneering 80-metre, 3200-tonne autonomous cargo ship marked a historic milestone as the world's first fully electric autonomous cargo vessel. It operates on eight batteries with a combined capacity of 6.8 MWh, equivalent to the energy of 100 Tesla cars, primarily sourced from hydropower generation.
Despite its relatively modest capacity of 120 TEUs, carrying just over 100 containers, the Yara Birkeland has effectively replaced approximately 40,000 diesel-powered truck journeys annually within Norway. This transition has brought about cost savings, emission reductions, decreased air pollution, and reduced congestion on Norwegian roads.
This year, further progress has been made in the realm of electric ships. COSCO Shipping Development achieved a significant milestone with the launch of its 700 TEU electric container ship (N997). This vessel is equipped with two 900kW main propulsion motors, making it one of the most prominent electric container ships globally. Compared to conventional fuel-powered ships of similar size, the 700 TEU electric container ship has the potential to reduce carbon emissions by approximately 32 tons every 24 hours.
This electric vessel is designated to serve a regular 1,000-km route along the Yangtze River. While it's not on par in size with ocean-faring container ships, it represents a vital step in the evolution of fully-electric ship propulsion systems. Once the propulsion systems of fully-electric ships become more powerful, larger ships with much-higher capacities will be tested and used, leading to viable adoption for longer trade routes.