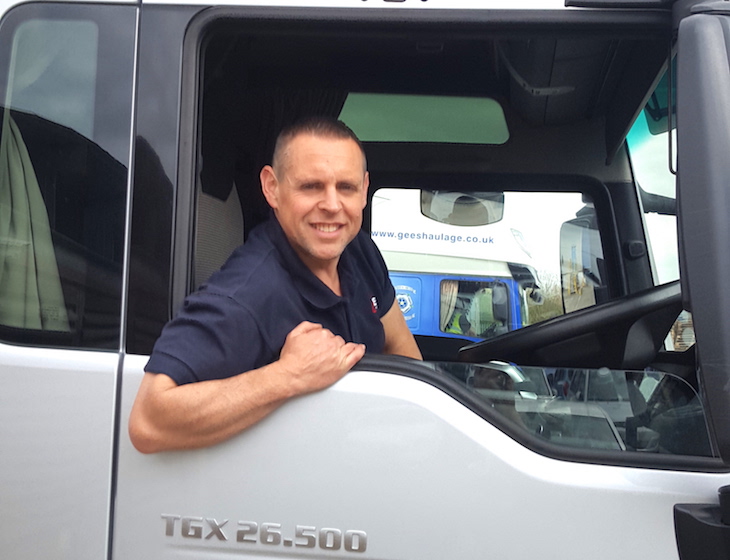 One of our drivers, who recently completed the London Marathon on behalf of PFE's charity Make-A-Wish, tells his PFE story.
What's your journey been with PFE?
I joined PFE in 2016. I was taken on as a Cover Driver to fill any driver requirements. I still fulfil that role. It means that wherever and whenever I am needed, I fill in to drive both container or curtainside trucks. I enjoy the variation of driving both.

Number of years in the industry?
I've been driving trucks for 14 years. My first job was in investment banking in the City. I did that for a long time but gave it up because it was stressful and I wanted a change of lifestyle. I then worked as a Driving Instructor for a couple of years. I'd always wanted to be one. But during my training I took a job driving a 7.5 tonne truck for a local firm. I've always had a love for trucks – as a child I'd make my Mum stop and let me watch trucks going through the town. Having the opportunity to drive a truck brought home my love for trucks again and it was then that I decided I wanted to be a Truck Driver.

What makes PFE different from the rest?
PFE is a personable company. I enjoy working here because I feel like I'm contributing to something special. There is a culture that runs within the company that feels like everyone is pulling together – a camaraderie. At PFE everyone is working towards the same goal. I felt PFE was different right from the beginning. When I went out to customers, I was treated with more respect. This is testament to the effort that PFE puts into the relationships they have with their customers.
It is of course lovely when you are appreciated for the work you do and rewarded too. I definitely feel both of those things. I genuinely feel looked after working for PFE.
What are three words that describe PFE?
Respectful, Caring, Successful.
PFE is a progressive firm, with a family feel and old school values. I like that.
What is the favourite thing about your career?
I love driving trucks! It's great to have a job I enjoy as much as I do. There is nothing better than being in charge of a fully loaded 44 tonne truck. I love the challenge of being asked to manoeuvre the vehicle into challenging positions, testing my skills.
I also prefer being outdoors and meeting people rather than being stuck in an office. It's exciting travelling to places you wouldn't normally go and meeting people that you would never usually meet. For example, one time I went to a Royal Naval base in Scotland to deliver some machinery. I got to see some members of the Royal Family who were there handing over a new submarine to the fleet.
Do you have any future ambitions?
It sounds cheesy but I really just want to be happy. Driving trucks makes me happy. I don't have any ambitions to take over the world, but I have the energy and drive to help those that do want to.
A recent ambition of mine was running the London Marathon and raising money for PFE's charity, Make-A-Wish Foundation. I aimed to achieve a time of sub 4 hours.  (Find out how Steve got on in the 2018 London Marathon here.)
Who was your favourite childhood hero and why?
My Dad. As long as I was with him, I was happy.
If you could only eat one meal for the rest of your life what would it be?
A roast. However there would need to be a guarantee that the spuds would be perfect!
What's your favourite movie?
All in all, Weird Science. It was a classic after pub, go-to favourite from my youth.