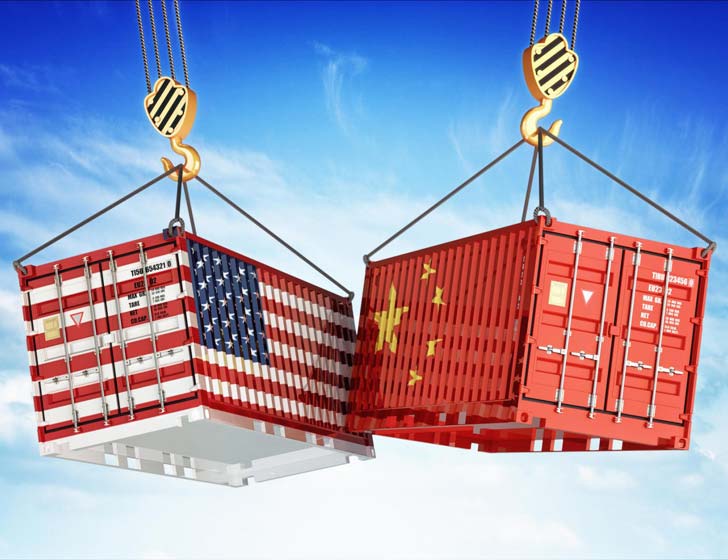 The failure of the US and China to agree on trade at the weekend makes further tariffs on Chinese goods to the US seem increasingly likely. We examine the impact that the trade war between the two superpowers might have on the Shipping Industry in 2019.
How did the trade war start?
At the start of March 2018, The US Trump Administration imposed a 25% tariff on steel imports and a 10% levy on aluminium shipments from China. Mr Trump argued that global oversupply of steel and aluminium, driven by China, threatens American steel and aluminium producers, which are vital to the US.
Since then, the US has imposed three rounds of tariffs on Chinese goods, totalling more than $250bn (£191.9bn). They cover a wide range of consumer and industrial items including handbags, clothing and footwear, rice, railway equipment and car parts. Those tariffs will increase to 25% from 10% at the start of 2019 unless the two countries agree on a deal.
The deterioration of talks between the two nations has resulted in Trump also threatening to hit another $267 billion of Chinese goods with tariffs next year – which would mean roughly all of China's exports to the US would be subject to the duties.
Why has the US imposed tariffs?
President Trump believes that if you have a trade deficit – if you import more than you export – you are losing out. The US trade deficit has increased in recent years, running at about $50bn (£38bn) a month. The new tariffs are meant to correct this imbalance and protect American jobs.
What have the repercussions been to date?
There has been a surge of advance shipments before each successive tranche of China trade tariffs takes effect. The likelihood of 25% tariffs from January 2019 has created a mini-boom in US imports for most of this quarter as businesses have rushed to bring goods into the country ahead of the tariff hike. This has resulted in the sea freight industry being surprisingly busy in the past couple of weeks.
The impact of this demand has seen the Asia to the US east coast component of the Shanghai Containerised Freight Index (SCFI) continue to gain traction. Spiked by the rush to avoid the 25% tariffs, carriers are running full ships and therefore able to secure premium rates for shipment guarantees.
It is anticipated that the demand for Airfreight will increase in the final weeks of 2018, with inventory that was supposed to go by ship, now being transported by Air to beat the deadline.

What might be the impact be in 2019
Forecasters are concerned that the transpacific highs of 2018 for shipping lines will be followed by a damaging hangover next year. There could be serious repercussions on transpacific eastbound volumes during 2019 as front-loading this year prompts a dip in traffic next year.
The potential for a heavy skew in supply versus demand is a concern if it results in a 'boom and bust' type situation. High levels of available capacity and no demand for the space means that Carriers will look to withdraw capacity and either deploy it on other routes or lay it up until demand increases again. Deployment on other routes could affect market rate levels and therefore have a cascading impact on routes not directly related to the USA.
There are also wider and more long term implications on global manufacturing and therefore supply chains. US Businesses and Shippers are increasingly looking to new manufacturing possibilities in Southeast Asia. The number of companies who are planning to move their production out of China could rise as the impact of the trade war plays out.
The consequences of the trade war is also creating uncertainty and concern amongst European companies operating in China. European multinational firms are also considering relocating to Southeast Asia to avoid getting caught in the trade war crossfire.
What might happen next?
As the G20 summit approaches, there is a lot of discussion in the press about how likely the US and China will be able to avert an escalation of the trade war. If talks fail to break the deadlock and President Trump holds good on his threat to slap a tariff on the remaining $257 billion worth of imports, then we might see transpacific prices remaining strong in January ahead of yet another tariff hike.
How PFE can help
The impact of the trade war may be far reaching, we will work with any of our customers affected to ensure the impact is clearly communicated.
If you are considering new manufacturing opportunities, PFE offers Sea Freight services from the whole of the Southeast Asian region including Vietnam, Thailand, Cambodia, Philippines, Malaysia, Singapore and Indonesia. Our extensive network of trusted partners in the area enables us to offer highly competitive supply chains and control them on your behalf.
If you would like a non-committal quote for your shipment, please get in touch.