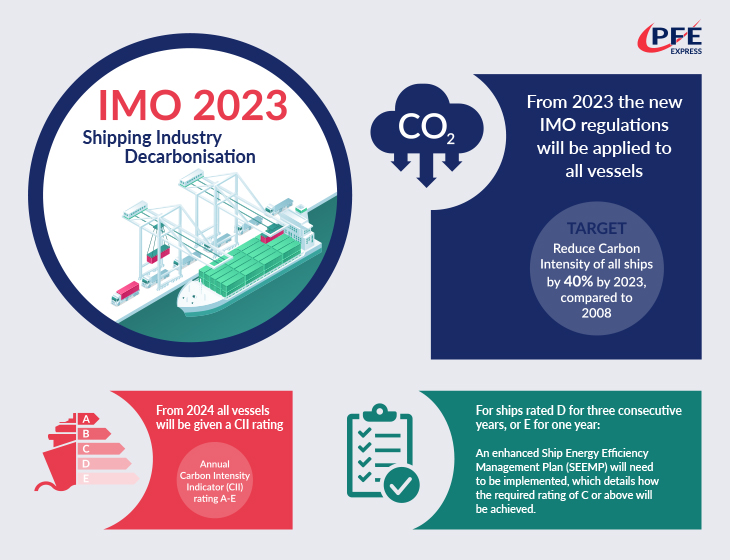 Although transporting goods by ship is less environmentally damaging than the equivalent journey by road or air, the scale of global shipping means that change is needed. From January this year, new regulations require owners of all large ships to report their carbon emissions and make annual improvements.
The impact of the Shipping Industry on the environment
Over 85% of all trade to and from the UK is transported by sea and 1 billion tonnes of CO2 are produced every year by the shipping industry. According to the United Nations agency, the International Maritime Organisation (IMO), the industry is responsible for approximately 3% of all global greenhouse gas emissions (fourth IMO GHG study, 2020), which is the equivalent to the annual emissions of a major developed country like Germany. 
The need for sustainability in the Shipping Industry
Container shipping is the world's most carbon efficient form of transporting goods across the world, but as the sector still has a major environmental impact, there is an urgent need for the carbon footprint of vessels to be reduced. The drive towards a more sustainable future in shipping has been gaining momentum in recent years. The World Shipping Council (WSC) and IMO are engaged in numerous efforts to reduce carbon dioxide emissions and further improve efficiency across the world's shipping fleet. 
In 2008, the IMO committed to reduce the carbon intensity of shipping by 40% by 2030. Plus the reduction of total annual greenhouse gas emissions from shipping by at least 50% by 2050 (based on 2008 levels). 
Mandated by new IMO regulations, 2023 is the first year where ships will be required to collect and report their emissions data. In 2024, this data will then be used to issue ratings to ships, with poorly performing vessels required to improve or face being idled. 
This new reporting and rating framework represents the latest regulatory updates from the IMO.
The IMO's new sustainability measures
As a stimulus to reduce carbon intensity of all ships, it will be mandatory for all ships to calculate their attained Energy Efficiency Existing Ship Index (EEXI) to measure their energy efficiency and to initiate the collection of data for the reporting of their annual operational carbon intensity indicator (CII) and CII rating. 
What is an Energy Efficiency Existing Ship Index (EEXI)?
The EEXI applies to all ships of 400 gross tonnage and above. The EEXI is a measure of how energy efficient the ship itself is as a vehicle, using the metric of carbon emissions per cargo ton and mile. 
This will be compared to a baseline for the ship based on the ship design – the engine power, transport capacity, and speed – and it must exceed this baseline to be deemed energy efficient enough.

What is a Carbon Intensity Indicator (CII)?
The CII applies to large ships only, of 5,000 gross tonnage and above. The CII is a measure of the efficiency of a ship's transportation of goods, using the metric of carbon emissions per unit of nautical transport work (how much weight is transported, how far). Carbon intensity links the GHG emissions to the amount of cargo carried over distance travelled.
How will the new ratings work?
Based on a ship's CII, its carbon intensity will be rated A, B, C, D or E (where A is the best). The rating indicates superior, moderate or inferior performance levels. 

A ship rated D for three consecutive years, or E for one year, will have to submit a corrective action plan called the Ship Energy Efficiency Management Plan (SEEMP) to show how the required index of C or above will be achieved. 
Each year, the boundaries for each CII A to E rating will be lowered by around 2% – meaning ships will need to make efficiency improvements to keep their rating.
What is the potential impact for shipping lines?


Achieving the required rating of C or above will require a mix of solutions to be implemented by shipping lines. A vessel can run on a low-carbon fuel, such as liquified natural gas (LNG) fuel or biofuels, to get a higher rating than one running on fossil fuels. There are many things a ship can do to improve its rating, such as:

Hull cleaning to reduce drag
 and propeller cleaning to keep efficiency high.

Route and journey optimisation to ensure efficient routes and minimise fuel use.

Speed optimisation to minimise fuel use.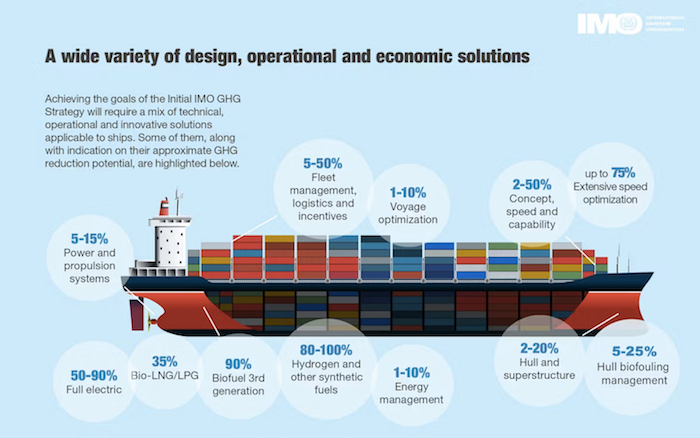 Source: IMO
There are also expected to be economic impacts as more expensive low carbon fuels and new technologies are adopted by carriers to improve the carbon efficiencies of its fleet. This has the potential for shipping costs to rise to help shipping lines pay for the required changes.
What will be the cost of ignoring the new regulations?
As vessels will be graded, those that don't meet the CII threshold are far less likely to be chartered or financed because they will cost more to run. Not only that but those with a bad CII rating will have to use SEEMP to come into line, which could damage their operational abilities by having to run at slower speeds. Furthermore, regulators could issue fines to those with bad CII ratings, making it more likely that non compliant vessels will be detained.
Longer term impact for Shipping Lines?
These measures are part of the short-term part of the IMO's strategy. There will be increasing pressure on carriers to demonstrate that they are taking sustainability seriously. In the next few years, shipping lines will be able to take advantage of new technologies that will help them reduce their emissions. These include hybrid and electric ships, advanced propulsion systems, and more efficient hull designs. 
There does appear to already be a shift in the industry, as evident in order books for new vessels, with more sustainable dual-fuel ships accounting for an increasing proportion of new orders. Dual fuel engines can operate on both conventional fuel and more sustainable forms of energy, preparing carriers for the transition from traditional fossil fuels. 
We have also already seen Maersk, MSC, Hapag-Lloyd and others testing out prototype electric ships. MV Yara Birkeland was the world's first autonomous electric cargo ship, but it only has a capacity of 120 TEUs. Once the propulsion systems of fully-electric ships become more powerful, larger ships with much-higher capacities will be tested and used, leading to viable adoption.
Ultimately, creating a more sustainable future requires action across the industry. Not only by the shipping lines, but also by ports and manufacturers to support this investment in a greener future.
For more details and FAQs to the IMO website.