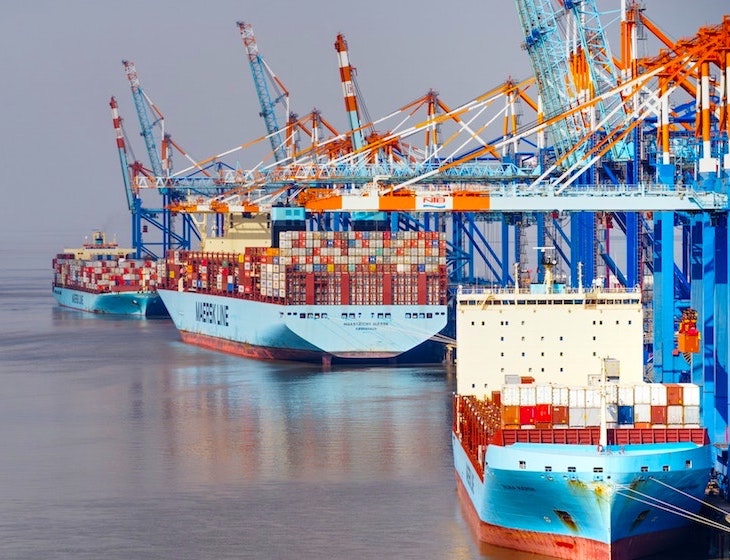 A large amount of capacity from new vessel deliveries has entered the market in 2023. With deliveries projected to surge even further on the increase in capacity already delivered this year, we review how the industry may encounter challenges in assimilating this influx of new ships.
The prolonged pandemic-induced capacity shortage in the sea freight industry resulted in shipping lines significantly escalating their orders for new vessels. Over the last few years, we have seen the world's biggest shipping companies ploughing their pandemic payouts into orders for new container ships on an unprecedented scale, surpassing previous records. However, with deliveries now starting at a time when supply chains are running more smoothly and demand is back to pre-pandemic levels, fears about overcapacity are emerging.
With global consumers currently curbing spending due to inflationary pressures, there has been a stagnant demand for goods, with the usual peak season this year not emerging. The supply-demand balance for the foreseeable months will be under pressure because capacity is likely to grow more than trade. 
What is Driving Capacity Growth?
In the race to expand their capacities, carriers have been engaged in fierce competition, vying to secure larger and more efficient vessels. Alphaliner reports that a total of 315 ships are poised for delivery over the next three years. Within the next two years, MSC, currently the largest ocean carrier, will see the addition of the highest number of vessels to its fleet, augmenting its capacity by 33 vessels in the near term. CMA CGM follows closely behind MSC in terms of vessel orders.
Shipping lines are also placing orders for environmentally friendly vessels, capable of using green fuels. Maersk, for instance, has commissioned six 17,000 TEU new builds, designed to operate on both conventional fossil fuel and eco-friendly green methanol. This move will bolster their fleet with a total of nineteen 17,000 TEU vessels equipped for green fuel usage. MSC, on the other hand, has ordered twelve 16,000 TEU vessels configured for LNG propulsion. In addition, Maersk is expanding its fleet with 2,500 TEU ships running on methanol instead of traditional fuel. Meanwhile, COSCO has placed orders for six 23,000 TEU methanol-powered ships alongside nine 15,000 TEU vessels designed for conventional fuel usage.
How Could Carriers Manage Capacity Surpassing Demand?
Carriers are facing a challenging time because of the deluge of new vessels and the capacity on order far surpassing global demand. It is estimated that the net orders for new vessels will result in a 30% increase in capacity. This situation will compel carriers to employ various strategies to mitigate the effects of surplus capacity. 
The present situation will result in a worsening market balance. However shipping lines will attempt to avoid this scenario by adopting a series of tactics. Since the supply of space could exceed the demand for a considerable period, carriers will continue to moderate capacity by blanking sailings. Some of the unused capacity could be redirected to shipyards for retrofitting, the scrapping and pulling from service of older, more polluting vessels could dampen the effects, along with a move to slow engine speeds to curb emissions.
Blank Sailings
Over the last few months, carriers have been reducing substantial capacity on Asia to Europe routes to counteract the effects of reduced demand. Indeed MSC plus the 2M, Ocean and THE Alliance partners have all significantly ramped up their blanking programmes suspending services by blanking sailings for consecutive weeks. It is estimated that approximately 24,000 TEU new build deliveries that should have been phased into Asia-North Europe schedules have come straight from the shipyard to be idled at anchor. Analysts argue that as the blanking tool is not having the desired effect, the industry will need to 'bite the bullet' and make substantial service adjustments in order to overcome the current market imbalance.
Retiring Old Vessels
To address the challenge of excess tonnage, carriers have the retirement of aging vessels at their disposal. Over the past two years, very few container ships were dismantled due to the surging freight rates. Consequently, it might be prudent for carriers to expedite the scrapping of older, environmentally unfriendly vessels from the market. Drewry has forecasted that ship demolitions will hit an all-time high in 2023/4. Nevertheless, even with increased ship scrapping, it remains improbable that this measure alone will rectify the supply and demand imbalance.
Slow Steaming
The increase in new vessels might lead to the adoption of slow steaming: slowing down ships while they sail. In the coming years, carriers might enforce reduced sailing speeds for their vessels. The proposed slowing down of vessels is believed to add an average six days to round trip voyages, or three days to a single leg journey from Asia to Northern Europe. This strategic shift is poised to yield multiple advantages alongside the mitigation of excessive supply, including emissions reduction and cost savings on fuel. Slow steaming could help curb capacity as well as deliver environmental benefits with the reduction in emissions helping shipping lines meet the IMO carbon intensity measures which came into force on 1 November 2022.
Outlook for the Market
The cyclical nature of the shipping industry means that sometimes there will be more ships than needed. However, it doesn't always have to cause problems for the market. Carriers have the ability and can control the number of ships they use, even when there's a big difference between supply and demand.
The concerns about overcapacity are somewhat valid considering the large number of ships on order coupled with subdued demand. However, there are indications that carriers are taking steps to handle and absorb this new capacity. What is anticipated is that the current blank sailing programmes, along with the potential issues related to schedule reliability, are likely to continue until there is a shift to a more positive demand for the global shipment of goods.