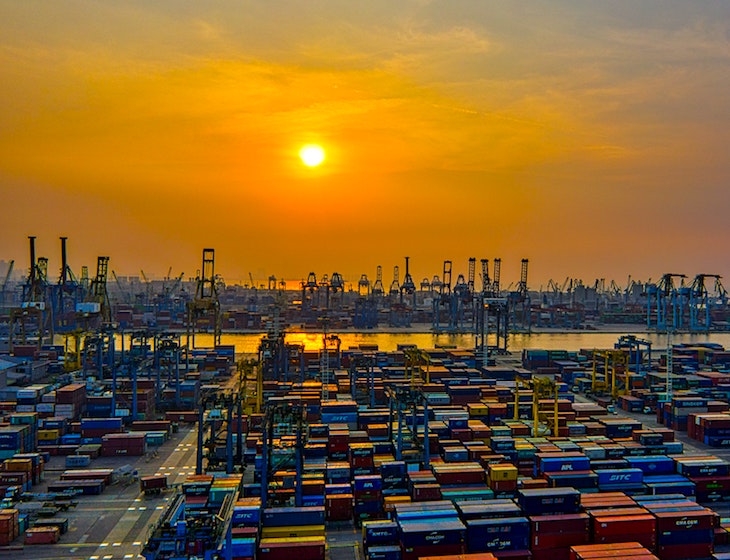 Container shipments from Asia and the Indian Sub Continent to the UK and Europe continue to be subject to unprecedented delays resulting from global congestion. As a consequence of the current environment the market is very volatile, we are facing a period of uncertainty on both cost and predictability in the supply chain.
It has been reported that the inability of the shipping lines to meet the demands of the markets from Asia to the rest of the world is pushing markets to breaking point. What we are seeing today is a combination of congestion spikes and equipment shortages that has led to the breakdown of the supply chain both at origin and in the UK.
Congestion at Origin 
The swing from a complete collapse in demand in the Spring to a situation where shipping lines are playing catch up, plus handling the usual peak season demand, has resulted in all vessels being full from Asia to Europe (and also from Asia to every other export market in the world). Making matters worse, as more goods are exported out of China, empty containers aren't going back quickly enough to origin ports. As such there are not enough empty containers for loading in Asia. The acute shortage of equipment, particularly 40ft containers, is causing major problems across the whole of Asia and the Indian Sub Continent. 
Carriers are seemingly prioritising equipment on the most lucrative routes – such as the transpacific trade lanes. Due to buoyant nature of all routes from Asia (to the US, Latin America, Indian Sub Continent, Middle East and more) there are not the vessels to re-deploy to a core route like the Asia to Europe market. Therefore a capacity injection that may perhaps usually be made in a more 'normal' year is not possible and so capacity is more or less fixed.  
We are seeing port congestion in almost every major port in the world presently. This is having a knock on effect to schedule reliability. As a consequence we are seeing almost every 4 weeks a slippage of 1 complete sailing from Asia to Europe (because of the 1-2 day delays running down the coast of China), which then reflects as a completely blank week, putting further pressure on the demand for capacity and equipment.  
In addition there are increasing issues with labour shortages, resulting from factors including Covid-19, which is impacting terminal operations in multiple locations at origin. The situation is particularly acute at Colombo, Sri Lanka where the terminal is experiencing berthing delays and sailing delays as a result of labour availability at less than 70%. There have been reports suggesting 45,000 containers are sat in the terminal as a result of congestion at this significant hub port. This is creating unavoidable delays in the movement of goods from Southern India and Bangladesh as well as Sri Lanka itself. 
Another example is Sihanoukville, Cambodia where terminal congestion is preventing the hundreds of containers that are readied at the port to gain access back into the terminal to be loaded onto vessels. The same has happened in Yangon where the lockdown meant production ceased, then commenced again with a huge spike in demand and the ports are not large enough to cater for the volume spikes. In an attempt to get hold of the situation, shipping lines are cancelling bookings across Asia.
Congestion at UK Ports
UK congestion is severe. Felixstowe port, which has been struggling to manage the increase in import volumes resulting from the key Christmas trading period for many weeks, is still under severe stress. The additional pressure of retailers also stockpiling ahead of the Brexit deadline is only exacerbating the situation. While Felixstowe is being reported as the main problem (as it handles 40% of all the shipping containers coming into and out of the UK) disruption is also being experienced across all UK's main ports. There has also been a knock on effect at London Gateway and Southampton ports, which have been absorbing diversions from Felixstowe. All major UK ports are now overloaded and as a result are experiencing congestion at the terminal and container yard which has resulted in a number of port omissions, 'cut and runs' and move count restrictions.
To mitigate this issue, as discussed previously, many shipping lines are seeking to reduce their UK capacity. Given the current circumstances, carriers have passed on additional port congestion surcharges for the UK's container ports, Felixstowe and Southampton, effective from 1 November 2020.  
Impact for Customers
All of the factors described are significantly impacting transit times for shipments between Asia and Europe. Carriers are applying very restricted management of space and rates in all main trade lanes have soared to record high levels. Regrettably there is currently little clarity on when the situation will improve and we anticipate these challenges to the market will continue until well into 2021. 
We would like to inform our customers that PFE is working extremely diligently with the shipping lines to ensure that our customers' supply chains and capacity are protected. We do however expect the disruption to continue for as long as capacity and equipment shortages persist and expect to see further irregularities to service in the run up to the Chinese New Year in February. 
We would like to thank all of our customers once again for their understanding during this challenging period.