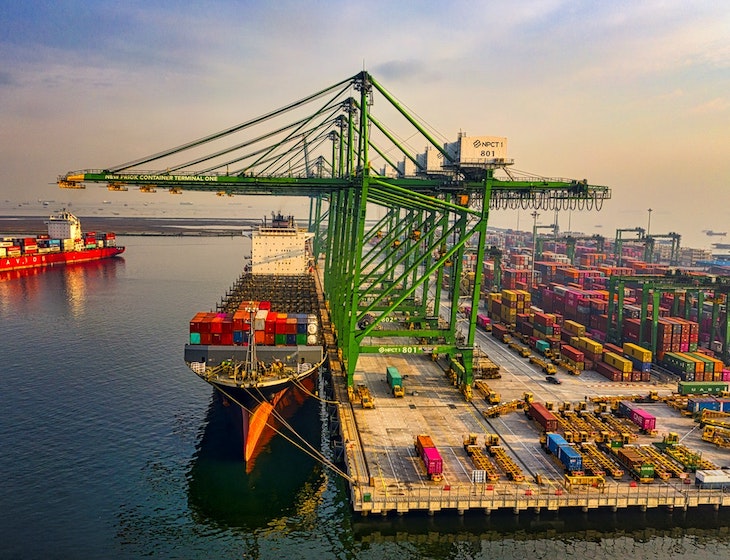 Global port bottlenecks continue into the New Year and the recent Covid-19 surge in China forces tighter restrictions leading to delays to the inland transportation of export containers into the key container port of Ningbo.
Covid-19 Restrictions Causing Major Disruption at Ningbo
Covid-19 disruptions have continued in China's third-largest container port, Ningbo, which is striving to maintain operation levels. Since our last update, 33 Covid-19 cases have been detected in Beilun, an adjacent neighborhood to Ningbo port, resulting in the Chinese government implementing strict regional lockdown measures and mass testing in order to control the outbreak. At this point in time the port remains open and carrier schedules have been unaffected with container loading and discharge operating normally. However the impact on the transportation of cargo and access to the port is severe.
As a result of China's zero-covid policy authorities are implementing entry and exit controls in the affected areas. The mandatory new testing requirements and inspection of health documents of truck drivers has hampered trucking operations, creating delays to the inland transportation of export containers from factories and warehouses to the port. The recent outbreak has also prompted multiple factory and warehouse closures under the government's mandate.
In an attempt to avoid landside delays carriers have been diverting some cargo to the nearby, already congested, Port of Shanghai. Some carriers have been using feeder terminals at alternative smaller ports, such as Zhapu, that are not held under the same restrictions.
China's continued use of a zero-tolerance policy towards Covid-19 combined with the rise of the more contagious omicron variant means that the risks of larger disruption to not only supply chains but also manufacturing are significant in the coming weeks. As we are now in the peak season for exports ahead of the Chinese New Year, regrettably, it is likely that some shipments will be impacted by this disruption. We will keep customers updated with further news at the earliest opportunity.
Global Port Bottlenecks Continue into New Year
The congestion at ports worldwide that have caused disruption and delays to shipments from Asia and the Indian Sub-Continent in 2021 continue into the New Year. Landside bottlenecks caused by random pandemic restrictions in port and haulage operations at various locations throughout Asia means that disruption at ports continues to impact schedule reliability and ships continue to sail off schedule. 
Vessel arrivals remain impacted by heavily congested European ports where carriers are skipping port calls in an attempt to rectify schedules. In the UK, berthing and landside delays at the Port of Felixstowe remain challenging with yard congestion resulting in ongoing rotation changes and vessel diversions into a number of ports in North Europe.
The high demand that has been experienced for the last 18 months is expected to persist all the way through January as retailers in the UK, Europe and the US attempt to get products shipped ahead of the Chinese New Year holiday on 1 February 2022. After which we expect to see blank sailings in early February as holiday factory closures in China will reduce demand temporarily. Due to the ongoing challenges with capacity and continued high demand, freight rates will remain high.