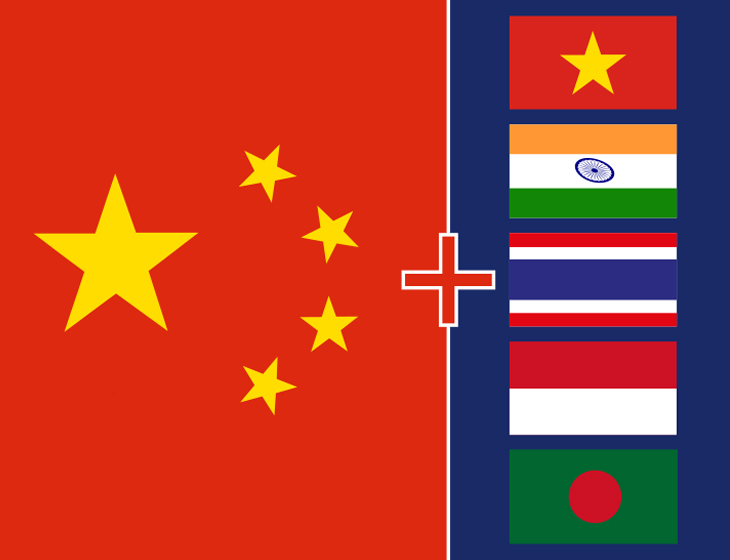 The strategy of diversifying manufacturing from a China-only model isn't new. It has been driven by geopolitical tensions, trade wars and tariffs, and rising labour costs in an evolving Chinese economy. However the China Plus One strategy has been accelerated by Covid-19 as multinational corporations have looked to reduce the risk associated with supply chain disruption.
What is a China Plus One Strategy?
Put simply, a China Plus One strategy is when a company avoids investing only in China and focuses on diversification by producing goods in China as well as manufacturing in other promising developing countries such as India, Bangladesh, Thailand or Vietnam. 
What's Driven the Shift Out of China?
Over the past two decades, Chinese manufacturing has dominated the world, consequently the country offers about 30% of the world's manufacturing capacity. Western companies have been drawn to invest in China, mainly by their low production costs, and enormous domestic consumer markets. Optimised shipping lanes as well as strong government support, has also made China a very attractive manufacturing option for western companies and China has become a preferred hub for global supply chains.
However, this situation has changed over time as labour costs have increased resulting from stringent business practices being enforced and subsequent soaring compliance costs. Additionally, the trade war with the US and resulting tariffs have led to the withdrawal of many foreign manufacturing firms, and more recently, rising costs from the Covid-19 pandemic seem to have dampened China's attractiveness.
Diversifying production outside China is now thought to be a game-changing strategy that will reduce the risk associated with the recent supply chain disruptions. 
How has Covid-19 Accelerated Diversification?
Even before the pandemic many companies were beginning to seek cost-competitive options to China to alleviate supply chain risks.
When the Covid-19 crisis started in China, most businesses had no back-up plans for getting their finished goods or raw material. The pandemic led to supply chain disruptions, such as shortages of raw materials due to factory shutdowns in China, which increased the cost of manufacturing by pushing labour and shipping costs high and increasing lead times.
A report by the International Institute for Strategic Studies (IISS) states that the world's 1,000 largest companies depended mainly on Chinese suppliers that were quarantined during the pandemic. International suppliers of products, from electronics to industrial machinery and medical equipment, that lacked an alternative in the region were at a distinct disadvantage. 
The pandemic was a timely reminder to reinvigorate supply chain resilience within countries with access to an alternative cost-effective, safe and stable supply chains and workforces.
Where are Corporations Moving to?
Disruption and increasing costs resulting from Covid-19, plus declining tax incentives have resulted in companies offshoring operations to emerging Asian countries. Thailand, Malaysia, India, Vietnam, Indonesia, Philippines and Bangladesh are among the most popular lower cost options offering reliable infrastructure, production capacity and agile supply chains. 
Southeast Asia is among the fastest-growing regions in the world at the current time. According to the Asian Development Bank (ADB), economic growth in Southeast Asia reached 5.5 percent in 2022. The International Monetary Fund (IMF) forecast for global growth was 3.2 percent for 2022 and 2.7 percent for 2023, meaning Southeast Asia is set to grow substantially faster than the global average.
To promote new investments, Southeast Asian countries are increasing the ease of doing business, implementing tax cuts, offering fiscal incentives for special economic zones/industrial parks, and boosting infrastructure spending.
There has also been significant investment recently by companies in the Indian Subcontinent, primarily driven by India. Recent manufacturing decisions by large global companies testify that confidence is growing in India as a manufacturing hub in Asia. 
Which Companies are Diversifying?
Many global corporations have shifted some of their manufacturing out of China in the last five years.
Apple Inc decided to manufacture its iPhone 14 in India and is exploring moving its iPad manufacturing there as well. Apple has also moved some iPhone manufacturing to Vietnam and is planning to move part of its MacBook production to the Southeast Asian nation. 
Amazon set up its first production line for its TV Fire stick in India. 
Sony closed its Beijing smartphone plant to cut costs and relocated some of the production to Thailand. 
Other companies that have shifted some of their production lines out of China to Vietnam are Nike, Adidas, and Samsung.
Cost reduction is the main impetus for the shift in these corporations' supply chains. However carbon footprint reduction, from lower factory emissions in other Asian countries, has also been cited as a motivating factor.
How Have Shipping Lines Responded to the Manufacturing Shift
With increasingly larger volumes of cargo moving away from the traditional source in south China, carriers have been quick to respond to the manufacturing shift, rolling out a number of new services to Vietnam, Thailand, Cambodia and other Southeast Asian hubs.
While there is still a huge disparity in volumes, with China continuing to be the region's biggest exporter, shipping lines are poised to continue adding new services that are  migrating southwards.
Investment in ports by governments such as India, Vietnam and other Southeast Asian countries is also enabling improved connectivity to major shipping trade lanes.
Challenges to Manufacturing Diversification
​​While in theory, a China Plus One strategy makes financial sense and has many benefits, relocating production is also costly and time-consuming. Manufacturers will also still require inputs and raw materials imported from China to produce elsewhere, and complex geopolitics impact trade decisions. Opening a location in a new country typically takes several months and requires deep in-country expertise.
With an extensive partner network in locations across China and Southeast Asia, PFE Express can provide the local market knowledge and experience you need. Contact us to discuss your particular challenge.
In Summary
With a backdrop of trade tensions and increasing production costs in China, Covid-19 has accelerated existing trends in encouraging multinational companies to diversify their supply chains. The vulnerabilities of what was believed to be a reliable Chinese manufacturing and distribution process were exposed by the pandemic, and have contributed to the fast-track of a manufacturing shift to other Asian countries. 
Companies increasingly believe that diversifying the sourcing portfolio from China will help address numerous challenges, whether in supply chain, logistics or availability of raw materials. 
India and Southeast Asia in particular are undertaking initiatives and implementing policies that will facilitate their emergence as the new hubs for manufacturing. Although China will remain a key player, it is expected that many more businesses will move towards a China Plus One supply chain strategy in the future.