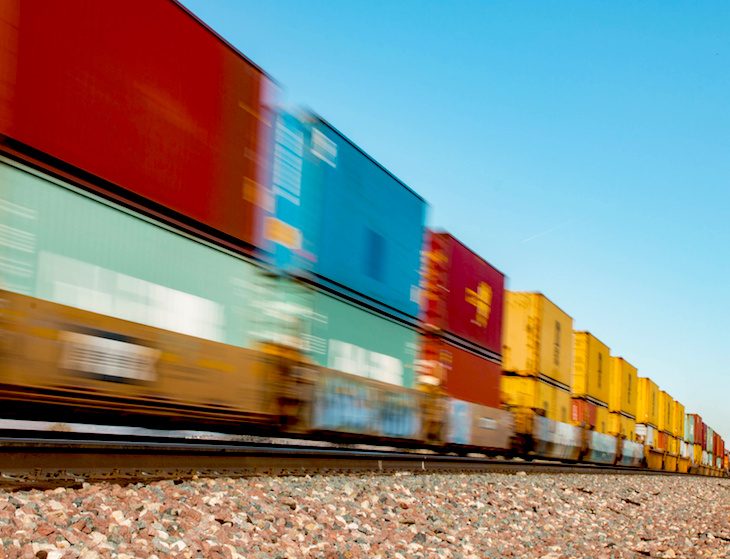 Rail freight has been a beneficiary of the Covid-19 pandemic for Asia-Europe trade. Over the last seven months usage of the rail freight service between China and Europe has increased rapidly, and with continuing investment, the cargo train service has improved its competitiveness and attractiveness.
What has driven growth?
Demand has grown for China-Europe rail freight services as air freight and sea freight shipments faced significant capacity and schedule issues resulting from the challenges in the market from Covid-19. There have been greater levels of unreliability of sea freight services as shipping lines withdrew capacity. Many blankings came in and capacity was taken out of the market making sea freight overall more unreliable for customers. At the same time, we also saw air freight rates climb quite significantly in connection with the surge in demand to export PPE out of China. This combination of factors has encouraged freight forwarders to consider rail shipment options from China into Europe.
Most trains departing from China to Europe in the last six months have carried items that are more time sensitive such as medical supplies. There has also been demand for work-from-home equipment. These new types of shipments have contributed to the rise in rail volumes.
Record figures
China's rail freight shipments to Europe are at record levels. Container traffic from China to Europe via rail grew 34% in the first half of this year, with a 72% rise year on year in June alone. July saw 1,232 cargo trains travel from Chinese cities to European destinations – the highest ever in a single month and an increase of 68% on the same month a year ago.
While rail cargo shipments are still a small fraction of shipping volumes by sea, we are clearly seeing a strong growth in popularity. Rail volumes are now estimated to be 5-6% of total Asia-Europe transport capacity and this mode of transport is still growing. 
An increasingly attractive alternative?
Blanked sailings and reduced capacity in the sea freight market have pushed more shippers to use rail services. Most new customers have switched from sea freight to rail, with a smaller percentage switching from air freight. It is no surprise that alternatives such as rail have been given consideration as transit times (of around 24 days from China) are faster than sea freight and rates are more stable. 
Rail freight can be less expensive at the current time than moving containers via sea as sea freight rates have rocketed in the recent months. Although some of the financial benefit is the result of Chinese government subsidies for rail moves to Europe.
The rise in demand, means that more carriers are offering weekly services on a permanent basis, such as Maersk that announced just this week that it is making its trial service a permanent fixture.
PFE customers using rail freight
We previously reported that for some of PFE's customers the rail freight service has offered scenarios where train services have successfully complemented traditional ocean/air services. Particularly situations where multimodal strategies – stringing together ocean, rail, air and road – ensure that products get to their destinations faster and/or more economically. We are continuing to see this strategy being undertaken.
The table below shows a comparison of the different freight transport options:
Key rail routes:
Zhengzhou to Hamburg (by train)  and on carriage by truck to UK (Priority)
Zhengzhou to Liege (by train) and on carriage by truck to UK (Secondary – cost demand)
Transport Method
Air
Rail
Sea
Transit Time

Direct 13 hours




(Indirect 3 days)   

     

18-20 days via Hamburg




19-21 days via Liege                     

30-35 days 

Origin


Main Airports

Zhengzhou

Main Seaports

Frequency


Daily

4-5 schedules a week

Weekly/Twice Weekly
Whilst costs for each mode change based on supply and demand as a guide the Rail is approx. 4 times more costly than Seafreight and Airfreight is significantly higher than Rail and very size/weight dependent.
What's the outlook?
In the short term we anticipate that rail freight will continue to be in high demand. It is clearly demonstrating that rail offers a competitive alternative in regards to price, and considerably faster transit times compared to sea freight. 
In the long term we expect the rail freight market to continue to grow at a rapid pace over the next five years. Major investments and subsidies in rail infrastructure from the Chinese Government, decreased transit time when compared to sea freight transport, and lower carbon emission services offered by rail are all expected to drive the market.
If you would like more information about the options available via rail freight, please contact [email protected]